UFC 193: Rousey vs. Holm Crystal Ball Predictions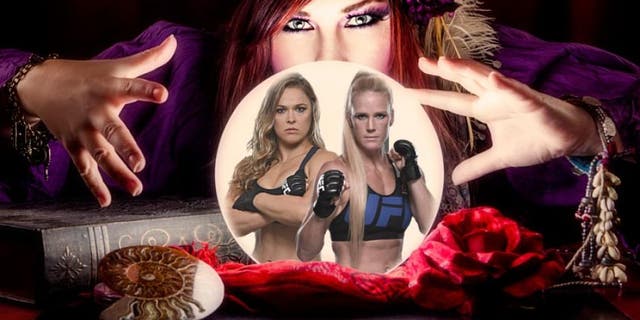 NEWYou can now listen to Fox News articles!
One of the biggest events in UFC history is almost here, and in addition to perhaps a record-breaking crowd, it will be filled with two world title fights, and a host of other top contenders and rising prospects. In the main event, Ronda Rousey defends her bantamweight title against former boxing world champion Holly Holm.
In the co-main event, Joanna "Champion" will take on American Top Team's Valerie Letourneau in a battle of strikers. Also, Mark Hunt and Antonio "Pezao" Silva will meet in a heavyweight rematch of one of the best fights in MMA history.
Get ready for it all, below, with our analysis and predictions! Then, let us know who you're picking to win on Facebook and Twitter!
Ronda Rousey (12-0) vs. Holly Holm (9-0)
Holly Holm has been rushed into this fight with Ronda Rousey. Realistically, she could have used a couple more fights of experience, and training camps worth of skill development before facing the UFC's female bantamweight champion.
Instead, Holm was pushed ahead of Miesha Tate to face Rousey. Furthermore, that fight was pushed up from 2016 to this Saturday, giving Holm even less time to prepare for the toughest challenge of her MMA career.
That's unfortunate because there are very few ways in which Holm matches up well with the champ.
For example, Holm is a more versatile, fluid stand-up striker, and moves laterally with her feet exceptionally well. On the other hand, Holm likely doesn't yet have the grappling skills to defend Rousey's takedowns on the feet, or submissions on the ground.
Really, no one does. The former boxer's best attribute is likely that she's a real fighter. After decades of training, years of championship experience, and way more experience with the types of fights where people hit one another than Rousey has, Holm isn't likely to be daunted or intimidated by the "Rowdy" one.
Holm can face the prospects of winning or losing calmly, like a champion, and that should give herself a chance to win. She'll need all the lateral movement her feet can muster, and will need to hit the holes with punches that Rousey gives her when she charges in, after Holm cuts angles.
It's entirely possible that Rousey finally gets clipped in a way that puts her down, during one of her striking exchanges. However, it's still the safest thinking to assume that she'll be able to close the distance on Holm without absorbing too much damage, take her down, and then put her out.
Prediction: Rousey by submission in the first round
Joanna Jedrzejczyk (10-0) vs. Valerie Letourneau (8-3)
Letourneau is another surprise title challenger, if only because she took the title fight against Joanna "Champion" after No. 1 contender Claudia Gadelha was injured and unable to compete on the timetable the UFC wanted. Letourneau was impressive in a grueling fight in August, but had virtually no time to heal and recover after it before jumping into camp for UFC 193.
Perhaps that will ensure that she stays sharp, or it could mean she's over-worked herself and hasn't gotten much-needed rest time, or time to work on her weaknesses. At her best, Letourneau is well-rounded, hard-hitting, and game.
So, she's a tough fight for the champion, for certain. Jedrzejczyk may be the best overall striker in MMA right now, however, and she's looked nearly impossible to take or at least keep down, over the past year.
Prediction: Jedrzejczyk by decision
Mark Hunt (10-10-1) vs. Antonio Silva (19-7-1)
If Silva can keep Hunt against the fence, or on his back, he will win. If Hunt can keep Silva off of him, however, the New Zealander stands a good chance to win this rematch.
At 41 years of age, Hunt may be the fittest he's ever been. Hopefully his speed and reflexes are also holding up because he's once more fighting a much taller man.
If Hunt can't be light on his feet and keep a constant pace throughout the fight, he may be pushed back on his heels or caught with a big strike. Silva is about as tough and durable as Hunt is, so you always have to assume he's ready to strike back, even if he's losing.
Hunt wins if he can keep a quicker pace than Silva.
Prediction: Hunt by decision
Uriah Hall (12-5) vs. Robert Whittaker (14-4)
Whittaker is finally getting a chance to jump out and get some recognition, after an already impressive UFC run. The New South Wales fighter gets a chance to fight in front of a home crowd against one of the best-known middleweight prospects in Hall.
To be sure, Hall's size, precise and powerful striking make him the man to pick, here. However, Whittaker has some real striking power of his own, and should things end up on the mat, he is a very capable submission fighter as well.
Prediction: Hall by decision
Stefan Struve (26-7) vs. Jared Rosholt (13-2)
The former four-time All-American wrestler from OSU, Rosholt, has quietly produced an excellent 5-1 record in the UFC's heavyweight division. He's also riding high on a two-fight win streak.
The big man can usually control where the fight takes place with his wrestling skills and is a one-punch KO threat. Struve looked excellent in beating former world champion Antonio Rodrigo "Minotauro" Nogueira earlier this year, after health scares and a two-fight losing streak.
The giant will certainly have the reach advantage here, and needs to be quick with his hands and feet to keep Rosholt away from him. Struve is also an excellent jiu-jitsu fighter off his back, but Rosholt may be tough to triangle choke or arm bar.
Prediction: Rosholt by decision
Jake Matthews (8-1) vs. Akbarh Arreola (23-9-1)
This should be an exciting and fast-paced battle between submission artists. Arreola has an experience advantage, here, but the 21-year-old Matthews is nearly a decade younger and fresher.
It won't be easy for Arreola to win in Matthews' home country, but he's durable and tough to put away.
Prediction: Arreola by decision
Kyle Noke (21-7-1) vs. Peter Sobotta (15-4-1)
This welterweight fight is hard to predict. Noke will be amped up to fight in his native Australia, and is a legit KO threat at any time. Sobotta has looked good, lately, and is sharp with his submissions.
Prediction: Sobotta by submission, third round.
Anthony Perosh (15-9) vs. Gian Villante (13-6)
Both light heavyweights are coming off of tough stoppage losses, here. Perosh, 43, has turned back the clock, fighting successfully and looking better than ever in recent years.
Still, it will always be tough for someone in their 40's to overcome the reflexes and speed of someone nearly 15 years their junior, as Villante is to Perosh. Villante needs to push and press Perosh, and not run out of steam, because the old man is always a submission threat and always has gas in the tank.
Prediction: Villante by decision
Richie Vaculik (10-3) vs. Danny Martinez (17-7)
Vaculik is fighting at home, and with the submission advantage. Martinez will be desperate for his first UFC win, and has real power in his strikes.
Prediction: Vaculik by decision
Daniel Kelly (9-1) vs. Steve Montgomery (8-3)
Both men are coming off KO losses, but Kelly will have his hometown Melbourne crowd cheering him on, as well as his solid submission skills supporting him. Montgomery has the size, and youth, however, and may be more well-rounded.
Prediction: Montgomery by decision
Richard Walsh (8-3) vs. Steve Kennedy (22-7)
Walsh has lost two straight fights, but has also been able to rest, recover, and improve for a while, since he hasn't fought since February. The hard-hitting Aussie gets a great opportunity to rebound, Saturday, but the well-rounded Kennedy is no slouch.
Prediction: Walsh by decision
James Moontasri (8-3) vs. Anton Zafir (7-1)
In what is likely a dream come true, Zafir gets to make his UFC debut in his native Australia. Zafir has won five straight, while Moontasri has lost two out of his last three bouts.
Still, Moontasri has faced tough opposition and is slick on the ground and unpredictable on the feet.
Prediction: Zafir by decision
Ben Nguyen (13-5) vs. Ryan Benoit (8-3)
The powerful Nguyen has won seven straight fights, and Benoit is coming off a TKO victory over highly-touted Sergio Pettis. These two flyweights will likely smash until one falls down.
Prediction: Benoit by TKO