Trump gets dumped: Rough night for NCWT promoting The Donald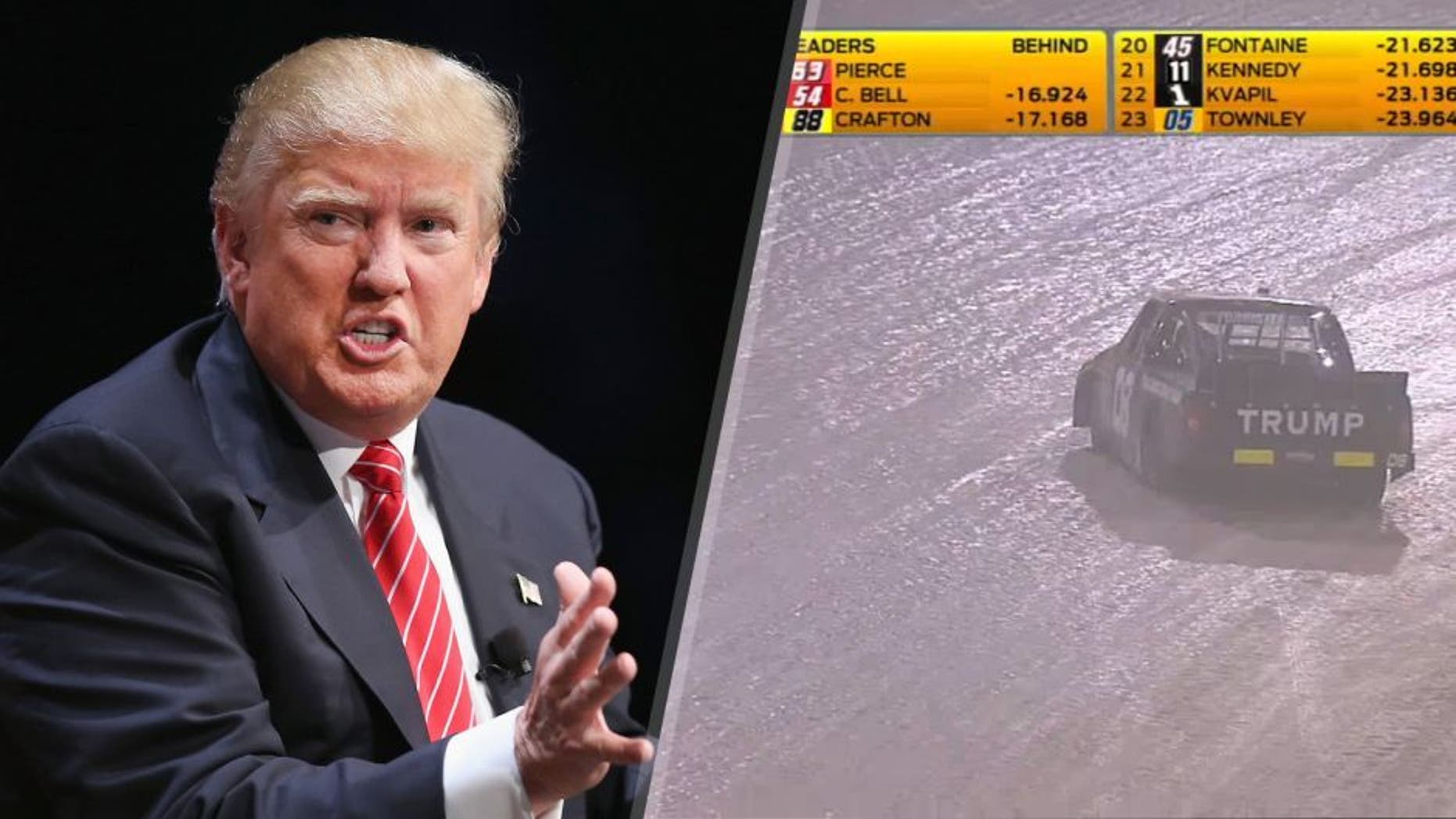 Donald Trump is in the midst of a meteoric rise up the Republican Presidential polls. It was quite a different story for the Trump Truck in Eldora on Wednesday night, however.
Korbin Forrister, a 22-year-old driver from Cedartown, Ga., currently 14th in the standings in his second season on the NASCAR Camping World Truck Series, took to the dirt track of Eldora Speedway in Ohio on Wednesday night without a sponsor.
So he decided to convert the empty space on his truck into a moving Donald Trump For President billboard.
"I support Donald Trump, and I wanted to show it in this race," Forrister told ESPN after Wednesday's practice. "We didn't have a paint scheme, and I figured it would be a cool race to do it. It is 100 percent me. I wanted to do it.
"I like what he's trying to do. I feel like he would do a great job running our country."
According to the ESPN report, NASCAR gave Forrister permission to put the political endorsement on his car:
Donald Trump's presidential campaign is not paying for nor does it have any connection to the truck for the race, which is notorious as the only dirt-track race in NASCAR's three national series. Forrister, who typically has Tilted Kilt logos on his truck, is competing in his first full truck season and sits 15th in the standings with a best of 12th this year in the 2015 season opener at Daytona. ...
All paint schemes must be submitted and approved by NASCAR, which typically allows political ads on race vehicles.
The move seemed destined to earn the little-known driver some extra TV time (the race was televised live on FOX Sports 1). And boy did it.
But when the Trumpmobile took the track, it wasn't getting air time for passing fellow competitors; rather, as you can see in the video above, Forrister spent quite a bit of the race spinning in circles, going the wrong way, and, much like his namesake after a boisterous rally, bringing the rest of the field to a standstill … only with a trio of caution flags on this night.
According to racing-refeference.info:
● Lap 8: Forrister spins on front stretch, brings out caution, four laps run under yellow
● Lap 27: Forrister spins on front stretch, brings out caution, five laps run under yellow
● Lap 149: Forrister spins on front stretch, brings out caution, four laps run under yellow before green-white-checkered finish
And when the dirt had settled, Forrister finished in 24th, a lap down and well behind race winner Christopher Bell.