Tricky Bristol will be real test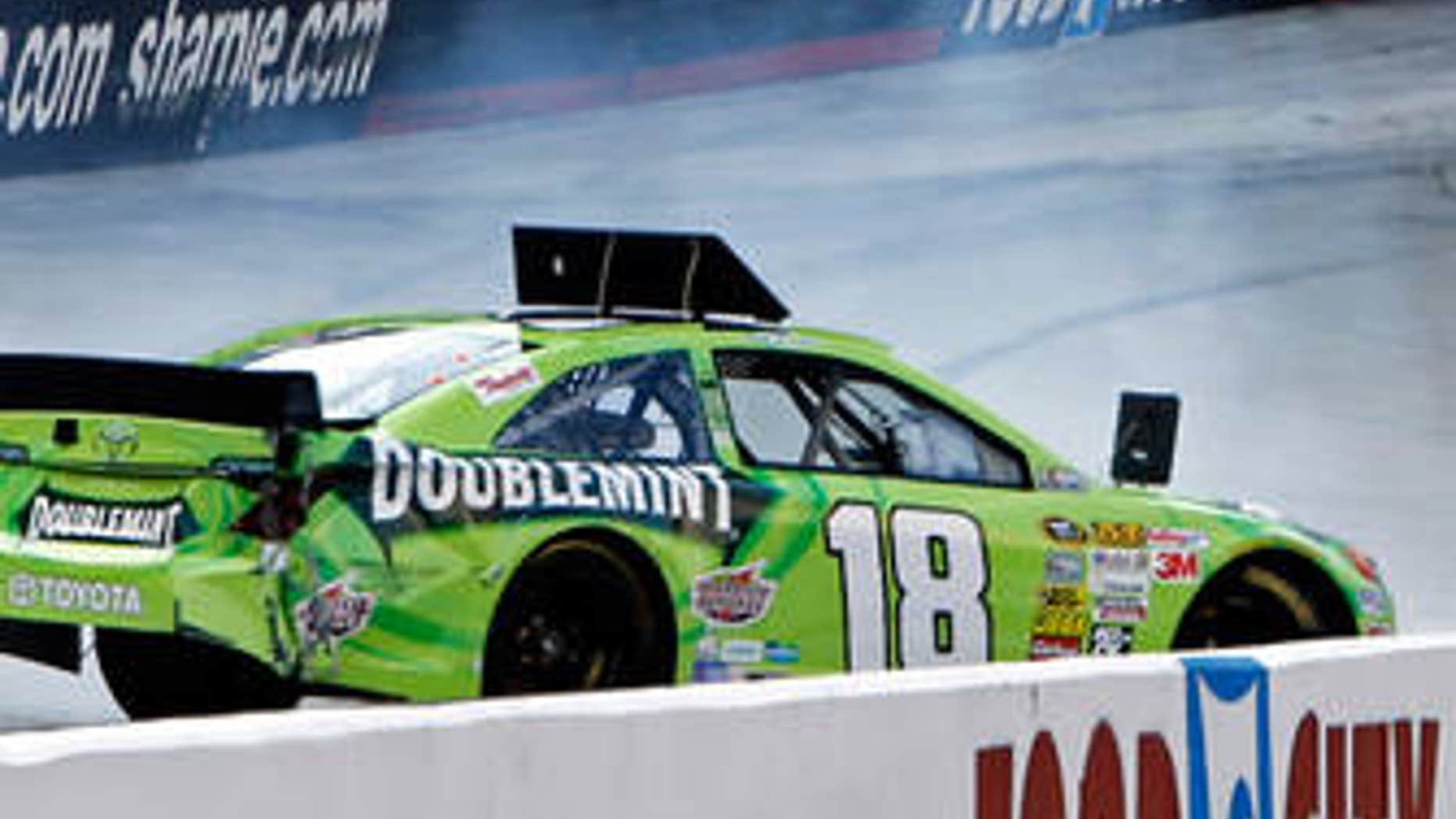 BRISTOL, TENN. – At Bristol Motor Speedway, there's a fine line between racing and wrecking.
During qualifying on Friday, Kyle Busch and Jimmie Johnson both found out what happens when that line is crossed.
Johnson spun but recovered to qualify 13th. Busch also lost it on his first lap, turned the car around to start the lap over and then spun again on his second attempt. Consequently, Busch will start 43rd on Saturday night -- and have to battle on a one-groove track to salvage a decent finish.
For Busch, who has five wins in 17 starts at Thunder Valley, that might not be as daunting a task as one might expect. Particularly since "Rowdy" fought back from 38th three years ago to finish ninth.
But that was before last summer, when Bristol ground down the top lane of the track -- and made it the preferred and only line around the track.
"This race can get kind of crazy, and it seems like everybody is running the top groove around the high side like we did last year in the night race," Martin Truex Jr. said.
"It's going to be an interesting race, for sure. The bottom is really non-existent. It's going to be hard to pass. There's going to be some guys fighting for the top and getting mad at each other and throwing helmets. It's going to be exciting."
With so many agendas throughout the field, the tone of the race could change dramatically from start to finish. Only the top six drivers in the standings have enough of a cushion to push the limits. However, their game plans could be tempered by what is best for each organization.
"There are guys in the position that I'm in and we can be pretty aggressive and go out and take some chances and do some things, but I don't want to negatively impact someone else's Chase hopes," said Carl Edwards, who is third in the point standings, and who qualified third for Saturday's race.
"My teammate, Greg Biffle (10th in the point standings), is right there on the bubble, and I don't want to see him caught up in anything, so I think from my seat I'm gonna be as aggressive as I can be and still respect the situation that everyone is in."
Biffle is sandwiched in a 20-point swing between seventh-place Dale Earnhardt Jr. and 11th-place Kasey Kahne. At least Biffle has the benefit of a win -- as does Kahne and Truex (12th). There are other bubble boys -- Earnhardt, Brad Keselowski (eighth) and Kurt Busch (ninth) -- who have yet to win this season, with only three opportunities before the Chase to the Sprint Cup.
Kurt wrecked five laps into Happy Hour but came back in qualifying to post the second best time (128.770 mph).
"Tomorrow [Satuday] is 500 laps at Bristol where I have to protect my car and make sure we don't try to push any issues on restarts," Kurt said.
But while he and the others might find themselves in a tight box on Saturday night -- that's not the case for pole sitter Denny Hamlin, who posted the top speed in qualifying of 128.969 mph.
Hamlin, the defending winner of the Bristol night race, is 25th in the point standings and has nothing to lose.
"I'll be as aggressive as I possibly can to get a win -- there's nothing really that I won't do," said Hamlin, who hasn't posted a top 10 in nine races.
"In respect to my teammates, though, it could be a little different. Those guys still are not on the bubble, but they want to keep those bonus points for the Chase, so those guys are going to be looking to get solid runs here.
"Really, if it comes down to a race situation here at the end
like we had here last year, where I kind of pulled the slide job on Carl (Edwards), that's an all-out, going-for-broke type move and I would do the same thing obviously at this point in my season."
WHAT ABOUT RYAN?
The last person expecting to hear Kurt Busch's name proposed for a ride at Stewart-Haas Racing had to be Ryan Newman.
Newman, who currently drives the No. 39 Chevy at SHR, was told last month there would not be a car available for him in 2014. Then the Kurt Busch announcement happened.
"I'm just here to race," Newman said after qualifying eighth on Friday. "That's my goal. I don't care a bit (about Busch). I'm just here to race. I'm just trying to get this Quicken Loan Chevy into the Chase. I don't care about any of that stuff. I just know where I'm not going to be."
Newman remains one of the top free agents in the garage. His stock is not only enhanced by his unique understanding of cars through his engineering degree but the ability to deliver partial sponsorship with Quicken. Still, it's been a long time since Newman has had to worry about what his plans are for an upcoming season.
"It's not a good position not to have a plan in place," Newman said. "But I'm always working on that. We'll see what happens -- 2014 is what it is right now."
ON THE MARK
Mark Martin posted a respectable 11th-fastest qualifying lap in his first effort with the No. 14 Stewart-Haas Racing team on Friday.
Considering that Martin hasn't competed at Bristol in two years -- and not since the track had been reconfigured -- it's not surprising he was grateful for his team's effort.
"Thank you, guys, for working with me," Martin said. "You just got to be a little patient here. We'll get there. Awesome job here. The balance is perfect, I had more grip than I expected. I didn't have the confidence for the kind of commitment it might have took to do a little more."
Martin has two wins at Bristol in 46 starts.
SOCIALIZING
After the Friday night's Nationwide Series Race at Bristol, Brad Keselowski tweeted:
"Soliciting ideas for the appropriate response when a fan stands outside my bus demanding the clothes off my back.''
NUMBERS GAME
7 -- Sprint Cup Races that Kurt Busch has started on the front row this season.
16 -- Career Cup poles for Denny Hamlin -- his first at Bristol.
42 -- Positions different from where Kyle Busch started on the pole in the March race to where he'll roll off Saturday night.
SAY WHAT?
Danica Patrick on Speedway Motorsports Inc. Chairman O. Bruton Smith's acts of kindness:
"Bruton has given me now two pairs of shoes, which is now one more than Ricky (Stenhouse, Jr., Patrick's boyfriend). I'm just kidding. ... they are very fancy, very dressy. I haven't found the right occasion for them. ... I will find a home for them, I promise you that. ... Sometimes it's just good to be a girl."