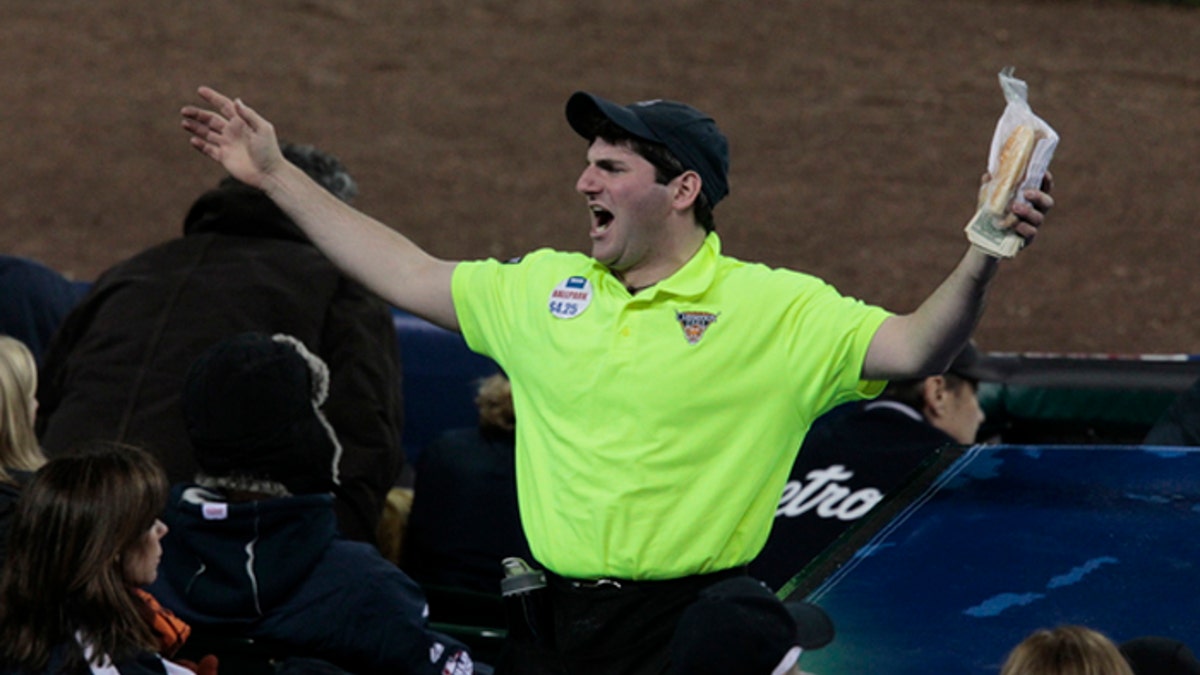 Opening Day in Detroit isn't the same today with the famous vendor known to Tigers fans as the "Singing Hot Dog Man" relegated to the role of spectator.
The Tigers took the field against the Kansas City Royals at 1:05 p.m. at Comerica Park, but one vendor who wasn't in the lineup was Charley Marcuse, 33, the love-him or hate-him hot dog hawker with the Pavarotti-like shill. He's been benched from the job he relished for years because, it seems, not everyone likes a hot dog man who uses a booming baritone to move franks.
"Some people seem to think I'm showing off or that I'm trying to be bigger than baseball," Marcuse, who was fired last September, told FoxNews.com.
Marcuse said he has had some of his best days selling hot dogs on Opening Day and hasn't missed one since 1999, when he was in high school. He said before the first pitch that it already felt different knowing he woudn't be belting out "Ho-o-o-o-o-t Doooogggs!" when the Tigers took the field.
"It's a special day. Opening Day is the start of spring. It's all the people I've seen, who I've seen grow up for 15 years," he said. "It's going to be frustrating."
Mancuse made it to the game anyway, but paid for his ticket like the other approximately 45,000 people in attendance.
Marcuse worked for the Comerica Park concessionaire Detroit Sportservice. For 15 years he sold hot dogs in the box seats behind home plate on the third base side. He was shown the door in September apparently because he didn't follow "rules and standards."
[pullquote]
His union, Unite Here Local 24, filed a grievance on his behalf, but nothing has happened.
Detroit Sportservice general manager Robert Thormeier did not immediately return a request for comment, but told The Detroit News for its Monday editions, "I have no update."
Marcuse became a hot dog vendor after his father spotted an ad in the newspaper in 1999.
It was the last year at Tigers Stadium and that summer Luciano Pavarotti came to Detroit to perform with the Three Tenors. Marcuse worked the Pavarotti show, wearing black tails and bow tie over his uniform. He also started singing -- loudly. He sold a lot of hot dogs. He kept doing it at Tiger games and kept selling a lot of hot dogs.
"I never claimed to be the most melodic," he said. "I've tried not to be abysmal."
Melodic or abysmal, in 2004 the Tigers had enough and banned him from singing. That stirred national headlines and controversy. Eventually, Marcuse was allowed to sing again. The last few seasons, he was only allowed to sing four times a game between innings.
Click here to see and hear the Singing Hot Dog Man in action
For some fans, he was part of the experience of going to a ball game. But for others, he was an annoyance who interfered with their enjoyment.
There also were some complaints that Marcuse had a thing about ketchup. He was a traditionalist who frowned on anything but mustard on a hot dog.
"Certainly no ketchup in baseball was a frequent line of mine," he said. But he said it was part of his shtick that fans sometimes egged him on to do.
Marcuse, who is also a clothing salesman for a high-end shop in a Detroit suburb, said he's seen the negative comments.
He said he is just a guy who was trying to sell hot dogs.
"The more I sing, the more I sold," Marcuse said. "I'm not trying to be anything more than a hot dog vendor and I'm just trying to be the best hot dog vendor."