Thunder, Westbrook get second look at Warriors, Durant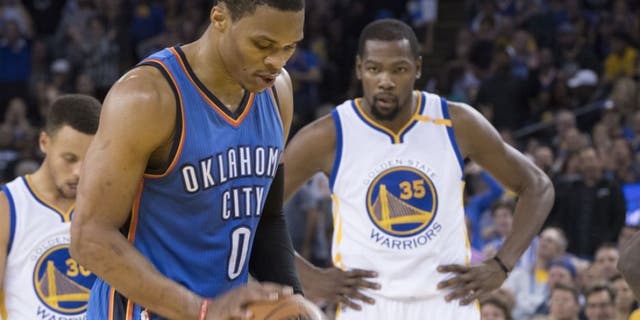 OAKLAND, Calif. -- Golden State Warriors fans will get a second look this season at triple-double machine Russell Westbrook when the Oklahoma City Thunder visit Oracle Arena on Wednesday night.
Westbrook's first impression on the Golden State faithful in the post-Kevin Durant era was not flattering. The Thunder guard did record a 20-point, 10-assist double-double in the Nov. 3 game, but he missed 11 of his 15 shots and had as many turnovers (six) as rebounds (six).
It was Westbrook's first meeting with Durant as an opponent, and that didn't go well for the Thunder, either. The Warriors won easily 122-96.
Signed away from the Thunder by the Warriors in the off-season with a two-year, $54.3 million contract, Durant has yet to make a return to Oklahoma City. That won't happen until Feb. 11.
The teams also will meet March 20 at Oklahoma City.
The Thunder (25-18) have lost two of three games to begin their current six-game trip. They allowed 111.3 points in those three games, including 120 in a 22-point blowout loss against the Los Angeles Clippers on Monday night.
History says they'll have a hard time turning things around against the Warriors (35-6), against whom Oklahoma City has lost four straight, giving up at least 116 points in each game.
Three of those four games occurred while Durant was playing for the Thunder. In fact, he averaged 36.3 points in the first three losses, before scoring 39 for the Warriors in the Nov. 3 win.
Westbrook, meanwhile, has averaged 23.8 points, 10.5 assists and 5.5 rebounds in the four losses. He had a seven-turnover game in the sequence, and has shot just 29 for 76 (38.2 percent) in the four games.
He does have one career triple-double against the Warriors. It came on Jan. 16, 2015 -- the last time the Thunder beat Golden State, 127-115 in Oklahoma City.
Westbrook has an NBA-best 20 triple-doubles this season. He will go for No. 21 without the help of his starting center, Steven Adams, who remains out with a concussion.
Adams suffered the injury in Sunday's win at Sacramento. In his absence Monday, the Clippers, even without injured Blake Griffin, burned the Thunder interior with 54.9-percent shooting and 62 points in the paint.
Westbrook thought his team missed Adams' aggressive style.
"Just wasn't ready to play," he blurted about his team in general. "Gotta be more physical."
The Warriors got physical with the Cleveland Cavaliers on Monday, even going overboard on one occasion when Draymond Green was assessed a flagrant foul for clotheslining LeBron James on a fastbreak.
Golden State held James to 20 points on 6-for-18 shooting in dealing the defending champions a 126-91 shellacking.
"When we play well defensively, we're hard to beat," noted Warriors guard Klay Thompson, who will be assigned to Westbrook. "We got stops and got in the open court. We did a good job of that (in the Cleveland game)."
The game will conclude a 10-game stretch during which the Warriors won't leave Northern California. They've gone 7-1 in home games over the 22-day period, and also prevailed after a 90-mile bus ride to Sacramento.