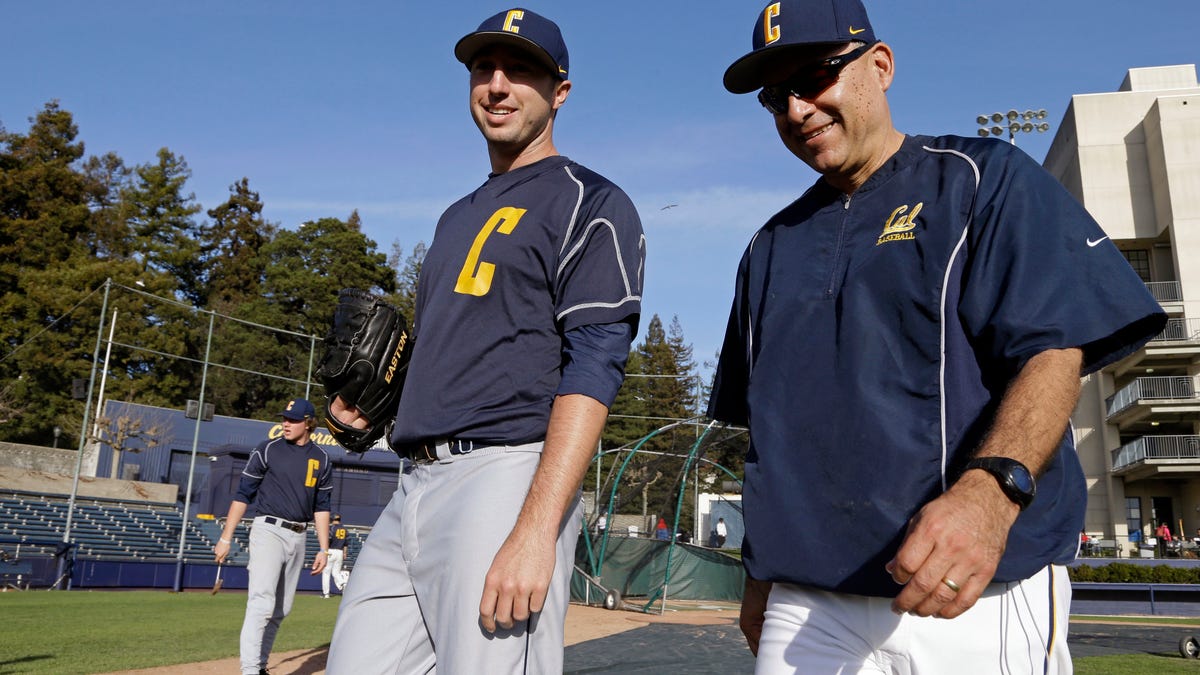 BERKELEY, Calif. – While in the midst of taking classes at California and simultaneously pondering his collegiate baseball future after his sport got cut, pitcher Kyle Porter considered leaving Berkeley for Oregon in early 2011 to play for the Ducks that season.
He even made a visit to rival Stanford and dined with Cardinal coach Mark Marquess. Porter checked out UC Irvine and Long Beach State, too.
It was supposed to be the final season of Cal's storied program in spring 2011. Some players did bolt.
"I had to go shopping a little bit," Porter said. "Then we were back and it was all good. It was stressful because they dragged it on for so long. I didn't even know how I felt. I was almost mad at the administration. I was like, 'If you're going to cut it, you might as well leave it.' But they did bring it back and it was a great thing. My commitment to Cal, I was going to honor."
It's been nearly three years since Cal baseball — established in 1892 — was saved when supporters came through with $9 million from tireless fundraising to keep alive a program set for elimination by the administration in a cost-cutting move.
Cal 15th-year coach David Esquer finally feels as if the operation is running smoothly again after a tumultuous couple of years for the Golden Bears with recruiting and other challenges to catch back up with the competition in the dominant Pac-12 Conference.
Porter is so happy he stayed put. Not only did Cal reach the College World Series in 2011 in one of college baseball's feel-good stories, he earned his team's first win there since 1980 to highlight a 6-0 year in which he had a 1.89 ERA, two saves and 57 strikeouts to just 15 walks in 57 innings.
So, Porter told Oregon coach George Horton he needed to stick it out. As the senior left-hander's season gets underway things feel normal again.
"I'm glad I didn't make that decision," Porter said. "I don't think it would have been a bad decision but I told Coach Horton I made a commitment to Cal and I was going to honor that. With the way my year ended up, it ended up working out for the best. It was a little bit of a scapegoat for some guys. We had three guys transfer. It was an easy way out for some, and others looked at it as more of a factor that solidified our team."
Last spring, Cal played its first night game at Evans Diamond on campus under new lights and with a sparkling new scoreboard. That moment meant so much.
"I think a college game is just meant to be played under the lights," Porter said. "It's a phenomenal atmosphere and I love it. It's awesome. That sells these days. We're able to get more in attendance than we were before. That definitely helps because everyone wants to play in front of a big crowd."
But the Bears wound up 23-31 in a rebuilding year of sorts.
"Last year, a little more difficult one for Cal," Esquer said. "We saw it coming a mile away, with the events that happened in 2011 and virtually now you miss a year recruiting, you miss two years, even a little bit more than two years recruiting. We knew last year we were going to play young. I literally at some point was welcoming everything to go wrong all at once. Let's have it all in one year, let's get it out of the way, we'll come back better for it. We've got some tremendous experience for some young players last year."
Cal opened this season by splitting a four-game series with Texas at home last weekend. Now, the Bears begin a tough seven-game road stretch in Auburn, Ala., this weekend for the Tiger Classic. They will face East Tennessee State on Friday, host Auburn on Saturday and Arkansas Pine Bluff in Sunday's finale.
While Cal's players have moved forward, they haven't forgotten the turmoil of 2010-11 — especially players in the senior class who lived through the uncertainty.
"That's definitely still fresh," Porter said. "It was a huge wakeup call. It was about a month into school they dropped that on us. It was an emotional time, and a lot of that up until baseball season was talking to other schools and really trying to figure out my situation personally. It was a little weird because you're supposed to be sitting there working and dedicating yourself to this program and meanwhile you're shopping for another program.
"I honored that commitment, Coach Esquer's honored that," Porter added. "That's one of the best things."