The World Cup So Far: A Tale Of Two Goalies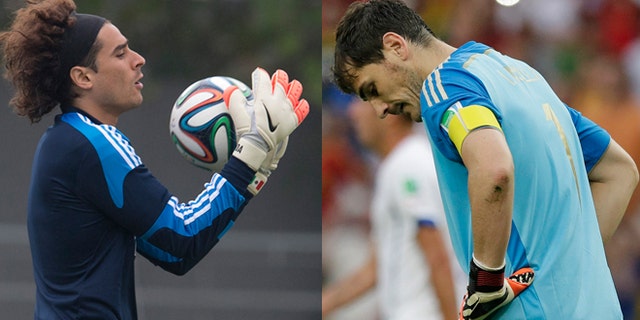 NEWYou can now listen to Fox News articles!
If you had to write the book of the 2014 World Cup today, you would probably call it, "A Tale of Two Goalies."
It was the best of Ochoa; it was the worst of Casillas.
Defending champion Spain has been eliminated after only two matches – a 5-1 thrashing by the Netherlands and a 2-0 loss to Chile on Wednesday – and commentators in the social media world are making its captain and goalkeeper, Iker Casillas, scapegoat No. 1.
Mexico, one of the pleasant surprises of the Cup so far, managed to tie the host nation, Brazil, 0-0, thanks to a series of spectacular saves by its keeper, Guillermo Ochoa.
Thanks to him, El Tri needs only a tie against Croatia on Tuesday to guarantee itself a spot in the Round of 16. A remarkable turnaround for a group that barely qualified for the Cup.
"Memo," as Ochoa is known, has a mop of dark brown, curly hair and a model girlfriend-slash-babymommy, Karla Mora. And his sudden social media celebrity as "San Memo" is a pretty amazing personal U-turn as well.
via Twitter by @JuanAgudelo
Under former Mexico coach, José Manuel "Chepo" de la Torre, Ochoa was keeper-non-grata at the national team. It wasn't till September 2013, when de la Torre's replacement was himself replaced by Victor Manuel Vucetich that he was brought back into the fold. Vucetich recruited Ochoa and turned over the starter's spot to him.
Two games later, after Vucetich was canned and Miguel Herrera was installed as coach, Ochoa's spot as El Tri's starting keeper was put back into the "uncertain" column. Bet Herrera's glad he stuck with the 28-year-old.
Ochoa's performance against Brazil all but guarantees that his daughter grows up a rich girl: a free agent who most recently was the goalie for the Corsican club Ajaccio, in the French league, it isn't hard to predict a big payday for him in the near future.
Meantime, pity poor Iker Casillas.
The 33-year-old Spanish captain and all-time greatest goaltender has had all his weaknesses and uncertainty on exhibit in the defending champion's two opening group stage games, in which they have been outscored 7 to 1.
Ill-advised forays from the goal, hesitation in going after balls in a crowd, being unable to prevent rebounds on relatively easy balls to catch — all of these things have contributed to Spain's being eliminated from contention so quickly.
But in reality, La Furia Roja's failure in Brazil was a team effort. Their offense, for one thing, has been toothless. It would appear that possibly Diego Costa's injuries aren't as cleared up as had been hoped. And it seems as if the midfielders have been more focused on controlling the ball and the country's vaunted tiki-taka, short passing game than on launching effective attacks.
But really, this is the culmination of a development that's been in the works since the summer of 2012.
After winning the Euro Cup on July 1 thanks in no small part to Casillas – he finished the tournament with five straight shutouts – the country's Olympic squad was ousted early after consecutive 1-0 losses to two lightly-regarded squads, Japan and Honduras.
And the following summer in Brazil, the Spanish senior squad lost for the first time in 29 matches in the Confederations Cup final to the host nation. What was perhaps most telling in retrospect was the margin of victory: 3-0.
At the time excuses were made. Brazil had the home field advantage; the Confeds Cup doesn't mean so much, just wait till the World Cup.
Now, it seems more ominous.
Casillas has had a difficult year since, getting benched at Real Madrid for the La Liga season. Though he did play during the team's romp through the Champions League.
After Spain's loss to Chile, he admitted to reporters that Spain's long run atop the European and global soccer stage (ever since the 2008 European championship) is probably over.
And maybe he won't be able to get his wish to retire at Real Madrid.
But don't pity him too much. He can always take comfort with his television reporter girlfriend-slash-babymommy, Sara Carbonero.
(Photo by Claudio Villa/Getty Images)