The Washington Redskins have a Kirk Cousins problem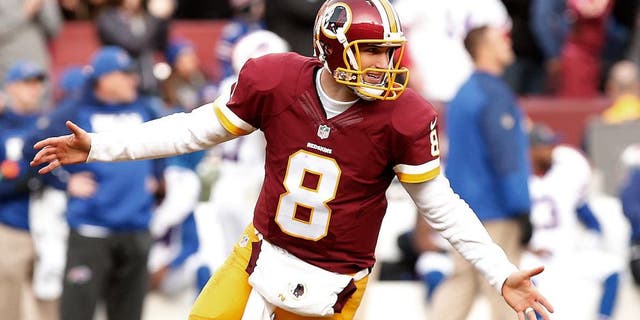 The Washington Redskins and Kirk Cousins broke off contract talks on Tuesday, according to ESPN's Adam Schefter, a piece of news that's neither good nor bad for Cousins, the Redskins or fans interested in seeing a deal get done. The team still has two weeks to slap a franchise tag on Cousins (which will be about $20 million for one season) or sign him long-term.
Despite the rush, this is a decision fraught with much more peril than has been advertised. Though Cousins will almost certainly be wearing the burgundy and gold next year, there's no obvious answer as to what will happen in 2017 and beyond, as both sides engage in a fascinating battle of ever-changing leverage and power. There are dozens of ways this could play out with dozens of scenarios that would favor the Redskins, Cousins, both or neither.
Kirk Cousins' view
You've just put together a 10-game stretch during which you were one of the best five quarterbacks in the game. (Just over that stretch -- no one's saying Cousins is better than Aaron Rodgers, he was just better than him at the end of last season.) You led an oft-maligned franchise on an unexpected winning streak to win a mediocre division and had a second-half lead (however brief) in a wild-card game against the vaunted Green Bay Packers.
But it might have been a perfect storm situation:
* The Redskins didn't suffer any devastating offensive injuries late in the season.
* The NFC East was bad and the team was able to take advantage of an Eagles team that had largely quit on Chip Kelly and a Dallas team starting, I can't even remember, Clint Longley?
* Cousins had eight touchdowns and no interceptions in the two biggest regular-season games of the year (vs. Buffalo, at Philadelphia) that clinched a playoff berth, but was more erratic in other key games.
* He led the league in completion percentage, set an NFL record for best completion percentage at home and set multiple Redskins passing records, including an almost 30-year-old mark in yardage. Cousins also had the second-highest passer rating in team history and was two TDs away from Hall of Famer Sonny Jurgensen's 48-year-old record for passing touchdowns.
* Cousins did all of this while not beating a single team with a winning record (and only one team that finished .500).
All of this leads to the very simple question Kirk Cousins and his people need to be asking themselves: Is his value at its peak (or close to it) or is there room for enough improvement that would necessitate the risk incurred by playing under the lucrative one-year franchise tag?
The Redskins, who haven't had a steady QB since Joe Thiesmann in the early '80s, would be crazy to let Cousins go, a nice piece of leverage for Team Kirk. But the Redskins also know Cousins is coming off a career year and would need a massive improvement to raise his contract numbers by enough money to make it worth the wait for not just this contract, but a theoretical second contract down the road (which, if Cousins proves himself to be an entrenched starting quarterback, would be bigger given the rising salary cap).
What improvement would he need? Throwing for 32 touchdown passes isn't going to do it. Neither is throwing for 70 percent and 4,300 yards. Those are trivial jumps compared to what Cousins put up in 2015. It would take far more for Cousins to jump pay grades. So unless he defies all logic and expectation and puts up some Rodgers/Brady/Peyton-like numbers in 2016, there's only one way for him to make waiting for a contract a smart move: He'd have to pull a Flacco and win the Super Bowl.
Given the odds of that happening, Kirk has to be thinking of getting whatever he can in a long-term deal from Washington, even if the 2016 value is less than he'd be getting from the franchise tag. When there's really nowhere to go but down, you have to make your move.
The Washington Redskins' view
On one hand, the Redskins have all the power. One would have to assume the team wants a long-term deal, but they can slap that franchise tag on Cousins and then see how things play out. (They can also tag him by March 1 and continue negotiating for a deal until mid-July, when the tag sticks. That happens in about half of all franchise tagging.)
On the other hand, the Redskins could also be viewed as powerless because, at this moment, they need Cousins more than Cousins needs them. If they come at Cousins with a two-year, incentive-laden deal, he should balk because the Redskins have no other move. Cousins will get paid somewhere. The Redskins just can't up and find a playoff quarterback. This is the team's first chance to have a legitimate starter since, well, Robert Griffin III (OK, bad example). This is the team's first chance to have a legitimate annual starter in 30 years. They want Cousins, and Team Cousins knows it. There's Kirk's leverage. If the Redskins franchise him and proclaim him a $20 million quarterback, then the team has essentially bid against itself.
And there's risk for the Redskins, too. First, paying Cousins that $20 million-ish dollars all goes on the cap. They can't defer that money with bonuses or back payments, meaning Cousins would eat an estimated 1/7th of the team's expected cap space. (It's expected to be somewhere between $150 million and $155 million in 2016.) Even in the short-term, it's far better to get Cousins squared away so his contract can have all that funny money that doesn't eat up as much space, thus allowing the team the cap room it needs to bring in the offensive line or secondary help it so desperately needs.
The other risk is that Cousins has the aforementioned "out of his mind" season, which would either lead to the team shelling out a bigger amount of franchise tagged money in 2016 (20 percent higher than his 2016 salary) or paying Cousins a bigger long-term deal.
You see the quandary? There are so many ins and outs and what-have-yous. No position is clearly right and none is clearly wrong. Cousins isn't an idiot if he bets on himself for another season and he's not an idiot if he cashes in now, content to get good money after 10 great games.
What should happen?
Cousins had 24 TD and 27 INT in his first 20 games. He had 23 TD and three INT in his next 10. Those first 20 games, which included 15 starts, were played on teams in disarray, either because of a coach trying to undercut his owner or a new coach without the power to start who he wanted. The last 16 games are all that should matter. It's not a big sample size, which means it'll either be the Redskins signing a deal and gambling that 2016 Kirk is the real Kirk or Cousins declining a deal and gambling the same thing.
So, if Kirk Cousins asked my opinion on things, I'd say to try and work out a deal with the Redskins. Have a number in mind. If the team lowballs you, take that $20 million and prove you're with it. Worst-case, you sign for a lower deal in 2017 with the Redskins or elsewhere. Middle-case, you get tagged again and earn the requisite $20-plus million. Best-case, you play out of your mind and get PAID in 2017.
It'd be the same advice I'd give the Redskins. Don't let Cousins take you to the cleaners but don't poison a relationship with the best chance you've had at a steady quarterback since Ronald Reagan was in office.
What's going to happen?
Cousins is going to sign a long-term deal with pro-player language, whether before getting tagged or after. There's just too much risk involved for the Redskins to play with quarterbacking fire or for Cousins to bet on himself. This isn't the NBA where mid-level players can get on fire for a season and turn it into a ridiculous, guaranteed contract that everyone realizes is for too much money before the ink dries.
There are far too many things that can happen to Cousins in 2016 to lower his value, some of which wouldn't even involve him. Imagine four-time Pro Bowl left tackle Trent Williams gets hurt. That's a disaster for Cousins that's completely out of his hands.
It's advantageous for both sides to sign, as long as the deal is reasonable. They say to strike when the iron's hot. It's hot on both sides. Get it done.