The unbreakable Joanna Jedrzejczyk part 2: From the outside looking in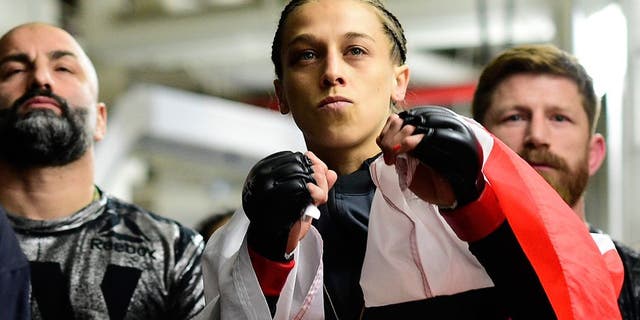 FOX Sports presents an inside look at Joanna Jedrzejczyk ahead of her fight at UFC 211 in Dallas. In part two of our three part series, Jedrzejczyk's coaches and trainers explain why she might just be the greatest women's fighter we've ever seen.
As Robbie Lawler sat in the back of the SAP Center in San Jose, Calif., a few hours away from his main event battle with Matt Brown, the television in the locker room was showing the other fights taking place on the card that night.
While Lawler was preparing for his bout, one of his coaches happened to be watching the action on the screen and that's when he noticed something unusual.
There was a women's strawweight match taking place, and a Polish newcomer named Joanna Jedrzejczyk caught his eye as she was taking on Julianna Lima in her UFC debut.
"I was sitting in the locker room watching this women's fight and I said 'hey Robbie, come over and watch this girl, she can really [expletive] fight'," American Top Team head wrestling coach Kami Barzini told FOX Sports "That was the first time I saw her and looked at her.
"There was something special about her."
Then, Jedrzejczyk was just a first-time UFC fighter looking to get a win in her debut. Less than nine months later, she would be standing tall as the women's strawweight champion of the world.
Barzini's introduction to the fierce fighting skills Jedrzejczyk possessed also came more than two years before the first time he'd step onto the mats with her after she left her native Poland to join American Top Team in Florida.
Jedrzejczyk's move to the new team actually started months earlier when she first ran into a tag team of nutritionists from a company called Perfecting Athletes.
Michelle Ingels and Paulina Indara, who co-founded Perfecting Athletes, met Jedrzejczyk at a UFC card in Dallas, but the initial introduction didn't actually lead to them working together right away.
Instead, Ingels and Indara got to know Jedrzejczyk while incorporating some of their own unique methods for nutrition and weight cutting as she was struggling at the time to stay on point for competing in the strawweight division.
"Joanna at the time had a different nutritionist she was working with and we are very different than everybody else. It took Joanna a little bit of time to warm up to us because we are so different. We spoke to her many, many times before she actually said OK this is something I want to do," Indara said.
"It wasn't until the second fight with Claudia [Gadelha] that we had an entire camp with her. There were bits and pieces throughout other fights, but that was the first fight we had her for the entire camp."
The work with Perfecting Athletes led to Jedrzejczyk not only trusting them as nutritionists, but also counting both of the founders as friends. It's part of the reason why Jedrzejczyk turned to them when she was considering a move from her camp in Poland to join a new team in the United States as she looked to build upon her championship credentials.
As much as Jedrzejczyk loved the coaches and trainers she had at home, she knew deep down inside that she needed to make a change if she was going to continue to grow and evolve alongside the stiff competition she'd be facing inside the Octagon.
Jedrzejczyk understood that in fighting there are only two directions either growing or dying and she wasn't looking to fade away any time soon.
Ingels and Indara helped make the introduction between Jedrzejczyk and former WEC champion turned American Top Team coach Mike Brown to see if the two might get along and want to work together.
"Paulina had contacted me and said Joanna was interested in training here and she would like to work with me and [striking coach] Katel [Kubis]. That's where it all started," Brown told FOX Sports. "I chatted with [American Top Team owner] Dan [Lambert] and a lot of the fighters and said let's bring her in and have her visit and see if she likes it. See if it's a comfortable fit for her and a comfortable fit for the team."
It's safe to say Jedrzejczyk is a world-class athlete and the same could be said for Brown, based on his own credentials inside the cage as well as the success he's found since transitioning to coaching full time.
Still, there's no guarantee that any coach and fighter combination will work well together until they get on the mats and test out that relationship. It was an audition of sorts for both coach and fighter, but Brown knew right away that he was dealing with a very special athlete when he started working with Jedrzejczyk.
"It's not always you get an undefeated world champ drop in your lap. It was great," Brown said. "It was flattering that she wanted to come here and work with us. A real honor to work with her. I love the sport. I love the game. I love high level MMA and it's cool to work with the highest level people. We learn from each other. That's sometimes the best part of this place. It's so many high level people, high level coaches and fighters that we're trading knowledge.
"I think each fighter is a mosaic. A mosaic of information, of people around them, and they take those little ideas and they make their own game."
Once Jedrzejczyk had spent some time working with Brown as well as head striking coach Katel Kubis, she decided that American Top Team would become her new home away from home.
Jedrzejczyk officially relocated to Florida ahead of her last fight with Karolina Kowalkiewicz at UFC 205 in New York. As excited as she was to get a fresh start, Brown knew he had his work cut out for him because he wasn't getting a full training camp with Jedrzejczyk and all eyes were going to be on her performance after making the decision to leave her previous team to join the new camp in the United States.
"It was a little tough because it was a major title fight and she's an undefeated world champion. There's high expectations so she has to do well or it's not going to look good," Brown explained. "It was only seven weeks until the fight. It was a bit tough, a bit rushed, but in the end it's about trust.
"If she trusts me and has faith in what we're doing and it feels like she does. I think she has trust that we have a good plan and know where we're going and where we're going to be."
The results paid off as Jedrzejczyk cruised to a unanimous decision for her fourth consecutive title defense. She also knew beyond a shadow of a doubt that she made the right choice by moving to Florida to begin working with American Top Team.
Zuffa LLC via Getty Images
With about a month to go until her next fight against Jessica Andrade at UFC 211 in Dallas, Jedrzejczyk is in the thick of training camp while usually spending two training sessions per day with her coaches at American Top Team.
On this particular Monday, Jedrzejczyk has a pad session set up with Kubis and one of his other trainers in a private room in the heart of the facility in Coconut Creek, Florida. After wrapping her hands and putting boxing gloves on, Jedrzejczyk is ready to get down to business while working in five-minute intervals with Kubis on the combinations he wants to see her unleash.
Jedrzejczyk fires off shots like a machine gun with her fists smacking against leather. The sounds are akin to the cracking of a bullwhip rather than punches being thrown against pads. While Jedrzejczyk has a look of determination on her face an unmistakable scowl that has intimidated more than a few opponents in the UFC Kubis has a sly smile creeping across his face.
He's getting exactly what he wants out of Jedrzejczyk as she throws each punch and kick with surgical precision and deadly power. Kubis also sees a little of himself in Jedrzejczyk, and that's probably why they've gotten along so well since the first time they trained together last year.
"She had a lot of fights in Thailand. I had a lot of fights in Thailand. She had a lot of fights in Europe, I had a lot of fights in Europe. I lived in Holland, she prepared in Holland. We had the same mentality. She is a world champion. I was a Muay Thai world champion. My school was old school Muay Thai and that means hard work every day," Kubis explained.
"When I saw she was working hard everyday and she was challenging herself everyday, that's the same as when I was fighting."
The session continues for several rounds with Kubis switching between himself and another trainer so he can keep a watchful eye on her technique from his own perspective as well as the outside looking in.
As the bell sounds to signify the end of the final round, Jedrzejczyk is still loose and lively on her feet as her coaches take off all the padding they were wearing to protect them from her devastating attacks.
Finally, Jedrzejczyk allows herself to smile because she put in the hard work for the day while her coaches are already plotting her next training session just a matter of hours away.
Tuesday at American Top Team is sparring day and that means all of the professional athletes with upcoming matches are getting rounds in together while the coaches fine tune any mistakes.
While Dustin Poirier and Jorge Masvidal slug it out in an intense training session, Jedrzejczyk arrives at the gym before changing clothes to get ready for her turn in the cage. Jedrzejczyk is as friendly as can be to her teammates and training partners, but when it's time to fight, she's all about business.
With head coach Mike Brown standing in the corner and Barzini keeping a watchful eye from outside the cage, Jedrzejczyk starts her own sparring session with a training partner named Marcelo, who just happens to weigh about 160-pounds while looking like a fire hydrant with arms and legs.
Now this might seem like a mismatch on paper considering Jedrzejczyk competes at 115 pounds, but her trainers are certain that even this might not be a fair fight … for her sparring partner.
"It's very hard to find training partners for her. She trains how she fights. It's not easy to find good partners, even with the men," Kubis said about Jedrzejczyk. "They want to go hard and then she will go hard and she's a six-time world champion."
UFC flyweight Matt Schnell worked with Jedrzejczyk extensively when she first arrived at the gym because he had a long, lanky body type similar to her opponent at the time.
Schnell has been a mainstay at American Top Team for several years, and he's worked with a lot of the other strawweight fighters who train at the gym because he's one of the smaller male fighters on the roster. As much as Schnell respects all of his teammates regardless of size or gender, he knew right away there was something different about sparring with Jedrzejczyk.
"I've sparred a lot of the girls here and they're all really tough but there's something different about Joanna. She's very aggressive. She's a fighter. When it all boils down to it, she will fight you over anything," Schnell said. "If you crack Joanna, she won't go away.
"You crack her, she's coming at you harder. As a fighter, you have to respect that."
Brown echoed those same sentiments when addressing Jedrzejczyk as one of the most ferocious fighters he's ever trained because she doesn't seem to have a first or second gear. According to Brown, Jedrzejczyk goes from 0-100 miles-per-hour in a matter of seconds.
And then she stays at top speed until the training session is finished.
"She can't do a warm up round. There's no warm up round ever," Brown said. "She just comes in and gets going. She's always throwing 100-percent or pretty damn close to it. Whatever her fight pace would be, she goes at it.
"Where a lot of people, even me, I like to ease into it. She always goes after it from the first round until the last. It's impressive."
As much as Jedrzejczyk is regarded a champion and the best strawweight fighter in the world, she's still a part of the team and expects to be treated as such. While she gets in private sessions with her coaches like many of the fighters at the gym, Jedrzejczyk also spends time doing work alongside all of her other teammates doing different drills or on this particular occasion during a group grappling session.
The fighters will alternate between partners during the five-minute intervals with Brown walking the mats and keeping a watchful eye on all of the athletes.
Jedrzejczyk made her decision to train at American Top Team because of the coaches, but she also knew the gym would provide her with the best possible teammates to get her ready for a fight.
The Florida-based facility houses dozens of champions, ex-champions and former title contenders, including several top fighters from Jedrzejczyk's own division at 115-pounds. Now that might seem like a conflict of interest as Jedrzejczyk joined the gym that already included top 10 ranked fighters like Tecia Torres or fellow UFC competitors such as Jessica Aguilar or Nina Ansaroff.
As much as it might seem like there would be drama just waiting to happen, especially considering the depth the team possessed with fighters in the strawweight division, Brown says that simply isn't the case.
From the first day she arrived in Florida, Jedrzejczyk has been integrated as part of the team and they've accepted her as one of their own and she's done the same.
"You've got to realize it, maybe Jessica [Aguilar] was the first, but everybody else came from somewhere, too. So it wasn't like everyone was born and raised here in Florida. Everyone was kind of a transplant. You've got to look at it that way. I think for the most part, everyone was super amped to have her on board," Brown said about Jedrzejczyk's arrival on the team.
"She's totally integrated into the regular classes. She's humble, she's down to Earth. She wants to get in there and train with a big variety of people and she's not afraid to get pushed."
During her Wednesday night grappling session, Jedrzejczyk rolls on the mats with several fighters, including Ansaroff, who just recently picked up her first win in the UFC this past January.
There are no egos at play on the mats Ansaroff isn't gunning for Jedrzejczyk because she's the UFC champion any more than Jedrzejczyk is trying to prove a point by hurting her training partners to show her superiority.
It's a team effort with everybody helping each other get better, including the fighters who are ensuring that Jedrzejczyk gets her fifth title defense at UFC 211.
"She's the champion but she's a humble person," Kubis said about Jedrzejczyk. "We don't just build the fighters, but we build the person. We spend more time with them a lot of the time than we do our own families. She's a very good person.
"She fits very well on the whole team."
Adam Hunger-USA TODAY Sports
When Jedrzejczyk finishes her training sessions, she returns home to the house she shares with her nutritionists, who are as much family as they are part of her team these days.
While Jedrzejczyk is as intense as any competitor to ever step foot inside the UFC Octagon, she will happily turn that switch off when the training day is done and it's time to relax. Her favorite pastime activity these days is playing with a pair of Maltese dogs named Coconut and Jasmine, who belong to the founders at Perfecting Athletes, but don't try to tell Jedrzejczyk that she hasn't already adopted them.
Staying with her trainers and nutritionists also affords Jedrzejczyk another supreme advantage over her competition because she has 24-hour a day care for whatever she might need during a fight camp.
Her nutritionists work with more than 200 athletes, including fighters such as Stephen "Wonderboy" Thompson and Tony Ferguson, but having Jedrzejczyk living at the same home is just a unique situation that has benefitted her tremendously.
Take for instance, Jedrzejczyk's own statement from 2016 when she mentioned the possibility of moving to 125-pounds if the UFC ever decided to open up a flyweight division for women. Part of her reasoning came from wanting to be a two-division champion, but it was also due to Jedrzejczyk suffering through brutal weight cuts to get down to the 115-pound limit for her title fights.
Since working with her new team of nutritionists in Florida, Jedrzejczyk has felt better than ever and while there may still be time to explore a move to a bigger division in the future, it would now only be by choice and not necessity.
"With Joanna, we had heard that she was talking about fighting at 125 [pounds] and if you look at the pictures from maybe her first Claudia fight to her second Claudia fight, she looks like a totally different person," Indara said. "Because she got to eat and she wasn't starving herself to make weight. Now she's healthy and she's enjoying it and having fun during camp.
"This last fight at UFC 205, this was her first fight with American Top Team and Mike [Brown] was like 'is this how she always is? Do we need to pull her back? She's spending too much energy, we don't want her to burn out'. I said 'trust me when I tell you, Michelle's got it. She could do five rounds right now and five rounds tomorrow and five rounds again the next day."
Ingels, who is also a licensed acupuncturist as well as a nutritionist, has seen tremendous changes in Jedrzejczyk since they started working with her but having the UFC strawweight champion as a roommate during her training camps is just an added bonus.
It not only makes her job that much easier, but admittedly having Jedrzejczyk around seems like an enjoyable endeavor for all of them.
"We have very close relationships with everyone we work with and we're very lucky that way. We know them all personally. We become friends with them. We take care of their nutrition but we also take care of anything they need medically. We also take care of them out of camp so we really do form a really close bond," Ingels said.
"Having somebody live here just takes that up a notch. It's nice because there's still a professional nature. I'm always paying attention to how's she eating, how is she recovering, how is her sleep? But the difference is she can sit here on the sofa watching TV and I can be right there to take care of her versus picking up the phone and saying can you find this or can you do this? I'm here to take care of all of that."
Zuffa LLC via Getty Images
As training camp begins to wind down and weeks turn into days until Jedrzejczyk makes her next walk to the Octagon, she's not only confident about the fight but also completely content with the decision she made to relocate to Florida in the first place.
Not many champions will pick up and move halfway across the world while riding an undefeated winning streak with multiple title defenses, but Jedrzejczyk knew that if she was going to stay on top she had to continue to push herself inside the gym.
She made the decision to change teams and Jedrzejczyk hasn't felt a single ounce of regret since making the move.
"I'm very happy with my new coaches. I feel like a bird that escaped from the cage," Jedrzejczyk said. "I'm very happy and I'm glad that I can train with Mike Brown. He brought so much into my fight game. I've learned so much in such a short period of time with Mike, Kami, Katel, and my other coaches.
"I'm looking forward to getting better and evolving everyday. I challenge myself everyday. I'm very hard on myself and you may not see me smiling after practice because I always think I can do better and make sure you will fix that tomorrow. I'm enjoying every single training session. Every single moment with my teammates and my coaches. I won't stop and I feel like there's more coming."
While Brown and the other coaches who are working with Jedrzejczyk have trained champions in the past, they all agree that she has the potential to reach new heights never before attained by any fighter in the past, present or possibly the future.
When combining her relentless work ethic, drive, heart and skill all into one, Jedrzejczyk has a chance to not only defend her title for the fifth time on May 13 but she could have the opportunity to set a new bar for mixed martial arts by the time she's finished fighting.
"She's undefeated and could be the Anderson Silva of female fighting," Barzini said about Jedrzejczyk. "She's shooting for greatness. Truly, she is the best female fighter in the world."
In the final part of 'The unbreakable Joanna Jedrzejczyk' coming this Friday, the strawweight champion examines what helped her get to the top of the sport and the legacy she hopes to leave behind when she's finished.