The Rise Of Latinos In Major League Soccer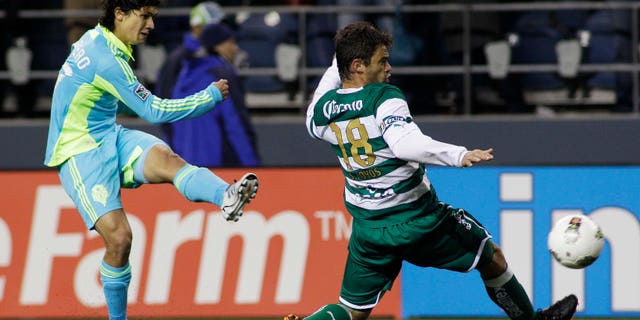 Major League Soccer got it years ago. The future is Latino and in many respects, that future is now.
Some 50 million Americans are Hispanic or of Latino descent, giving the league a potential massive audience.
SUM -- Soccer United Marketing -- the league's marketing arm -- sponsors the Mexican National Team, which has enjoyed highly successful and lucrative tours and games in the United States.
And now teams have put their money where the league's mouth is by signing dozens of players who hail from Central and South America. As the MLS kicked off its 17th season this past Saturday, the league has 78 players who have been born in Latin America on its 19-team rosters.
Considering the sport is soccer, football or futból, depending on your vantage point, wooing the Hispanic market has become an obvious MLS priority. And how do you try to attract that market? By using players from that part of the world.
"It was really just pure logic," MLS commissioner Don Garber said. "Every research study we do points to the fact that soccer is their sport of choice in our country. We don't need to convince them the sport is great. We need convince them that being a fan of MLS is important, should be an important part of their soccer experience. And that in itself has its own challenges. But there's no denying the value we have as a sport and as a league by being a sport of choice amongst a population of nearly 50 million people in this country."
A Breakdown of Latin American Players in the MLS
Teams have different reasons why they use Latino players. Some of it is financial and some of it is a preferred style of play and player.
"It has been growing over the last few years," said MLS director of player development Alfonso Mondelo, who was born in Spain and immigrated to the United States. "They are players that the league really wants to move away from the so-called physical side of the thing to the more skillful kind of a league. Those players that are coming in from the Latin countries are bringing in a different skill set with them, certainly the technical ability. That's what the fans want to see, the way we like to see the game make it in this league."
FC Dallas coach Schellas Hyndman became interested in Latino players well before he became an MLS coach. He has seven on his team, including Colombian midfielder David Ferreira, the 2010 MVP, and Panama international striker Blas Pérez, who played a vital role his national side hand the U.S. a rare home defeat in last year's CONCACAF Gold Cup.
"I think we have an idea of how we want to play," Hyndman said. "One thing that I found is doing a lot of my coaching education in Brazil I always liked the style of play where there's skill, experience and there's a sense of playing the right way and playing with purpose. It's one thing to say to keep possession of the ball. It's another thing to say let's keep possession of the ball and go in a direction. Let's keep direction and go towards the goal. What we've been able to do is to find very good players, players like David Ferreira who I saw playing in Brazil. I was wondering if I ever coach in MLS he's somebody to go get."
Chicharito's Excellent Adventure
He did and he began to build FC Dallas into a team that reached the 2010 MLS Cup final before it lost to the Colorado Rapids in extra time.
As it turns out, Colombians have been the players of choice this season with 24 in the league.
"You are starting to see other teams in the league also going toward Colombians and Panamanians and so forth," Hyndman said. "First of all, we look at a player who comes out of Colombia. It is a high level league. It can be a physical and high level league. We can make some correlations to what we're all about. Our league is pretty athletic. It is fast paced. What we're trying to do is find players who can come in and find success immediately. If you look at the history of international players, a lot of times it takes a while for them to get their foot under them and figure things out. What we have found out with a lot of players from Colombia is that they're ready to play right away."

No team or coach has championed the Latino cause more than Real Salt Lake and Coach Jason Kreis, who has 10 players from the Latin American on the team.

Kreis has recruited and signed players from Argentina, Colombia, Uruguay, Mexico, Costa Rica and Cuba. The players who have enjoyed the most success include Argentines Fabian Espindola a forward, Javier Morales a midfielder and Colombian defender Jamison Olave.

Messi the Great
"Our league is a very physical league that plays at a high pace for 90 minutes," he said. "You see similar things in Argentina and Colombia. Also, when you go down to watch those games, the first thing you notice is how incredibly intense the atmosphere is. The crowds there, especially in Argentina, can be quite intimidating. You realize very quickly that the players that come here are used to high pressure situations. We like to think we're in high pressure positions here and our stadiums are becoming more and more intense atmospheres. So, all of the things add up to it to make sense.
"I can only speak of Real Salt Lake. We like very technical players, very dynamic players. We like guys who can play multiple positions. We like guys who are comfortable with the ball in tight positions. That lends itself to be looking for players in South America."
Like it or not, it always comes down hard, cold dollars in what a team can afford.
Outside of the Designated Player Rule, teams have to use their budgets wisely due to the annual MLS salary cap of $2,808,750. So, getting players from south of the Rio Grande makes a lot of sense and cents for both parties.
"Bringing players in from South and Central America presents value for money," said Seattle Sounders FC coach Sigi Schmid, whose team has won two Lamar Hunt/U.S. Open Cup championships since joining the league as an expansion team in 2009. "The players in Europe and Mexico are often overpriced. The players in South America are attractive because you can find a good player at a reasonable price. They are good technically and appreciate the chance to come to America. The same applies to Central America and those players often view the U.S. as a preferred destination."
Soccer-Mad Church Worships Diego Maradona as a God
Kreis agreed and elaborated.
"First and foremost it's the economy of the situation," he said. "We have a very strict salary cap as everybody knows. In order to operate under that salary cap you have to find good enough players that are also cheap enough. My feeling is and also from my limited knowledge after spending some time in Europe this past winter and asking players what they were making we just can't afford anybody in Europe, unless it's just been somebody who has been run out of a club or has lost an opportunity or has been cut, one of those things.
"For the type of quality player we are looking for, we are finding them mostly in South America. The salaries down there are similar to ours, maybe a little bit lower. When you tap on loan fees and acquisition costs and stuff and you get guys who are medium range salaries in our league. . . . That's why you see an influx."
It makes a lot of sense and cents for South and Central Americans players to play in MLS, in more ways than one.
"They're seeing that this league is becoming more viable every year," Mondelo said. "It's getting more exposure. The quality continues to improve. Those players who come from those countries who come here they have a good experience. And that's the best advertisement that you can do. They go back and they say, 'This is a serious league. It's well organized. There are no major problems.' There's no problems with getting paid. They deliver what they promise. I think that also broadens the reputation of the league."
So the influx of Latino players is not going to go away. If anything, there should be more Latino players performing in the league in the years to come.
"I see the use of players from Central and South America to continue to increase," Schmid said.
United States Celebrates First Ever Victory over Italy
But success can be a double-edged sword. If the league continues to grow at the same rate it has over the past several years, an expanded salary cap could open the door and lure nationalities from other parts of the world.
Schmid said that "as our league profile becomes stronger we will also be better able to recruit out of the Scandinavian countries and possibly the Balkan countries as well. It all comes down to getting quality at a good price."
Right now, the price is right and the place is right for Latino players in MLS.
Michael Lewis, who has covered international soccer for three decades, can be reached at SoccerWriter516@aol.com.