The <i>Other</i> Football: Targeted by terrorists, soccer should launch an all-out offensive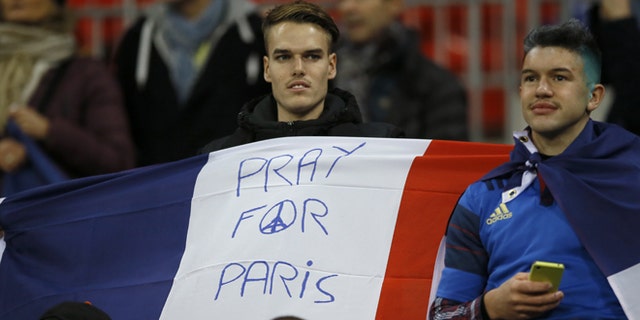 Terrorists have targeted soccer in a way that fans and players alike could never have imagined. Two ISIS homicide bombers in Paris sent all fans a warning that the sport itself has a bull's-eye on it.
What can and should the sport do to respond to the threat?
First, let's note that pictures of refugee kids in Syria and Iraq often show youngsters playing soccer while wearing shirts emblazoned with Barcelona, Real Madrid and many other big-team insignias.
What if the stars of our game, whose influence reaches far more widely than condemnations by President Barack Obama or other world leaders, came together in a global campaign against terrorism – in all its forms?
To Ronaldo, Messi, Suárez, Pelé, Maradona, Zidane, Neymar and other soccer stars, I say it's time to stand up and make it clear that our game won't tolerate terrorism. FIFA should set aside millions for an ad campaign and take it to the masses in parts of the world where terrorism fluorishes.
Just as Sir Bob Geldof's Live Aid used pop culture to inform the minds of a generation of young people about famine being a horrific problem and to suggest that it was up to them to banish it forever, so should the luminaries of soccer be pressed into action against the scourge of terrorism.
I'd like to see videos and magazine ads with players saying, "No to terrorism."
Let's drop leaflets over Syria, Iraq, Iran and the Gaza Strip targeting the youth who might otherwise be open to turning to terrorism.
By having the likes of Ronaldo and Messi pleading with the kids in their native Arabic, Pashto or Farsi to choose soccer over jihad, we at least highlight that there is an option. The campaign could revolve around the idea of encouraging soccer balls, not bullets.
I realize this is all very hopeful – and maybe wishful – thinking, but if we stay quiet on the topic, it will only show that our sport doesn't give a damn.
This is not the time to bow to political correctness. It's time to do something good and positive; time to make sure soccer doesn't become a target for jihadists.
Terror groups such as ISIS have used social media to further their numbers and aims – let's turn the table and use social media against them. Forbes reported that Barcelona has more than 100 million combined Facebook and Twitter followers; Real Madrid had just under 100 million.
Think of the reach of "Say no to Jihad" messages spread across those platforms.
A free Real Madrid or Manchester United soccer academy in Baghdad would have much more cache than a terror camp in Fallujah.
Let's hope someone in the soccer world has the guts and determination to take on this necessary fight now that the sport has been targeted.
Video of the week
Check out what happens when fans come together: A tribute at England's Wembley Stadium to the victims of the French terror attack.
From the wires
The whereabouts of the former president of Chile's soccer federation has been solved.
Sergio Jadue had been missing since he resigned last week after refusing to answer questions by federation officials over his possible links to the corruption scandal at FIFA.
Local media reported he struck a deal with the FBI, and that he might be in New York helping U.S. authorities.
But Chilean state TV aired images late Monday of Jadue walking the streets of Miami Beach in sandals, a T-shirt, and shorts.
In the first first images since he left Chile, Jadue was not guarded by police or bodyguards, and he was not visibly wearing an ankle bracelet. He declined to speak on camera.
The Associated Press contributed to this report.