The NFL Draft is the worst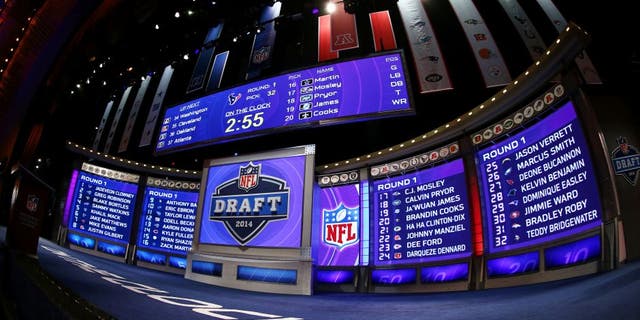 NEWYou can now listen to Fox News articles!
I hate the NFL Draft.
There; I said it. I feel better now. It's cathartic in this era of conformity, peer pressure and having to act like Purple Rain was a legitimately good movie. I DON'T LIKE THE DRAFT! I'd scream it from the rooftop if I wasn't scared of tall ladders. And rooftops. That feeling has been building inside of me for years, back to the early '90s when I loved nothing more than listening to the draft on radio while mowing lawns, to the early 2000s when there was the right amount of coverage (not too much, not too little) for big NFL fans to keep up on college players they didn't know well, to our current state of draft overload -- Pax Draftana -- a time when there are more mock drafts on the Internet than Game of Thrones recaps and you basically have to make studying prospects a full-time job if you want to have a semi-informed opinion about the guys in the green room. Back in the day, you'd read Dr. Z's mock in Sports Illustrated and be set. Now you literally could spend all day, every day reading about the draft. And, somehow, you'd be as in the dark as you were back then.
Despite all the coverage, film study, analysis and combine results, no one has any idea how any of these players will perform in the NFL, though we all like to act like we do. "Really pleased [Team X] got Laremy Tunsil," someone in some football town will tell a co-worker on Friday. "He'll fit right in and be a stalwart on the line for a decade." Oh, shut it. You don't know. I don't know. Mel Kiper doesn't know. Laremy Tunsil doesn't know! Robert Gallery was a can't-miss tackle too, remember
Go back and look through the last 25 drafts and see where the best player comes from (almost never in the top five) and how many of the first-round picks turn into busts (half is a conservative estimate).
You'll never hear about all the bust potential on draft night. The four months of draft talk will culminate Thursday when 31 future All-Pros are picked, with not a lemon to be found. Everyone has an upside. Downsides are like a running back going in the first round -- rare. Opinions, based on various factors (too few of which are actual college game film), will be given and they'll be perfectly valid. Yet they're opinions nonetheless and, at least on draft night, almost all will be positive. Sure, there'll eventually be some criticism of picks/draft classes online, in print and on post-draft TV shows, but those are guessing games about the guessing game. The draft is like a contest where you estimate the number of jelly beans in a jar. Draft analysis is like guessing which person came closest to guessing the number of jelly beans.
By my count, there are exactly five reasons to watch the draft, which is best viewed as an offseason oasis, not a first step on a march to Canton:
1. Actual drama about the No. 1 pick.
2. Your favorite team picking.
3. A player, particularly a quarterback or someone already well known, slipping while sitting in the green room for all to see.
4. Because the early rounds of the NHL and NBA playoffs are so mind-numbingly boring that watching one of the most unpopular sports commissioners of the past half-century reading 32 names from a card over the course of four--plus hours seems better in comparison.
5. Shoes.
The first one almost never happens anymore. Sometimes there isn't any drama for the No. 2 pick either, like this year. It's fun to watch your favorite team pick, but after the initial burst of watching the aired highlights and doing some Googling to read about him, you have to wait five months to see your new guy in action. It's like when you buy something off Amazon that hasn't come out yet and then it shows up a few weeks later and you barely remember ordering it in the first place.
The green-room drama is a sort of perverse pleasure -- deriving enjoyment from the pain others. Oh, it can be fascinating to watch but it takes a perfect storm to make such a green-room plummet memorable. It's why the two most famous ones (Aaron Rodgers and Johnny Manziel) were quarterbacks who were well known leading into the draft. If a safety expected to go in the top 15 falls to No. 28 on Thursday and becomes the focus of the TV cameras in the interim, the drama will stay with you until the moment he walks off stage, then you'll forget it forever. It's great to watch but ultimately unimportant, like a season of Survivor.
Manziel was the exception -- he was the most famous college football player this side of Tim Tebow and no one knew where he'd go. When he dropped further than most expected, giving the Dallas Cowboys a chance to draft him, the thought of Johnny Football (remember when he was known by that name devoid of irony) teaming up with Jerry Jones was an imagined delight the likes of which a draft night has never seen. Then he ended up in Cleveland, which was the most disappointing TV moment since the How I Met Your Mother finale one month before.
He was an exception in other ways, too. At this time last year, you didn't know 98 percent of players who will be taken this week. At this time in February, maybe you knew 5 percent. The Jameis Winstons -- the guys who are on your TVs every day during football season -- are few and far between mainly because the NFL sucks up all the oxygen in the sports universe come September and because there are so many players on so many teams in college football that it's impossible for a mere mortal to keep up.
Look at the latest mock from FOX Sports' Peter Schrager. Raise your hand if you legitimately knew three of those names prior to January.
Now we all know Jared Goff, Carson Wentz, Ezekiel Elliott, Jalen Ramsey and Laremy Tunsil, but during the season those guys weren't just flying under the radar of NFL fans -- there was no radar. You were paying attention to the NFL, not to which offensive tackle had the best footwork in the 60-plus college games every weekend.
Seriously, there is a completely legitimate chance you made it through the Super Bowl and into "draft season" only knowing one potential first-rounder. And Robert Nkemdiche was memorable for both his failings (fallings?) as well as his successes. (Having a distinctive name didn't hurt, which is why you also might have remembered Shaq Lawson from Clemson.)
Your draft ignorance isn't caused by completely avoiding college football (with a toddler who has a rigid nap schedule, I watched more than ever this year), it's just because the concept of time makes it impossible to devote yourself fully to both the college and professional games. You can't be a die-hard of both (loving individual teams are one thing, but not the sport as a whole) unless you have no responsibilities, whether social, familial, work-related, and have no interest or desire to get off the couch for the 36 hours between Saturday at noon and Sunday at midnight. It's hard enough clearing Sundays for the NFL. You can't expect to do it for college too (and vice-versa).
That's why we need the handful of actual draft experts who know the players, the teams and the needs and make informed mock drafts based on all three. But reading those draft experts doesn't make you one yourself, the same way installing a light bulb doesn't make you Thomas Edison, an apt comparison because much like the draft experts, Edison failed far more than he succeeded. (Of course, he was inventing devices to improve society. Draft experts are evaluating the secondary needs of a football team in Jacksonville.) It's the blind leading the blindest.
So there it is -- my deep, dark NFL secret. And don't get me started on the combine.