The Monster Mile showed why the Chase drivers are the best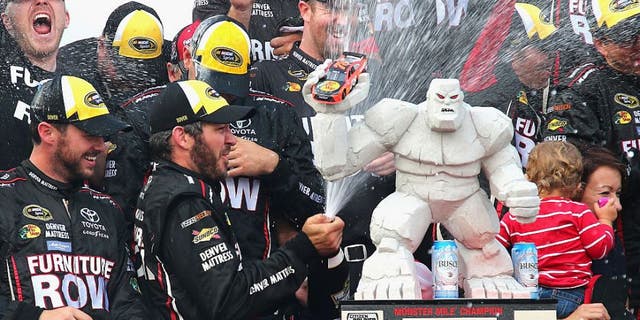 I guess first and foremost; everyone feels blessed that we were able to get the race in at Dover on Sunday.
Mother Nature sure played havoc with the racing plans for the weekend there. I was up there for the first two days and to say it was a challenging situation for everyone would probably be a pretty big understatement.
There was very limited amount of practice time for the NASCAR Sprint Cup series.
In fact, Martin Truex Jr who ended up winning the race Sunday only got a whopping 13 laps of practice time at Dover on Saturday.
Thankfully we got Sunday's race in and the No. 78 car continues to make the statement that 2016 NASCAR Sprint Cup championship goes through them.
When you look at this first round that was just completed, not only did they win two of the three races, but had they taken four tires instead of two at Loudon, there's a darn good chance they could have swept all three races. That's just how dominant they are right now.
Going into Sunday we all knew what the math was telling us that more than likely the 12 drivers who were in position to move on were going to.
At the same time, we all know how hard that joint is on the drivers and their cars, there was a chance just like in 2015 with Jimmie Johnson, that someone might have an issue and surprise ending might happen.
Guess what? It happened again this year. Somebody on the inside had a problem and someone on the outside looking in was able to step through the door and take their place.
Kyle Larson who was barely above the cut-off line had issues and Austin Dillon ran awesome Sunday. Kyle's championship dreams for 2016 are over now while Austin lives to race another round.
I feel bad for Chip Ganassi Racing. Going into Sunday's race Jamie McMurray was outside by five points while as I mentioned, Kyle Larson was in by five points.
Jamie was running right where he needed to be and looked to be moving on, especially when his teammate had a problem.
How rare is it that we talk about a Hendrick engine failure? Unfortunately, that is what happened to Jamie. Now, both cars have been eliminated and will have to look to 2017 to make a championship run.
I think we all knew based on the way he has run the last month and a half that Tony Stewart probably wasn't going to move on to the next round. Unfortunately, that proved to be the case in this, his last season so the dreams of a fourth championship are now over for Tony.
Like I said last week however, this in no way defines Tony's career. The man has 49 wins and three championships plus who knows, maybe he can get win No. 50 before it is all said and done for 2016.
Sunday was an old fashioned butt-kicking by Martin Truex Jr. Believe it or not, there were only six cars on the lead lap when he took the checkered flag.
For those out there that believe NASCAR throws cautions just for the sake of throwing cautions to bunch the field back up for the restarts, well Sunday we had 205 green flag laps.
So I hope that shuts some folks up that complain that NASCAR throws caution flags when they deem it necessary just to bunch the field back up.
Our top nine finishers yesterday were Chase drivers so there is yet another example of what I keep pointing out that our Chase system works and the best drivers rise to the occasion. Our Chase drivers run well each and every week. Brad Keselowski is probably the quietest of the Chase drivers to move on.
Despite the fact that he hasn't won a race since July at Kentucky, Brad had three consecutive top 5 finishes in this first round of the Chase. If he can keep running like that and keep getting those top 5 finishes, I can easily see him moving through this next round as well.