The Maple Leafs are embracing 'Dart Guy' and not everyone is happy about it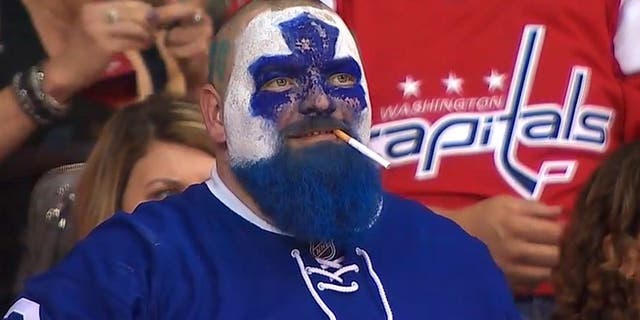 NEWYou can now listen to Fox News articles!
It sounds a bit weird to say, but Toronto Maple Leafs fans have no shortage of things to cheer for these days. They've got their excellent batch of rookies -- including Auston Matthews, Mitch Marner and William Nylander -- as well as a playoff berth and a tight seriesagainst the Capitals.
Now, we can add one more thing to the list: "Dart Guy."
That's the nickname affectionately given to37-year-oldJason Maslakow, an Ontario native and Leafs fan who grabbed the spotlight during Saturday's Game 2 between the Leafs and Capitals.Maslakow made the trek down to Washington D.C. to watch Toronto take care of business and even the series with an overtime win over the Capitals.
Dart Guy instantlybecame an internet sensation, and it's not hard to see why.
While that may appear to be an ordinary mohawk on top of Dart Guy's painted face, you should look closer. There is magic inthe details.
Leafs fans almost immediately adoptedDart Guy as an unofficial mascot. If you follow any of them on Twitter, you might notice the photo.
Since the start of Saturday's game, Maslakow has picked up nearly 6,000 followers on Twitter. He's sweeping Leafs Nation, so much so that the team decided to hook him up with tickets to Monday's Game 3 back home in Toronto.
But not everyone is pleased with the Leafs' decision to host Dart Guy at the Air Canada Centre on Monday. A blog post on Fansided's Tip of the Tower called the decision "irresponsible" and questioned the message that it sends.
"Since when does a sweaty, over-weight guy with a ciggy in his mouth represent what the Toronto Maple Leafs organization stands for? Since when does the NHL and MLSE encourage and promote life threatening addictions as humorous or cool?"
Other fans echoed the sentiment on Twitter:
Since this is the internet, itshouldn't be surprising that at least one person has taken exception to the idea. Even so, it seems a little silly to get so worked up over the team embracing a fan who happened to beseen with a cigarette in his mouth.
After all, Dart Guy wasn't explicitly shown smoking that cigarette and, for all we know, he could have kept it unlit the entire time he was in the arena. (Washington's Verizon Center, like most arenas, prohibits smoking at sporting events.)
It seems highly likely that the Maple Leafs and Air Canada Centre would letMaslakow know he's not allowed to light up within the confines during Game 3, especially withhim being a guest of the team and the increased media exposure that comes with that.
Also, as Puck Daddy points out, theMaple Leafs have slapped their logo on plenty of alcoholic products over the years, so it's not like promoting "life-threatening addictions" would be particularly new to them, or most other professional sports teams. As for the idea of giving setting up fans who deserve tickets more, the Maple Leafs do that quite a bit, so that high horse is shrinking.
Hockey is fun. The playoffs are fun. Dart Guy might not be a beacon of class or the greatest representation of the Maple Leafs organization, but he is fun. There's nothing wrong with embracing that.
You know, at least until the internet does that thing it always does anddigs up all the proverbial skeletons that Dart Guy has in his closet. But until then, light(en) up.