The best MLB Draft pick ever for all 30 teams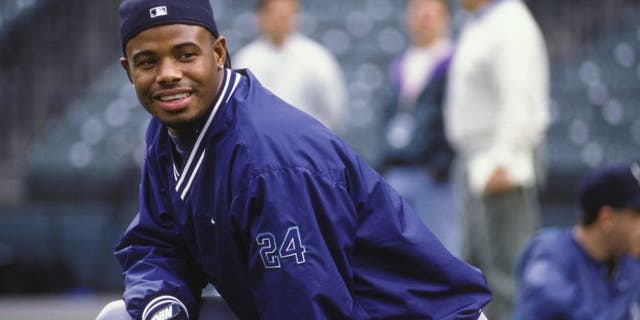 NEWYou can now listen to Fox News articles!
Many of the best players in MLB history come into the majors by way of the draft. Guys like Derek Jeter and Ken Griffey Jr. began their careers as highly touted prospects taken in the first round. Those are the types of players all 30 franchises hope to find this week in the June amateur draft, which begins Thursday.
With that said, let's take a look at the best draft pick of each MLB club, beginning with the AL East and finishing with the NL West.
Arguably the best pitcher in MLB history, Clemens was a steal at No. 19. All he did in his 24-year career was win 354 games, 7 Cy Young Awards and one AL MVP and make 11 All-Star Games. Clemens' career ERA was 3.12, while his 4,672 strikeouts are third all-time. Not to mention he won two World Series rings. Despite joining the dark side (the Yankees) midway through his career, Clemens will go down as one of the greatest Red Sox players ever.
The Rays are one of the younger clubs in MLB, with their inaugural season coming in 1998. Because of that, they haven't had nearly as many draft picks as other franchises. That's not selling Longoria short, though. As the Rookie of the Year in 2008, he belted 27 home runs and finished 11th in MVP voting. His highest finish for the award came in 2010 and 2013, when he was sixth. He now has 219 home runs and his career WAR is 44.6, the highest in franchise history.
This one was easy. Sure, the Yankees have fielded some of baseball's all-time greats, but not all of them were drafted by the club. Jeter was. And he's undoubtedly one of the most decorated Yankees in franchise history. He finished his career with an average of .310, 260 home runs and most notably, 3,465 hits -- sixth all-time. As far as winning goes, no one was better than Jeter, who was a five-time World Series champion. Off the field, the 14-time All-Star was equally great.
Halladay was somewhat of a slow starter for the Blue Jays. It wasn't until 2002 that he made his first All-Star Game, but when he did get going, he was dominant. The following season he won his first of two Cy Young Awards, winning 22 games with a 3.25 ERA. He went on to pitch for 12 years in Toronto, finishing in the top five of Cy Young voting four times while making six All-Star Games with the Blue Jays.
The Iron Man, Ripken Jr., was as consistent as they come. The 19-time All-Star won one World Series with the Orioles in 1983, two MVPs and eight Silver Sluggers. He received 98.53 percent of votes as a first-ballot Hall of Famer in 2007. Ripken finished his career with 3,184 hits, 431 home runs and 1,695 RBIs in 21 years, playing a total of 3,001 games -- the eighth-most all-time. His record of 2,632 consecutive games played is one that likely will never be broken.
Ramirez will be remembered for his time with the Red Sox, but he did plenty of damage in eight years with Cleveland. He never won an MVP in his 19-year career despite slugging 555 big flies. In Cleveland, Ramirez won three Silver Sluggers and had 236 home runs, while posting a batting average above .300 in all but one of his full seasons.
One of the best pure hitters in MLB history, Brett was scooped up by the Royals in the second round. The Hall of Famer played all 21 seasons in Kansas City, hitting 317 home runs with a .305 career batting average. He boasts the highest WAR (88.4) in Royals history, and it's not even close with the second highest being Kevin Appier (47.3). Brett was an All-Star each year from 1976 to 1988, winning one MVP award in the process. Even at age 37 in 1990, he finished seventh in MVP voting.
"The Big Hurt" spent 16 of his 19 seasons in Chicago, where he clubbed 448 of his 521 career home runs. He's 19th all-time in homers and 10th in walks, which shows the kind of damage he did to opposing teams. Thomas was elected to the Hall of Fame in 2014 and is third in franchise history with a WAR above 68.
Given his struggles in recent years, people sometimes forget just how dominant Verlander was in his prime. In 2011, he became the first pitcher to win the MVP award since Dennis Eckersley did it in 1992. He went 24-5 that season with a 2.40 ERA and 250 strikeouts in 251 innings. He has the seventh-most wins in franchise history as well as the second-most career strikeouts. Alan Trammell and Lou Whitaker were Tigers stalwarts in the 1980s but didn't burn quite as bright as Verlander.
Despite being undersized at 5-foot-8, Puckett had plenty of pop at the plate. He hit 207 home runs in his 12-year career -- all with the Twins -- and was the definition of a perennial All-Star. He was an All-Star 10 straight years, from 1986 to 1995, finishing in the top 10 of MVP voting six times in that span. Joe Mauer and Torii Hunter were also stellar picks by the Twins, but Puckett was the best.
Mr. October didn't become such until he joined the Yankees in 1977, but he came up with the Athletics and hit the most of his 563 career home runs with them. In 10 seasons with the A's, Jackson belted 269 homers with 776 RBIs and a .262 batting average and won two World Series. Strangely enough, Jackson is the all-time leader in strikeouts (2,597), though he's also 13th in home runs. This one was a coin flip between Jackson and Rickey Henderson.
As strange as it sounds, Kinsler was drafted not once, not twice, but three times in his career. The first came in 2000 out of high school, before he was picked again in 2001. He chose to go to remain in school both times before being taken by the Rangers in 2003. He stood out in his first big-league season, finishing seventh in Rookie of the Year voting. He'd go on to make three All-Star teams with the Rangers, with his top MVP finish coming in 2011 (11th) when he hit .255 with 32 home runs. He has the fourth-highest WAR in Rangers history (35.1).
Although Alex Rodriguez was a great pick for the Mariners, he didn't have the same impact or stellar career in Seattle that Griffey did. As soon as he came into the big leagues in 1989, Griffey was one of the best players on the roster. He finished third in Rookie of the Year voting and was a perennial MVP candidate each year thereafter. He finally won it in 1997, when he hit 56 home runs with 147 RBIs and a .304 batting average. It's still one of the greatest seasons in baseball history. Not to mention, his 630 career home runs are sixth all-time. He'll go down as one of the best ever and was the first No. 1 overall pick to be elected to the Hall of Fame, setting the record for the highest voting percentage of any player.
There's little doubt that Biggio is one of the best players in Astros history, alongside Jeff Bagwell. However, he's assuredly the best to be drafted by Houston. In his 20-year career, all of which were with the Astros, Biggio hit 291 home runs and had a .281 batting average. Biggio won four consecutive Gold Glove awards at second base, but that wasn't his only position. He played the outfield and caught behind the plate, too, showing tremendous versatility in addition to a big bat.
It's not often that a player drafted seven years ago is already the best pick in franchise history, but that's what Trout is to the Angels. In five full seasons, excluding 2016, Trout has made four All-Star Games, finished in the top two of MVP voting four times (with one win) and won four straight Silver Slugger awards. There isn't much Trout can't do, and he's still just 24 years old. Having hit 151 home runs already, he's on track to easily surpass 550 in his career, which will make him the undisputed best player in Angels history -- and one of the best ever in the majors.
Thanks to the stellar career of Tom Seaver, Gooden isn't necessarily the best pitcher in Mets history. But he is the best draft pick of the franchise, seeing as Seaver signed as an amateur free agent and Nolan Ryan didn't do much as a Met even though he was drafted by them. Gooden had an incredible 11 years with the Mets. He was an All-Star right out of the gate, making it in four of his first five seasons while also winning a Cy Young in his second year. His 24-4 record with a 1.53 ERA in 1985 is still one of the most remarkable season-long performances in baseball, one that also included 268 strikeouts and just 69 walks. Though he wasn't nearly as effective after leaving the Mets, his 3.10 ERA with the team is tied for sixth in franchise history. He also has the second-most wins and strikeouts, in addition to the highest win percentage.
Carter and Andre Dawson are two of the greatest players in Expos history, both of whom are Hall of Famers. And though Bryce Harper is on track to do the same, he's still in the early part of his career. Carter spent 12 years with the Expos, hitting 220 of his 324 home runs with the team. While with the Expos, he was a seven-time All-Star and the MVP runner-up in 1980, when he had 29 home runs and 101 RBIs.
Like the Rays, the Marlins are a young franchise that debuted in 1993. They've had a handful of great players, including Hanley Ramirez, Luis Castillo, Dontrelle Willis and Miguel Cabrera, but none of them was drafted by the Marlins. Stanton was. Although he's struggled mightily this season to the point where it's baffling (.197/.310/.750), he's already second in club history with a WAR of 25.6. He has 193 home runs in his short career and finished second in MVP voting in 2014. He has made three All-Star teams in six-plus seasons.
Schmidt isn't just the best pick in Phillies history, he's the best player to ever put on the team's jersey. He played all 18 seasons in Philadelphia, making the All-Star Game 12 times and winning three MVPs. He was great in the field, too, winning 10 Gold Gloves, including nine consecutive. With 548 career home runs and an OBP of .380, among other accomplishments, it's easy to see why Schmidt was one of the best players in MLB history.
The Braves have fielded some of the all-time greats in baseball history: Hank Aaron, Phil Niekro, John Smoltz, Greg Maddux, Tom Glavine. The list goes on, but Chipper Jones is the best draft pick by the franchise. Glavine was a close second, given that he's a Hall of Famer already, but Jones will be there soon as a first-ballot guy. In 19 years with the Braves, he slugged 468 home runs and had a .303 career batting average. Incredibly, his career OBP was .401 -- which was helped by his 2008 season, when it was .470 at age 36. Jones was an eight-time All-Star and the 1999 MVP while never showing much regression from his first season to his last.
The Cubs haven't exactly drafted well in their history. That could be part of the reason they have the longest title drought in North American sports. However, they did a great job in 1984, when they landed Maddux in the second round. Although most of his best seasons came with the Braves, the Hall of Famer won a Cy Young and six Gold Gloves in Chicago. In 10 seasons, he won 133 games and had a 3.61 ERA. Maddux has the sixth-most career strikeouts in Cubs history.
MLB's all-time leader in home runs wasn't drafted by the Giants, the team he spent most of his career with. He was picked by the Pirates in the 1985 first round and spent seven seasons in Pittsburgh. Sure, he hit 586 of his 762 home runs in San Francisco, but he won two MVPs, three Gold Gloves and three Silver Slugger awards in just seven years with the Pirates. He hit .275 in Pittsburgh, with 176 home runs and 556 RBIs, before signing a then-record $43.75 million deal with the Giants.
Arguably the best catcher in MLB history, outside of Yogi Berra, was taken in the second round of the 1965 draft. Bench had an illustrious 17-year career with the Reds, being named an All-Star in all but three seasons while also winning two MVPs. Behind the plate, Bench was equally great, taking home 10 consecutive Gold Gloves from 1968 -- his second season -- to 1977. He hit 389 career home runs, 326 as a catcher, which is third all-time among players at his position.
A total of 401 players were taken before Pujols in the 1999 draft, proving that he's one of the biggest steals in baseball history. He was the complete package in St. Louis -- he could hit for power and average and flashed the leather at first base. For the better part of a decade, he was the best player in baseball. In 11 years with the Cardinals, Pujols hit .328 with 445 home runs and drove in 1,329. His numbers tapered off after signing with the Angels in 2012, but there's no doubting his impact in St. Louis. He was a three-time MVP and nine-time All-Star, while also winning two Gold Gloves. His WAR of 86.4 is the fourth-highest in franchise history.
Yount spent the entirety of his 20-year career in Milwaukee, winning two MVP Awards and collecting 3,174 hits as a shortstop and outfielder. It's no surprise that Yount is a member of the Hall of Fame, given that he did it both with his bat and his glove. His career WAR of 77.0 is tops among all Brewers, 18 clear of the next closest player (Paul Molitor).
The Giants have had a boatload of great players come through their franchise, but most of them were free-agent signings or joined during the pre-draft era. Posey takes the cake here by a slim margin over guys like Tim Lincecum and Madison Bumgarner, seeing as he'll likely be a Hall of Fame catcher. In seven-plus seasons, he's won three World Series rings, one MVP and a Rookie of the Year award. There isn't much he hasn't accomplished in his short time in the majors, and so long as he can stay healthy he's on the inside track toward a Hall of Fame career.
Garvey had a run from 1974 to 1981 where he was among the best hitters in baseball, being named an All-Star each season and winning the MVP award in 1974. He won four consecutive Gold Gloves in Los Angeles and slugged 211 home runs with the team. His career average dipped after going to the Padres, but he boasted a mark of .301 with the Dodgers.
Since becoming an MLB franchise in 1993, the Rockies have made just three postseason appearances and won one pennant. Not surprisingly, two of those playoff appearances came with Helton at first base. The five-time All-Star owns the highest WAR in team history (61.2) and hit above .300 for his career (.316). More impressively, he's the franchise leader in hits, doubles, home runs, RBIs and strikeouts. There isn't a more decorated player to ever put on a Rockies jersey.
Goldschmidt may not be the best player in the young Diamondbacks' history, but he was an absolute steal of a pick and the best selection the team's ever made. Now in his sixth season, Goldschmidt has been named an All-Star three times, finished in the top two of MVP voting twice and won two Gold Gloves and Silver Sluggers. He'll be in Arizona for a long, long time as he's a guy with power and hitting ability who has a career .297 batting average to go along with 127 home runs.
There's a reason Gywnn is often called "Mr. Padre." He spent all 20 of his major league seasons with San Diego, putting together a Hall of Fame career. He won eight batting titles, was a 15-time All-Star and won five Gold Gloves as a right fielder. His 3,141 career hits are 19th all-time, and his 68.8 WAR is the highest in Padres history. He was the model of consistency with his .338 career average, hitting below .300 just once -- in his rookie season.