Texans OL David Quessenberry is destroying cancer -- and the victory bell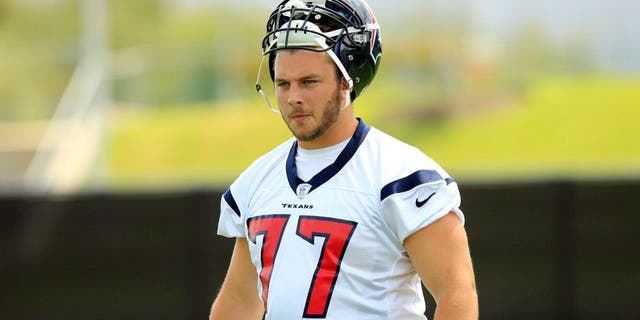 In the healthcare world, its not unusual for patients fighting cancer to ring the bell following their final chemotherapy session, a meaningful, symbolic moment representing the end of active treatment.
Its not every day, however, that one of those cancer survivors rips the bell right off the wall.
Houston Texans offensive tackleDavid Quessenberry had his life turned upside-down in June 2014, when he learned he had non-Hodgkin T-lymphoblastic lymphoma after experiencing a persistent cough and shortness of breath during offseason workouts.
Nearly three years after his initial diagnosis, Quessenberry completed his chemo regimen this week and celebrated by accidentally destroying the ceremonial bell at MD Anderson Cancer Center in Houston.
In a Wednesday Instagram post sharing the gaffe, the 6-foot-5, 300-pound Quessenberry thanked his friends, family and supporters and also cracked that, this bell, just like cancer, never stood a chance.
Calls to Quessenberry were not immediately returned Thursday, but Quessenberry, who first reached remission in February 2015, has stated that he intends to play again once his treatment is complete.
In May, the Texans waived Quessenberry with a non-football injury designation, and hes currently listed on the teams active/non-football illness list. However, Texans coach Bill OBrien said at the time that he was optimistic that Quessenberry would someday return to the team and the field.
"I don't know if there's ever been somebody that's been out for four years, but if anybody can do it, it's David Quessenberry," O'Brien told ESPN of Quessenberry, a 2013 sixth-round pick who missed his entire rookie season with a foot injury. "This guy's a driven, driven guy.