Streaking For A Cause: Young Woman Crashed Pro Bowl In Honor Of Her Paralyzed Cousin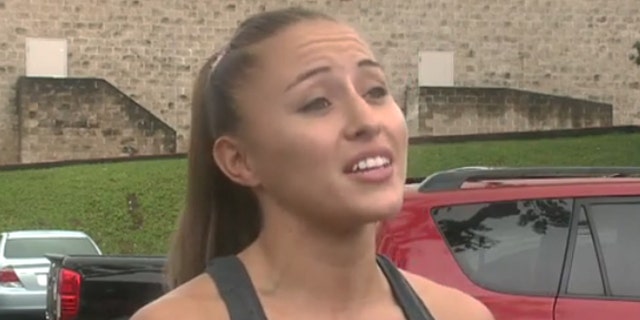 During the fourth quarter of Sunday's Pro Bowl in Honolulu, Hawaii, Philadelphia quarterback Nick Foles lobbed up a pass to the corner of the end zone that Cleveland tight end Jordan Cameron came down with to put Team Deion Sanders up 21-14.
Before Cameron even had a chance to get up and spike the ball, Katrina Torres came bounding onto the field wearing shorts, a bikini top and a yellow rain poncho that she quickly threw off. For the better part of a minute, she ran around the field, weaving her way through players, jumping for hip bumps, punching the air and showing some impressive wheels in eluding security, all to wild cheers of the Aloha Stadium crowd.
On Monday, Honolulu TV station KHON2 caught up with Torres, a New Mexico native who moved to Hawaii five years ago. Her reason for streaking? As a tribute to her cousin, Gary, who lost the ability to speak and was paralyzed as the result of a motorcycle accident.
"He can't talk," Torres told KHON2, "but he was just smiling a lot and just like, fist-pumping. As soon as he saw me jump his face just lit up and he was fist-pumping and stuff."
The 23-year-old finally got collared by stadium security, but was saved from the hoosegow by an unlikely ally: Former star Deion Sanders himself.
"Deion Sanders comes running behind saying 'Don't arrest her,'" Torres said. "That was really cool." According to the account Torres gave the station, Sanders added, "If you arrest her, I'm gonna bail her right out."
As a result, the only punishment Torres is likely to face is a one-year ban from attending events at the Aloha Stadium.
Follow us on twitter.com/foxnewslatino
Like us at facebook.com/foxnewslatino