Stipe Miocic reveals what separates him from every other heavyweight in the UFC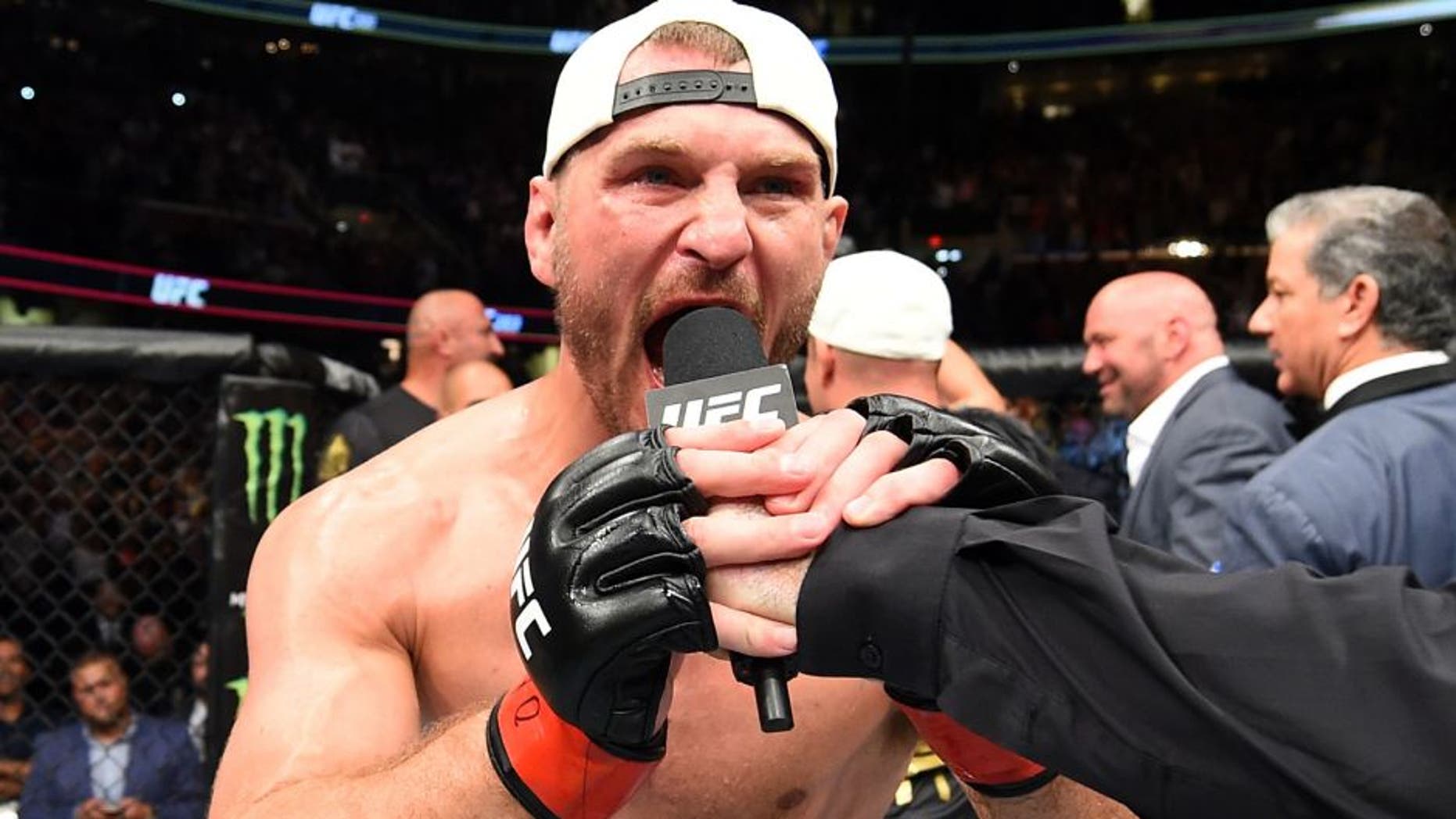 There have undoubtedly been some legendary heavyweights to compete and hold the title in the UFC over the past 24 years.
From Hall of Famers like Mark Coleman and Randy Couture to media superstars such as Brock Lesnar, the division has a rich history of great champions but it's also been the toughest weight class to reign at the top for very long.
In fact, no heavyweight champion in UFC history has defended the belt more than two consecutive times but that's a streak Stipe Miocic hopes to break.
Miocic already defended his belt once with a knockout win over Alistair Overeem this past September at UFC 203 and now he'll put his title on the line once again when he faces former champion Junior dos Santos at UFC 211 in May.
Miocic has heard the statistics about the history of heavyweight champions in the UFC, but those numbers don't mean anything to him when it comes to plotting his own course as king atop arguably the toughest division in the sport to hold onto the title.
"I want it more. Plain and simple," Miocic responded when asked by FOX Sports what separates him from all the other champions in history. "I worked so hard to get that [title]. I put so much sacrifice and my coaches put so much sacrifice, you put so much sacrifice into family and I've just worked way too hard to give it up. Screw that."
While Miocic is the reigning and defending champion, he still hears other fighters in the division receive a lot of praise while being touted as 'the next big thing' or even promoted as a future champion.
Case in point is French phenom Francis N'gannou, who has stormed through the division in his first few fights in the UFC including a recent win over former champion Andrei Arlovski that ensconced him inside the heavyweight top 10 rankings.
Afterwards, UFC president Dana White said N'gannou not only had what it took to become champion but he believed he had "the potential to hold that title for a very long time."
None of that promotional bluster bothers Miocic because he's heard it all before. Truth be told, White doesn't sound all that different from the scores of people on Twitter who have taken shots at Miocic before and during his title reign in the heavyweight division.
"Listen, I understand it's promotion but no one ever gave me a chance. No one ever thought I'd be the champ and look where I'm at now. I'll keep shutting people up and that's what I love doing," Miocic explained.
"I love it. I strive off it. I get high off of it. I want you to tell me how bad I suck and how I'm going to get knocked out and how I've been lucky my whole career. That's fine. All day. I'll take it and I'll keep shutting you up and pissing you off and then onto the next."
While Miocic loves his underdog role as champion, he's also at the top during a thriving period for the heavyweight division as a whole.
Stalwarts like Cain Velasquez, Junior dos Santos and Fabricio Werdum are still lurking in the top five rankings while new superstars such as N'gannou and Derrick Lewis are beginning to make a lot of noise as they climb towards title contention.
Miocic loves that the heavyweight division is getting so much attention these days but he has some sad news to share with all the fighters scratching and clawing their way towards a shot at his belt.
"I'm hungrier than all of them," Miocic said. "They didn't put in the effort that I did to get the title. So I don't care what it takes, I'm not giving up that title. I worked too hard to get it and I'm not going to lose it."