Stipe Miocic explains why he'll never turn into a 'rock star' as UFC heavyweight champion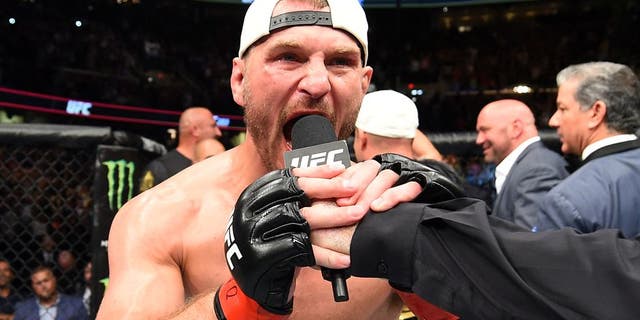 Being a UFC champion not only means that a fighter has reached the pinnacle of the sport but there's also a ton more attention and scrutiny that comes along with the title as well.
Several champions in the past have been accused of letting the spotlight get to them and that has led to their downfall inside the Octagon.
Former women's champion Ronda Rousey talked about retiring as an undefeated champion in the same breath while discussing several movie roles she had just booked, which had a great many people believing she was distracted from the task at hand before suffering a loss to Holly Holm in 2015.
Other fighters have won UFC gold and suddenly there's an entourage of people hanging around them and a change in attitude that came along with the championship.
If there's one person currently holding a UFC title who refuses to ever fall into either one of those categories it's heavyweight champion Stipe Miocic.
Born in a blue-collar family from Ohio, Miocic had hard work and humility ingrained in him almost from birth thanks to a mother who taught him the value of grinding to get what you want and never giving up.
"I've worked so hard since I was a kid. I didn't get all the things most kids got in life. I had a mother that worked her ass off and my father was there, too, I saw him but my mom was there everyday. She busted her ass everyday for me," Miocic told FOX Sports. "I didn't have the greatest things in life. We weren't poor but we were middle class and my mom just did everything to make me happy.
"She showed me how to work hard, showed me how nothing's ever given. It's all earned. That's what she showed me so a lot of that has to do with my mother."
Josh Hedges/Zuffa LLC/Zuffa LLC via Getty Images
Miocic's mother also plays another integral role in her son's championship mentality because he says she would never allow him to become a 'rock star' who basks in the spotlight rather than working hard to stay there.
"If I ever acted like an [expletive] my mom would beat the [expletive] out of me," Miocic joked. "She's a crazy woman, in a good way. She's got great work ethic and I love my mom. That's why I am the way I am. She's stone cold. She doesn't let [expletive] get to her."
While his mother is a driving influence in what made Miocic the champion he is today, he's also surrounded himself with other people who always remind him how he got to the top in the first place but never allow him to dwell in that moment for too long.
The two most steadying influences in Miocic's life these days away from his mother include his wife Ryan and his job where he still works as a fireman near his home in Cleveland.
That's why being called "the baddest man on the planet" is a great compliment, but Miocic never loses sight that when he goes home he's just 'Stipe' and the UFC title is nothing more than a decoration on the wall.
"I'm like No. 4 in my house on the ladder," Miocic said with a laugh. "The "baddest man" means nothing in my household. It's cool. I understand it comes with being the heavyweight champ but I'm like fourth. My wife, then my dog, then our other dog and then me. I'm just there to pay the bills I think, which I wouldn't change for anything in the world.
"Listen, I love being the "baddest man on the planet" but I love what I do. I love fighting. I love the competition aspect. It's like wrestling, it's like baseball, it's competition."
Josh Hedges/Zuffa LLC/Zuffa LLC via Getty Images
When it comes to his role as a firefighter, Miocic says it's very much the same attitude whenever he walks into the fire house and he's greeted by the same jabs and jokes that he's always faced long before he was champion.
Miocic is just another part of the team and he wouldn't have it any other way.
"Those guys, I'm the little guy so they treat me like crap. It keeps me grounded. It lets me know, we don't care if you're champion of the world, go scrub the toilets or my wife will say 'hey listen go cut the lawn'. Nothing ever changes," Miocic said. "I love what I do and I always say it but I've got amazing people around me.
"A great team, friends, anything to wife to friends to coaches to teammates, it's all perfect, I love it."
Make no mistake, Miocic loves being UFC champion and he has no desire to ever surrender the title, but he also keeps everything in perspective when it comes to his career. He enjoys a few perks like hitting batting practice with the Cleveland Indians ahead of a game or sitting courtside as his hometown Cleveland Cavaliers won the NBA title last year.
Those moments are unforgettable, but Miocic never loses sight of the reason he got involved in fighting in the first place.
He loves the competition and the thrill of victory and that hasn't changed from his first fight until now.
"I can't explain it. Getting that 'W', getting the win, getting your arm raised, especially getting something wrapped around your waist. Working so hard getting something you wanted. You can't beat it. I'm never going to change. People call me the "baddest man on the planet". I just call it [expletive] having fun and just loving life," Miocic said.
"I just love what I do. The minute I'm not having fun, I'm done. Right now I'm having fun, I'm having the time of my life. I love being champ. I love being called champ. Nothing's going to change."
Miocic makes his return to action at UFC 211 in Dallas next Saturday night on pay-per-view with the live prelims airing on FX starting at 8 p.m. ET.