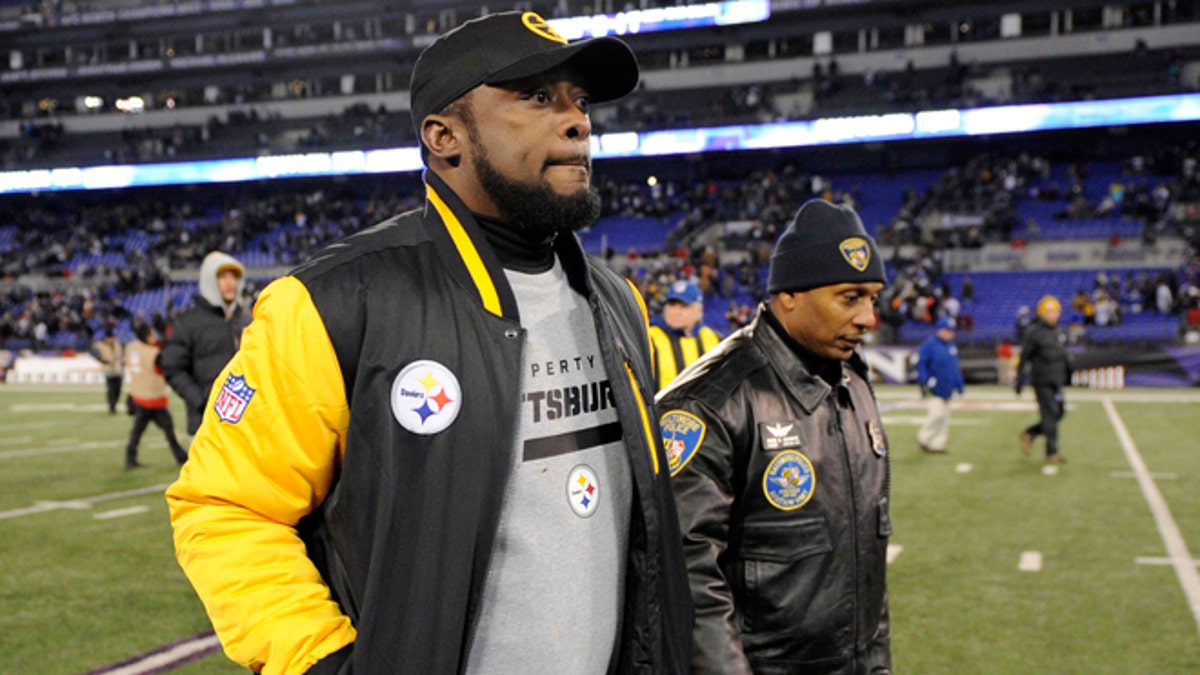 Mike Tomlin, the Pittsburgh Steelers head coach, told reporters after Thursday's game that the reason why he was in the way of a Baltimore Ravens player who looked poised to score a kick-off return touchdown was because he 'lost his placement' on the field.
"I always watch the returns on the JumboTron. It provides a better perspective for me," Tomlin said. "I lost my placement as he broke free and saw at the last second how close I was to the field of play."
The Ravens went on to win the game, 22-20, after stopping a 2-point conversion at the end of the game, which put them ahead of the Steelers for the final AFC wild-card slot. But the coach's move raised some questions.
The Steelers had just scored a touchdown to open the second half, making the score 13-7. On the ensuing kick-off, Raven Jacoby Jones took the ball 73 yards to the Pittsburgh 27, setting up a 38-yard field goal that made it 16-7. Jones sprinted down the left side and nearly ran into Tomlin, who was on the field and stepped out of the way at the last second. Jones also had to veer to the right and was eventually tackled.
Jones said, "I don't blame other people's actions. I still should have scored."
Al Michaels and Cris Collinsworth, the announcers for NBC, noted that the officials could have awarded a touchdown to the Ravens or a 15-yard penalty added to the end of the play. There was no penalty.
A sports writer for USA Today compared Tomlin's grin after the play as a "kid who reached into the cookie jar without anyone noticing."
In 2010, a New York Jets assistant coach tripped a Miami Dolphins player and was ushered out of the stadium, suspended without pay and fined.
The Associated Press contributed to this report