Soccer Roundup: David Silva is Man City's Man, Memo Ochoa, and the First Tico to Play for Arsenal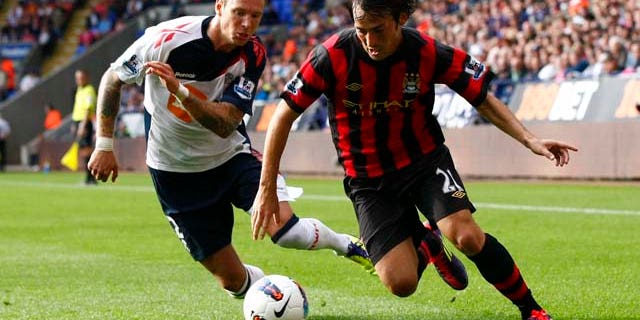 David Silva
It wasn't just that David Silva scored the first goal that started Manchester City to a 3-2 win over the Bolton Wanderers. It was Spanish international midfielder's overall performance that impressed manager Roberto Mancini in the English Premier League match on Sunday.

Silva earned man of the match honors for the second consecutive game as City went took over the EPL lead two weeks into the season, pending Manchester United's result against Tottenham on Monday.

"David is a fantastic player and was excellent against Bolton," Mancini told reporters afterward. "He makes it look easy and he has started the season very well. I am very happy with him."

Silva, 25, struck for the first goal of the match in the 26th minute.

Argentine strikers Sergio Aguero and Carlos Tévez did not factor in the win. Aguero, who scored off the bench in his City debut last week, had several opportunities did not score. Tévez, who wants to leave the team, also fired blanks as a substitute.

Mancini said Aguero did well, "but it is normal that he was tired towards the end. Neither Aguero or Carlos are fully match fit yet."

Guillermo Ochoa

It is well known that a striker can squander scoring opportunities all game long and wind up the hero by scoring in the final minute. Well, the opposite can work for a goalkeeper.

He might not see very many scoring opportunities from the opposition, but when he does, especially at the end of a tight contest, he better be ready. That was exactly the case for Mexican international keeper Guillermo Ochoa in French Ligue 1 on Saturday.

With his team deadlocked with Evian TG FC in the 90th minute, Ochoa produced a solid save on Jerome Leroy's free kick to preserve a 1-1 home draw. The tie left newly promoted Ajaccio (two points) in 17th place out of 20 teams with a 0-1-2 record. Evian (1-0-2, five points) is in sixth place.

After Frederic Sammaritano had given the hosts a one-goal edge in the seventh minute, Kevin Berigaud equalized in the 74th minut against Ochoa.

Héctor Moreno, Efraín Juárez, Carlos Vela

Mexican defenders Héctor Moreno (Espanyol) and Efraín Juárez (Real Zaragoza) and forward Carlos Vela (Real Sociedad) could not make their La Liga debuts in Spain because the opening weekend of game were called off due to a players strike. Midfielder Andrés Guardado (Deportivo La Coruña) did not play as well.

Jefferson Farfán, Elkin Soto

Two Colombians faced off on opposite ends of the field when Schalke faced Mainz in a German Bundesliga match on Sunday. Mainz's Elkin Soto scored in the 12th minute to help Mainz to a 2-0 lead in the 12th minute. Jefferson Farfán came on as a substitute in the second half and while he did not score, he helped to Schalke rally for a 4-2 triumph.
Bryan Ruiz

Costa Rican striker Bryan Ruiz did not score any goals for FC Twente in its 5-1 victory over SC Heerenveen, but he did help the team move into first place in the Dutch First Division. Ruiz, who has said earlier this week that Fulham (England) was interested in him, set up goal for Twente (3-0-0, nine points on Saturday. Heerenveen (one point), which is in last- and 18-place, fell to 0-2-1. Luuk de Jong struck for a second-half brace to start the rout, striking in the 27th minute. Ruiz then set up Willem Janssenin the 30th minute for a 2-0 advantage.

Juanma Mata

Financially troubled Valencia (Spain) announced a "preliminary" agreement was reached with Chelsea (England) to sell Spanish international forward Juanma Mata. The deal is subject to Mata passing a medical examination. Mata's transfer fee will be about $43, according to media reports in Spain.

Mata, a member of Spain's 2010 World Cup championship side, captained the Under-21 side that won the European Championship in that age division this year. He scored eight goals to help Valencia finish third last season.

If the deal becomes official, Mata will become the fourth World Cup player that Valencia has sold, joining David Villa (Barcelona), David Silva (Manchester City) and Raúl Albiol (Real Madrid).
Rafa Márquez

Mexican captain and central defender Rafa Márquez set up the equalizing goal for the Red Bulls in their 2-2 draw at the New England Revolution. Márquez started the scoring sequence by switching the field of attack from the right to the left side to midfielder Joel Lindpere. The Estonian international sent a pass toward the goal that bounced off Jamaican international midfielder Dane Richards and into the net in the 87th minute.

Omar Bravo

Sporting Kansas City striker and former Mexican international Omar Bravo, who already has been red carded in two matches, was involved in another incident on Wednesday night even though he did not play. Teammate and goalkeeper Jimmy Nielsen was struck in his face with the head of an Omar Bravo bobblehead doll in the 26th minute during his team's 3-1 win over the Portland Timbers at Livestrong Sporting Park.

Bravo was suspended for game, after getting red card in Kansas City's match with Seattle Sounders FC on August 6th for a tackle on Seattle Sounders FC forward Pat Noonan. The Major League Soccer match was held up for four minutes while Nielsen received medical attention.

"I did not see it coming," Nielsen told the Kansas City Star. "First I thought I walked into the post, then I realized I was a long way from the post.
"I had a crazy headache. I was like 'Oh my God, I need to lie down for a second. Then I saw I was bleeding and was just waiting for them to come and fix it so I could play again."

After the medical staff was finished with Nielsen — he had a huge purple welt under his left eye — the keeper finished the match.

Carlos Salcido

The Mexican international defender, who moved to Tigres on loan from Fulham this week, went the full 90 minutes in the 1-0 home win over San Luis to help his club remain unbeaten.

Pavel Pardo, Gonzalo Segares

Costa Rican international defender Gonzalo Segares and former Mexican National Team midfielder Pavel Pardo played important roles in setting up both Chicago Fire goals in the club's win over Toronto FC on Sunday night. The Fire broke its 10-game Major League Soccer winless streak at Toyota Park. It was Chicago's first victory in more than two months — since June 12. The Fire (3-7-15, 24 points) leap-frogged over Toronto (4-11-11, 23) out of last place in the Eastern Conference.

Segares' cross set up the first goal as Dominic Oduro slotted it past goalkeeper Milos Kocic for his eighth goal of the season in the 16th minute.
Pardo, who recently joined the Fire, was involved in the second goal in the 69th minute. Dan Gargan, who was traded from Toronto to the Fire three weeks goal, put home a bouncing corner kick at the right power, heading the ball in for a two-goal bulge.

Joel Campbell

Costa Rican international striker Joel Campbell, whose signing with Arsenal became official on Friday, says that he is making history with the English Premier League club.

"Arsenal is a very well-known Club in Costa Rica," he was quoted on the Gunners' website.. "I am making history because no other Costa Rican player has ever played in a team with the quality of Arsenal. Only one player has been in the Premier League before but not like the one I am at now."

Campbell, a left-footed player, stood out for the Ticos at Copa America in Argentina and at the FIFA Under-20 World Cup in Colombia. He has found the back of the net 10 times in 12 U-20 international appearances.

The 19-year-old forward had been pursued by several European teams. Campbell, who transferred from Deportivo Saprissa (Costa Rica) has scored twice in six appearances for the Ticos. He connected in his international debut in a 5-0 triumph over Cuba at the CONCACAF Gold Cup in June. He also tallied against Bolivia in Copa America in July.

"I'm good in one-on-ones and I am a player who knows how to score goals," he told the website.. "I play forward and I can play on both sides. I am going to learn a lot from the players here because they are experienced players who are very skilled."

Michael Lewis, who has written about international soccer for more than 30 years, can be reached at SoccerWriter516@aol.com.
Follow us on twitter.com/foxnewslatino
Like us at facebook.com/foxnewslatino