Six Points: Lions vs. Bears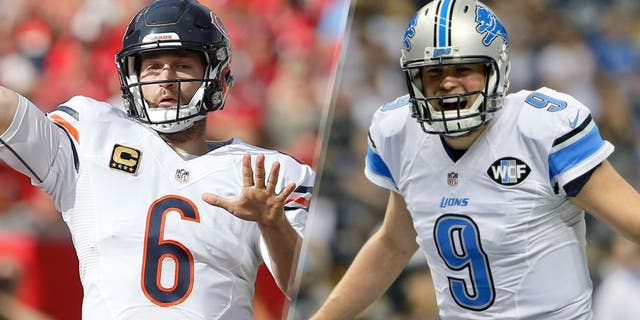 The Detroit Lions (6-9) and Chicago Bears (6-9) will meet at Soldier Field this Sunday to fight for a third-place finish in the NFC North. Although the Lions and Bears began the year with playoff aspirations, as all teams do, there's still something to be gained for both of these squads in the 2015 season finale.
Will Detroit end the season on a high note after losing seven of their first eight games, or will Chicago head into the offseason with some additional optimism about the future of the team?
Here are three keys to the game for both the Lions and the Bears.
Can you beat the Crowd's Line? Submit your final score prediction below. Good luck!
LIONS
1. Throw deep balls to Calvin Johnson
Calvin Johnson had his most explosive performance of the season in Detroit's first game against the Bears in Week 6. He caught six passes for 166 yards (27.7 yards per catch) and a touchdown, including a season-long reception of 57 yards. That game marked Johnson's only time reaching the century mark this year. He hasn't been limited to just one 100-yard outing since his rookie season in 2007. Quarterback Matthew Stafford should deliver a few bombs in Megatron's direction in order to pick up some huge chunks of yardage on Sunday.
2. Give Theo Riddick up to 15 touches
Detroit's most dangerous offensive weapon is running back Theo Riddick. He's 5-foot-9, 200 pounds and lightning quick, making him a ridiculously tough player to cover. Last week against the San Francisco 49ers, Riddick broke the franchise record for most receiving yards in a single season by a running back (668). He also set a career high with a total of 14 offensive touches. The Lions should look to unleash him against Chicago's defense by putting the ball in his hands up to 15 times.
3. Heap pressure on Jay Cutler
The Bears have made a lot of progress in their first season under head coach John Fox, with the most notable improvement being Jay Cutler's ball security. Offensive coordinator Adam Gase has turned him into a more cautious quarterback with only eight interceptions on the season. The Lions can try to draw out the old Cutler by putting him under immense pressure led by defensive ends Ezekiel Ansah (13.5 sacks), Devin Taylor (6.0) and Jason Jones (4.5). If they rush the passer well in the season finale, Cutler could suffer his first multi-interception game of the season.
BEARS
1. Lean heavily on Zach Miller
The Bears will be without top wide receiver Alshon Jeffery, who was placed on injured reserve this week. He has been battling leg injuries all season, so Jay Cutler has often turned to his running backs and tight ends. After catching just three passes in the first seven games, Zach Miller has emerged as a solid pass-catcher and a favorite target of Cutler's. Over the last eight games, the 31-year-old tight end has caught 31 passes for over 400 yards. Miller also leads the team with five receiving touchdowns, so he should be the go-to target if Detroit's pass rush -- featuring the NFL's third leading sacker in Ezekiel Ansah -- starts to flood the pocket.
2. Keep Lions guessing with ground game
The Tampa Bay Buccaneers' heads must have been spinning after trying to defend Chicago's trio of running backs in Week 16. Jeremy Langford led the charge with 19 carries for 83 yards, Matt Forte amassed 77 yards of offense on 14 total touches and Ka'Deem Carey scored two goal-line touchdowns -- one rush, one reception. The Bears have struggled to find a balance between these three backs at times this season, but they finally nailed it against the Buccaneers last Sunday. They should try to keep the Lions guessing by replicating that mix this weekend.
3. Stuff run with inside linebackers
Nose tackle Eddie Goldman (ankle) was also placed on injured reserve this week, so the Bears will be without their most valuable run defender on Sunday. That means Chicago's inside linebackers will have to step up their game in order to stuff the run. Former practice squad linebacker John Timu has looked pretty solid filling in for Christian Jones and Shea McClellin the past two weeks; perhaps he can help stop Detroit's backs in their tracks on Sunday. The Lions' 31st-ranked ground game has improved slightly in the second half of the season, but the Bears can shut it down and make their opponents one-dimensional in Week 17.