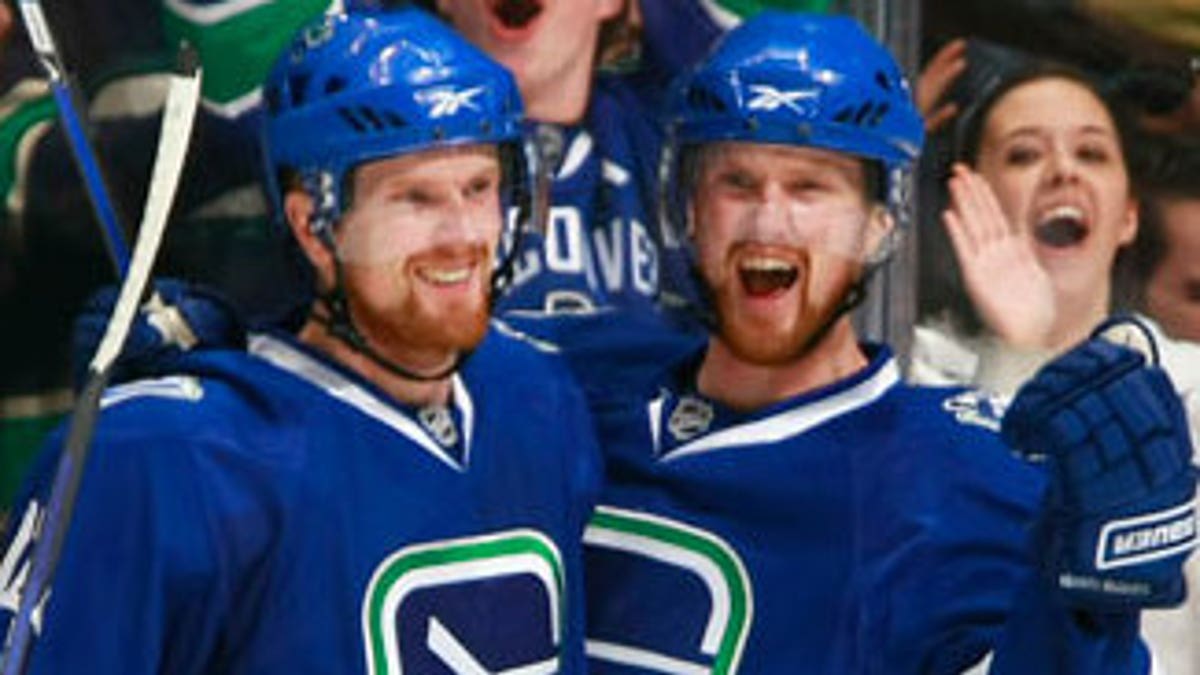 You know them as players, but do you really know Vancouver's Sedin twins when the skates come off and the sticks get stashed away?
Can you even tell them apart?
The answer to both questions most likely is no. That's where we come in.
We're not able to draw you a picture or give you ways to tell the most famous identical twin hockey players apart, but on Wednesday we did fire questions at Henrik and Daniel aimed to give both you and us insight into their lives and their thoughts on each other.
We asked each twin seven questions. Not surprisingly, we learned 14 things about them.
Believe it or not, they are two different people.
NHL.com: Henrik, do you guys lead separate lives, or do you do everything together?
"Yeah, we go to the bathroom together. No, no, no. I mean, we both have wives and two kids each. We spend so much time together at the rink, but of course our kids love to play with each other, they want to be with each other. It's easy for me to go over to his place so the kids can play, but it's not over the top. We're friends and that's it."
NHL.com: Daniel, how close is your daughter Ronja (5 years old) to Henrik's son Valter (almost 4 years old)? Are they almost like siblings?
"Yeah, I would say so, especially in the winter time. When we're home in the summer we live quite far from each other, about a 45-minute drive, so it's a little bit tougher. But, right now we're in the winter time and they spend a lot of time together."
NHL.com: Henrik, give me something you wish you could do that Daniel does.
"Score. I mean, whatever we do, I think we're extremely close to each other. If we play golf we're extremely close. When we play tennis we each win every second game. But hockey-wise, it's his shot. I would like to have his instinct to score goals. I think that's the biggest difference. He has the instinct to score goals and a better shot."
NHL.com: Daniel, same question -- give me something you wish you could do that Henrik does.
"Well, like Henrik said we're so close off the ice that it's tough to point out anything, but he's pretty calm on the ice. He doesn't get rattled or stressed about anything. I want his composure."
NHL.com: Henrik, who wins in a fight?
"Oh, that'd be tough. We've never fought. I might win. It would be close, but I'm like two pounds heavier so I might win on that one."
NHL.com: Daniel, do you agree?
"He would. He never gives up, and that's the thing. I could have him, almost choking him to death, but he would never give up."
NHL.com: Henrik, do you and Daniel ever bicker or argue?
"Yeah, on the ice we do. I think we hold each other to pretty high standards. It's easy for me to get rattled at Danny than it is for me to get angry at someone else on the team because we expect a lot from each other. I know what kind of things he can do on the ice when he's on, and when he's not on, and not doing the things I want him to do, it's easy for me to get angry at him. Outside the ice we don't really fight."
NHL.com: Daniel, who has the stronger personality?
"If you ask us I think we would say that I'm probably more outspoken or like to talk, but if you ask our teammates I think they would say Henrik. He's had more of a leadership role throughout the years. He was the (alternate) captain, and I wasn't. Now he's the captain and I'm the (alternate). He's always been one step higher."
NHL.com: Henrik, who was the momma's boy when you guys were growing up?
"I was, me. I wasn't running to her, but when friends were calling and they wanted us to do something, I liked to be at home."
NHL.com: Daniel, what is it like being the baby of the family by six minutes?
"Yeah, it's tough, it's tough. But Henrik has been good about it. He doesn't really use it that much. We have two older brothers, so in our family it was pretty much us against them in everything we did. They've always been good to us and we are very close as a family, but growing up, competing, it was always me and Henrik against those two guys. It might have been different if it was only me and Henrik."
NHL.com: Henrik, does Daniel take after your mother or your father?
"Well, mom has a tough time sitting down and watching our games. She screams and yells. Dad, he just sits there and he's calm and he doesn't really care what happens. So, I think dad, definitely."
NHL.com: Daniel, same question, who does Henrik take after, mom or dad?
"A little bit more dad, maybe. He's been a hockey player, too, and he's a pretty calm guy, too. I think mom, she's a little bit more stressed out. That maybe comes with being a mom, but I'd say it's 60-40."
NHL.com: OK, the big question -- Henrik, who is the better hockey player?
"I've said Daniel before and I got to stick with that. If you look at everything I think the whole package is better."
NHL.com: And Daniel, what do you think? And if you say yourself, that would be awesome.
"Yeah, but the thing is he's a centerman and I'm a winger. Right now he could probably go to play wing, but I couldn't go to play center and be as good as he is. It's a tough question. I think defensively, offensively, he's doing it all while I'm just decent defensively."
Follow Dan Rosen on Twitter at: @drosennhl