Seahawks extend streak with fewest points allowed to four years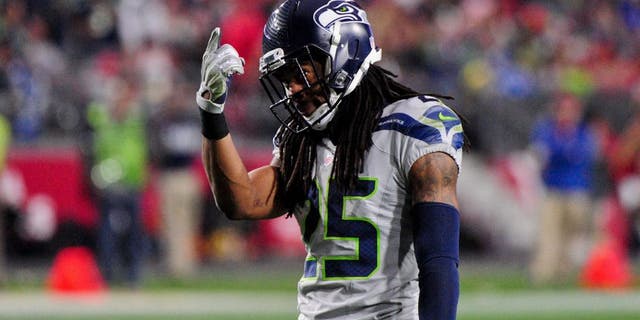 Following a 39-32 home loss to the Arizona Cardinals on Nov. 15, the Seattle Seahawks owned a 4-5 record and had given up at least 27 points in each of the defeats.
That was hardly typical of a defense that had carried the team to back-to-back Super Bowl appearances, but the Seahawks have turned things around with a strong finishing kick.
Sunday's 36-6 romp at Arizona marked the fifth time in seven games that Seattle permitted 13 points or fewer and vaulted the Seahawks' to the league's stingiest unit for the fourth consecutive season - the first time that's happened since the Cleveland Browns turned the trick in the 1950s.
"It's a big deal. That takes a tremendous amount of consistency and diligence from every position group," Pro Bowl cornerback Richard Sherman said. "It's a testament to how hard guys work and how guys prepare every week."
The Cardinals entered the game as the league's highest-scoring team but were limited to 232 total yards and a season-low point total as their nine-game winning streak came to an abrupt halt.
"When we hit on all cylinders, ain't nobody in the world can mess with us," Seahawks linebacker Bruce Irvin said. "We've lost a lot of good guys to different teams and we continue to be one of the premier defenses in the league. It's hard to stop us when we're on."
The Seahawks closed the season with six wins in their last seven games, including a 38-7 rout at Minnesota, where they will open the playoffs next Sunday.
"Over time, we just wanted to prove we are the best defense since we've been playing, and I think we just have a lot of guys that are super hungry," defensive end Michael Bennett said. "It just makes us special when you continuously prove yourself year in and year out."