Sanchez throws 2 interceptions, Eagles can't keep up with Packers in 53-20 loss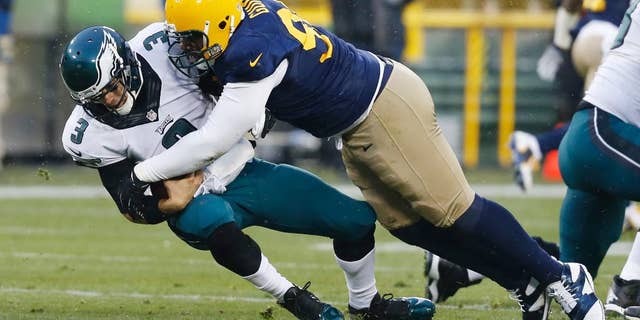 GREEN BAY, Wis. – Lying on his belly after failing to corral a high snap, Mark Sanchez looked down the field helplessly as he watched the Green Bay Packers score another touchdown.
Sanchez flopped in his second start as quarterback of the Philadelphia Eagles. The rest of his team wasn't much better, either.
Aaron Rodgers passed for 341 yards and three touchdowns, Julius Peppers returned his second interception of the season for a score, and the Packers defense stuffed the high-octane Eagles for a 53-20 rout Sunday.
The matchup of NFC contenders quickly became a blowout with the Packers (7-3) racing out to a 30-6 halftime lead. Rodgers threw for two touchdowns in the first half, while Micah Hyde scored on a 75-yard punt return.
"None of us played where we needed to play against this team," Eagles coach Chip Kelly said.
It was Philadelphia's worst loss under the second-year coach. The previous low was a 52-20 thrashing at Denver in Week 4 last season, and Kelly is now the only coach in team history to allow 50 points twice.
Peppers piled on by returning Sanchez's pass 52 yards for a 39-6 lead in the third quarter.
To make things worse, Sanchez was charged with a fumble after the botched snap out of shotgun with an empty backfield in the fourth quarter. Cornerback Casey Hayward scooped up the loose ball and jogged 49 yards into the end zone with an escort of two blockers to make it 53-13.
Sanchez was 26 of 44 for 346 yards with two touchdowns and two interceptions in his second start since taking over for the injured Nick Foles. Philadelphia (7-3) was held to 11 points below its NFC-leading scoring average by a Packers defense rejuvenated since Clay Matthews started getting more time at inside linebacker.
The Packers also got to Sanchez early with sacks on Philadelphia's first three drives.
"Speaking from an offensive perspective, we just didn't get going early enough. We didn't look as sharp as we should have," Sanchez said. "They played outstanding and we played pretty poorly."
Green Bay's offense was in good hands again with Rodgers, who broke Tom Brady's NFL record of 288 straight passes at home without an interception. Rodgers finished 22 of 36.
The Packers set another record by putting up at least 28 points in a first half for the fourth straight home game. They've outscored opponents 128-9 before halftime during that stretch.
The Eagles finally reached the end zone after Sanchez hit receiver Jordan Matthews for a 10-yard touchdown pass to make it 39-12 with 2:21 left in the third quarter.
The Packers had no such problems.
Rodgers found Jordy Nelson streaking down the right sideline for a 64-yard completion on the game's third play from scrimmage — the pass attempt that allowed Rodgers to break Brady's record.
Rodgers hit Davante Adams for a 6-yard touchdown catch late in the first quarter. Nelson hauled in a 27-yard scoring pass with 10:39 left in the second, making the grab while delicately navigating the sideline near the pylon to make it 24-3.
"This is not easy. There's a lot of preparation that goes into it," Rodgers said. "It takes 11 guys to win, to do the job to make something like that happen."
Nelson finished with four catches for 109 yards, while Randall Cobb had 10 receptions for 129 yards.
It was a tough day all around for an Eagles defense that was coming off a nine-sack outing last week against Carolina.
Philly got to Rodgers just once. Cornerback Bradley Fletcher especially had a hard time against Nelson, one of the league's top receivers.
Fletcher hopes to get another shot at Green Bay if the teams meet in the postseason.
"Yeah, we look forward to that," Fletcher said. "If we're able to play them again, we're definitely going to come back and be better."
NOTES: Nelson finished with four catches for 109 yards, while Randall Cobb had 10 receptions for 129 yards. ... Nelson appeared to reach down at his right hamstring after making the Lambeau Leap following his touchdown, but McCarthy said afterward his top receiver seemed fine. ... ... Eagles RB LeSean McCoy had 88 yards on 23 attempts.
___
AP Pro Football Writer Rob Maaddi contributed to this story.
___
AP NFL websites: http://www.pro32.ap.org and http://www.twitter.com/AP_NFL