Rutgers' Steve Longa pleased with move from middle to weak-side linebacker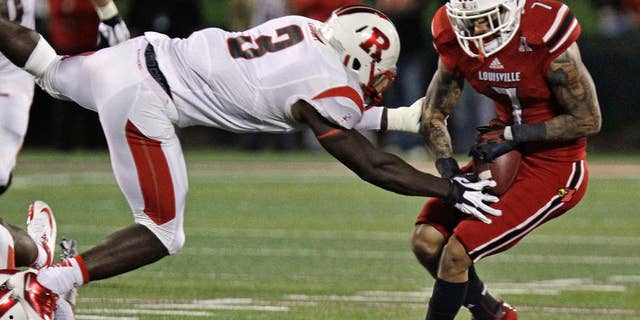 PISCATAWAY, N.J. – When Rutgers kicks off its season against Washington State, linebacker Steve Longa will be where he's always wanted to be — on the weak side.
As a freshman, Longa spent the summer and season shadowing Khaseem Greene. Longa absorbed as much knowledge as he could, realizing he was just a snap away from filling in for the two-time Big East Defensive Player of the Year, who went on to play for the Chicago Bears.
While he redshirted after never taking the field, Longa was expected to fill in for Greene last season. However, last spring he was moved to middle linebacker and junior Kevin Snyder played on the weak side.
Longa earned several postseason accolades while making 123 tackles last season. That playmaking convinced coach Kyle Flood to move him to the weak-side spot this season and put Snyder in the middle.
"That WILL linebacker position for us is a spot that gets a lot of opportunities to make plays and we felt like the way Steve runs to the ball and the production he had at MIKE would only increase if we moved him there," said Flood, whose team will open on the road against the Cougars on Thursday night.
In his two years at weak-side linebacker, Greene had 277 tackles, including 141 as a junior, ranking him fifth in Rutgers' single-season total. With a combination of speed and athleticism that gives him the ability to go sideline-to-sideline, Snyder thinks those are numbers Longa could hit.
"I think the sky's the limit for that guy," Snyder said. "Depending how well we play our defense will determine how many tackles he can make."
The more the defense can funnel plays toward Longa, the more tackles he will get.
Of course, Longa knows he has to do his part and execute in the Scarlet Knights' first season in the Big Ten Conference.
"You just got to have the ability to run inside out on the ball and being able to tackle," Longa said. "It's actually the hardest position of the linebacker to learn because there's so much detail that goes into it and you're supposed to know where you're supposed to be at all times and you got to know how fast or if you have to stay on the backside or go to the other side to make plays so it's really, really complicated."
But the playbook hasn't been an issue for Longa. And considering the middle linebacker is the quarterback of the defense, his time there helped him understand the weak side.
"When I made the switch to MIKE I kind of had to reprogram my brain, but I figured it wasn't that much different," Longa said. "So coming back to the WILL I still have that knowledge that I had from that summer and playing MIKE helped me understand playing the WILL more my freshman year, so I've had a good transition."
His teammates have taken notice too, including Lorenzo Waters.
A starting safety in Greene's senior year, Waters got an up-close and personal viewing of Greene's success. It's the kind of success he thinks Longa could emulate.
"Oh definitely," Waters said. "I see him — even when the play wasn't necessarily funneled to him — he found a way to make it. So now that he's in position to make a lot more plays I think he will."