Russia stars in hot water after alleged €250K champagne party in Monaco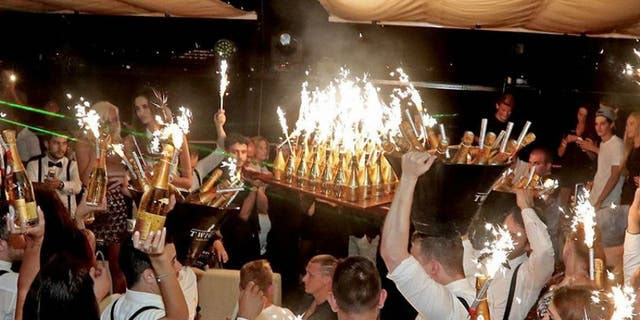 NEWYou can now listen to Fox News articles!
Russia had a Euro 2016 campaign to forget, failing to get out of the group stage after earning just one point and finishing last in a group consisting of England, Wales and Slovakia.
There was no reason whatsoever for any member of the squad to go out and celebrate after such a miserable showing, certainly not in one of Monaco's hottest nightclubs, and especially not with 500 bottles of Armand de Brignac champagne, which is priced at about 500 per bottle. And yet, that's what Aleksandr Kokorin and Pamel Mamaev have been alleged to be doing by themselves! A video of the party is below.
The Russian anthem in the background is a nice touch, but that's an ungodly amount of champagne. And at a tab of about 250,000 (about $277,000), not including tips for the dozens of waiters needed to carry the loot, an obscene amount of money for two players to spend -- even if they had won Euro 2016!
Kokorin and Mamaev's club teams back in Russia were quick to denounce their players' reported extravagance and in response demoted both players to their respective youth squads.
However, Kokorin has since come out with his side of the story, claiming that he and Mamaev neither ordered nor paid for anything. (No word about consuming said champagne, it should be noted).
"We have nothing to do with the bills for this party and its entourage. And the money which was mentioned in the media was enough to buy not just the champagne, but the whole place," Kokorin said, as cited by Sports.ru.
Twiga club owner and former Formula 1 team manager, Flavio Briatore, confirmed the players' statements via Instagram.
"There was a private party in Twiga organized by some Russians. They recognized Kokorin and Mamaev and as a sign of respect, as they are fans, they started sending them bottles of champagne and they asked our DJ to play the Russian national anthem," Briatore wrote.
Though admittedly not as exciting a story, that certainly does sound like it could be a plausible scenario, so maybe Kokorin and Mamaev will have their names cleared after all. Now that would be cause for a celebration!
MORE FROM FOX SOCCER