Royals' Ventura flirts with no-hitter, eliminates Twins from wild card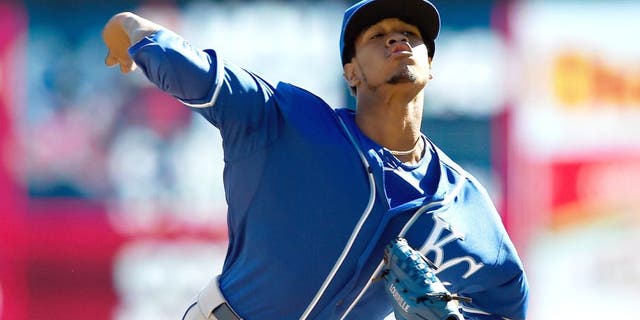 NEWYou can now listen to Fox News articles!
MINNEAPOLIS -- Two months ago, Yordano Ventura appeared to have lost the form from a solid rookie season that made him Kansas City's opening-day starter.
On Saturday, though, he looked every bit a Game 1 playoff starter.
Ventura (13-8) carried a no-hitter into the fifth inning and struck out 11 to win his third straight decision for the Royals, who beat Minnesota 5-1 to move one game ahead of Toronto for home-field advantage throughout the postseason. The loss eliminated the Twins from the chase for the AL's final wild-card spot.
Ventura, who could be in line to start Game 1 of the division series, lost just once in his final 14 starts of the regular season. He was 9-1 with a 3.03 ERA and 91 strikeouts in 89 innings since a loss on July 20.
''We've got him right where we want him, right where he needs to be going into next week,'' Royals manager Ned Yost said. ''And I feel like we as a team are right where we need to be going into next week, too.''
A far cry from late July when he was sent back to the minors after a 10-7 loss to Pittsburgh dropped his record to 4-7.
''He was the No. 1 starter, that was a big task that he tried to fulfill, and I really think he got to a point where it kind of overwhelmed him a little bit,'' Yost said.
The manager pointed to the arrival of another Dominican-born right-hander, Johnny Cueto, from Cincinnati as the turning point in Ventura's season.
''They talk all the time, he watches Johnny and he watches (Edinson Volquez), and he got more comfortable and more confident pitching inside,'' Yost said. ''He just got his mojo back.''
The Twins finally broke through against Ventura when Torii Hunter hit a two-out single in the fifth.
''With him, I definitely think they're going to have a good chance of getting some things done,'' Hunter said of the Royals' playoff chances with Ventura.
After the Twins tied the score 1-all with an RBI single by Brian Dozier in the sixth, Kansas City came right back in the seventh.
Alcides Escobar tripled with one out. Lorenzo Cain's dribbler down the first-base line was fielded by Boyer, who hit Cain in the back with the throw and Escobar scored to break the tie.
Minnesota third basemen Trevor Plouffe couldn't corral a hard-hit ball by Johnny Gomes for one error and left fielder Eddie Rosario's errant throw went out of play for the second error, allowing two runs to score. Mike Moustakas added an RBI double to cap the inning.
''Ace did a great job throwing the ball today,'' Cain said of Ventura. ''So you get a run, take the lead and then guys just kept swinging after that. Put up five and did just enough to get by today.''
NO BLUE JAYS WATCHING?
Yost said he wasn't planning to watch the Blue Jays play at Tampa Bay later Saturday. ''It don't matter, what difference does it make?'' he said. ''We've still got to win.''
CAIN'S RETURN
Cain went 3 for 4 in his return to the lineup after missing two games with a right knee contusion. It was his second game this year with two doubles. He was hobbling around the clubhouse afterward with ice on the knee.
''Definitely wasn't myself, but I got through today,'' he said. ''That was the plan.''
TRAINER'S ROOM
Royals: Kendrys Morales was available as a pinch hitter but was held out again after he left Thursday's game with tightness in his left quadriceps.
UP NEXT
Royals: Cueto (9-13, 4.95) will make the final start of the regular season for Kansas City. Cueto has allowed eight earned runs in his last 20 innings over his last three starts after giving up 28 earned runs in 26 1-3 innings between Aug. 21 and Sept. 13.
Twins: After Minnesota was eliminated, Molitor said RHP Ricky Nolasco (5-1, 5.97) will start Sunday. Kyle Gibson was slated to start if the Twins were still in contention. Nolasco will be making his first start after returning from almost four months on the disabled list. He allowed three runs in two innings of relief on Sept. 30.