Royals urging Hammel to 'stay on the attack' against Indians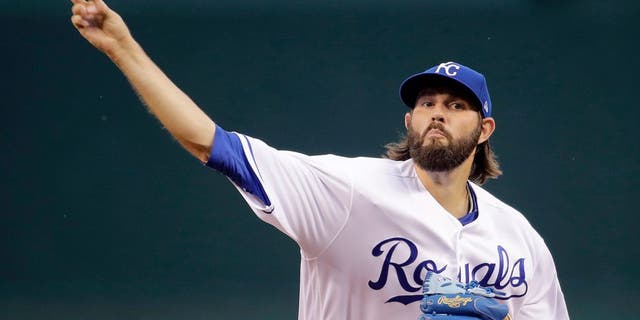 The fourth inning has not been kind to Kansas City Royals right-hander Jason Hammel this season.
The first inning has been full of hazards for Cleveland Indians right-hander Danny Salazar.
Hammel and Salazar are the pitching probables Friday night for the opener of a three-game series at Kauffman Stadium.
Hammel has failed to make it out of the fourth inning in his past two starts. In fact, Hammel has failed to retire any of the seven batters he has faced in the fourth before being yanked.
On April 23 at Texas, Hammel walked Ryan Rua to lead off the fourth and then hit Joey Gallo and Robinson Chirinos with pitches to load the bases. After walking Jurickson Profar to score Rua, Scott Alexander replaced Hammel.
In Hammel's Sunday start against the Minnesota Twins, Eddie Rosario began the fourth inning with a single. Next, Byron Buxton had a bunt single. Brian Dozier reached on a fielder's choice when the Royals failed to get an out. Exit Hammel, enter Mike Minor.
In the third inning, Hammel surrendered a three-run homer to Miguel Sano.
In his past two starts, Hammel has allowed eight runs, 10 hits, six walks and two hit batters in six innings. Overall, Hammel is 0-3 with a 6.65 ERA in five starts.
"It is inconsistency in his command," Royals manager Ned Yost said. "His stuff is good. He gets a little too picky on the corners sometimes.
"He's got good movement on his stuff, and sometimes it moves out of the zone. But when he doesn't attack, he can get behind in the count, and walks have hurt him. We talked to him about staying on the attack.
"The common denominator in the last couple of these is that we'll take the lead, and then he kind of hits a wall. As we go through the slow-bat period, pitchers think that once we get the lead they have to be more perfect than they have to be. They don't have to be perfect."
Hammel was a 15-game winner with the World Series champion Chicago Cubs last season and signed a two-year, $16 million contract with the Royals in February.
Now it is just a matter of getting Hammel on track.
"We're addressing all of this with him," Yost said. "A lot of times, it's just a gentle reminder of how they got to this point. That can be beneficial. But his velocity is good. Changeup is good. Slider is good. He is just too fine with his location."
Salazar was scheduled to start Thursday at Detroit, but that game was rained out, pushing him back to Friday. Salazar has given up eight of his 15 runs in the first inning. All three home runs off Salazar have been in the first.
Indians manager Terry Francona said the best time to get to good pitchers is early in games, "because you get into a game and you figure out what's working. It's not just us; it's probably league-wide.
"Good pitchers, guys who are good enough to stay out there, when they find their pitch mix and their comfort zone, they get pretty tough to beat. That's why you might score three early and people are like, 'Man, that's all they got.' Well, that guy settled in and started using all his pitches and started hitting his spots."
Salazar knows teams have scouting reports on him and vice versa.
"Even though we do meetings before the game and we talk about how aggressive the other team is, if they take the first pitch or not, (or) they just come out hacking at the first pitch," Salazar said. "The same way we do our meetings, they do their meetings and make plans for us."
Salazar said he likes to pitch to contact, but his ratio of 13.03 strikeouts per nine innings tops the American League.
"Normally, the first inning for me is 20 to 22 pitches," Salazar said. "For other guys, that's two innings, maybe three."
The Royals won't face Indians ace Corey Kluber in the series. He was originally slated to pitch Sunday but has been placed on the disabled list with back issues.