Rose Namajunas is as comfortable in the cage as she is with her new look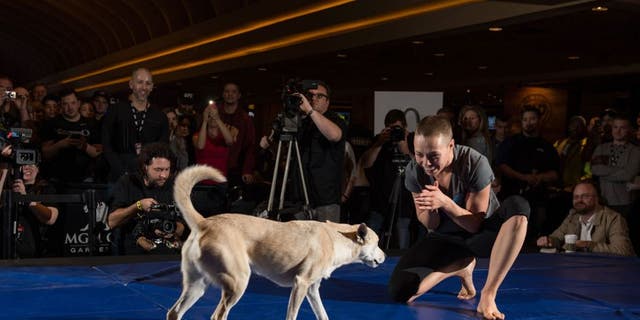 Being an MMA fighter means being tough and rugged in the cage. UFC strawweight Rose Namajunas isn't afraid to make that persona part of her outward appearance as well.
As "Thug" Rose performed her open workout for the masses at the MGM Grand in Las Vegas, there was nothing about her that screamed quintessential woman, from the calluses on her hands to her shaved head.
As she develops her mindset and evolves as a fighter, she's also altered her physical look. These days the No. 3 ranked strawweight dons a shaved head, something that's more functional, easier to manage and that's drawing a lot of attention. However, Namajunas (3-2, MMA) isn't surprised that her new look has brought forward some criticism.
"Why is hair even a big deal? So that's part of the reason I cut it off too," Namajunas said to reporters on Tuesday. "It's like just to ask the question, 'Why does anybody care?' But that's just the way society is nowadays. They focus on really weird things."
What Namajunas wants is for everyone to be focused on the fight. After all, it's her second time competing in a UFC main event in just three fights with the promotion. Her opponent, the No. 7 ranked Paige VanZant (6-1), has racked up a 3-0 Octagon record that includes a pair of finishes.
Just one year ago, Namajunas challenged for the division's inaugural title. During that time, the now 23-year-old was touted as "the next Ronda Rousey" by UFC president Dana White, the media and even her peers. Namajunas had a lot to live up to with those comparisons. And the pressure mounted. These days she's handling all of the hype in stride.
"It was a little overwhelming the first day, but I just kind of settled in and I've got my dog here with me. I've got the right people around me. We know how to just monitor my feelings all the time and be honest about everything. It's okay to feel weird or scared or this and that, just being honest about it makes me stronger and better."
Though she lost her title fight against Carla Esparza, Namajunas learned from the experience. The Milwaukee native rebounded with a technical submission win over Angela Hill at UFC 192. As she prepares to face VanZant, Namajunas feels physically and mentally stronger than ever before.
"I match up really great against her, you know, my striking and my jiu-jitsu is definitely going to pose a lot of problems for her. And my wrestling and my clinch work is getting better every day and I'm just really comfortable in there," Namajunas said.
Tapped as a replacement for the injured Joanne Calderwood, Namajunas has had a little over a month to prepare for the wildly scrappy VanZant. Known for her ability to unleash an array of kicks and slick submissions, Namajunas put more focus into her wrestling to prepare for the fight.
"I'm always working on wrestling in general. For this fight we more worked on upper body type of stuff -- low double legs to shoot in -- it's not really her style necessarily, but I'm prepared for it if she decides to throw a wrench in it. I'm always prepared for it.
"I've been working a lot with Justin Gaethje, who is a WSOF champ," Namajunas said. "His fighting style is like Paige, but times 1000," Namajunas stated.
Ahead of the fight, the media attention has definitely been poured on "12 Gauge" and new lightweight sensation Sage Northcutt. Some have even dubbed the fight card, "The Paige and Sage Show." In Namajunas' eyes, VanZant's earned the spotlight.
"She has a reason for people to talk about her. She's definitely on a roll," Namajunas stated. "She's very, you know, the whole package and she's very exciting. I think she has all the hype that she deserves. And she's a very formidable opponent and I'm not taking her lightly."
If all goes according to plan, Namajunas hopes to finish her adversary and again battle for UFC gold.
"Obviously, that's what I think the people want. I think that people want me to be in the title shot once again. But I'm really not looking at that, I'm just focusing on this fight."
Rose Namajunas will confront Paige VanZant in the main event at UFC Fight Night on Thursday, Dec. 10. The entire card will air exclusively on UFC Fight Pass.