Ronda Rousey: Fighting 'Cyborg' might be enough to call it a career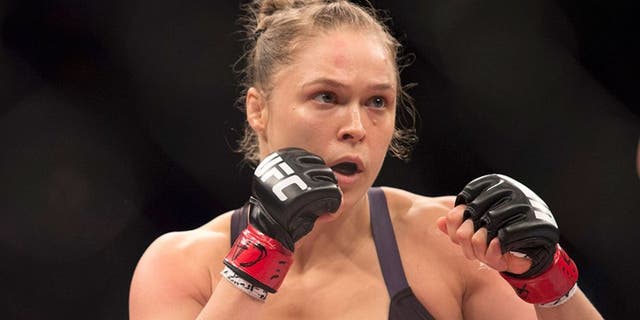 UFC women's bantamweight champion Ronda Rousey is sitting on top of the world right now.
From being named the most dominant athlete in sports to her appearance in the Sports Illustrated swimsuit issue to booking two major movie roles in 2016 and a title fight in August that will likely go down as the biggest pay-per-view card of the year for the UFC, Rousey has everything she's ever wanted in the palm of her hand.
Rousey's fight career still takes priority for the 28-year-old former Olympian, and she'll get back in business sooner than expected when she faces Holly Holm on Nov. 14 in Australia at UFC 193 in a card that will likely break all previous attendance records for the UFC.
Following that title fight, Rousey will then head overseas to film a movie with Mark Wahlberg while she anxiously awaits the finished script that will turn her best-selling autobiography "My Fight/Your Fight" into a feature film where she'll star as herself.
With so many oars in the water, Rousey is paddling at 100 mph. But despite all these commitments that pull her in so many directions, she's not ready to give anything up -- especially her fight career.
"My career, there's more left to do, I don't feel like I'm done yet," Rousey said when speaking on the "Joe Rogan Podcast" this week. " 'Cause with the Olympics, you win a gold medal and you're done. With the UFC, when am I really done?"
Rousey was also named one of the top 10 richest female athletes in 2015 while reportedly raking in over $6.5 million in fight purses and endorsement deals. Those numbers are likely to skyrocket in 2016 with her feature film work as well as pay-per-view profits rolling in. Financially speaking, Rousey could retire tomorrow and probably live comfortably off her endorsement deals and budding film career and never have to lace up her gloves again.
But she says her career isn't done just yet although there is a finish line in sight.
Rousey refuses to name a date when she'll retire or even how many fights she has left before she stops, but the only bantamweight women's champion in UFC history does know one matchup that could happen where she might finally feel satisfied with her body of work.
A fight with Cris "Cyborg" Justino still looms large in Rousey's mind, and that's the one bout that she wants more than any other. Finally making it happen could be a catalyst in Rousey feeling like she's done all she needs to do in her UFC career.
"It feels unfinished still. [The "Cyborg" fight] that definitely would [make it feel finished]. But if she never steps up, I'll know. I'll probably go a little longer waiting for her, but if she shows up sooner rather than later, I don't know how much longer I would go after that," Rousey said honestly.
The hypothetical bout between Rousey and "Cyborg" has been bantered about for years with the sticking point mostly revolving around the weight where the fight would happen. Rousey is the 135-pound champion for the UFC while "Cyborg" is the Invicta FC champion at 145 pounds.
"Cyborg" has long stated that a cut down to 135 pounds would be rather brutal, and she's attempted to meet Rousey at a catchweight of 140 pounds instead. Recently, however, "Cyborg" has changed her tune and said that she could get down to the bantamweight limit as early as December.
Rousey's sticking point about the weight comes primarily from Justino's past conviction for using steroids and her belief that the Brazilian has continued to use illegal substances over the past few years. She thinks "Cyborg" needs performance enhancing drugs not only to compete, but to feel mentally stronger than her opponents.
Without them, Rousey isn't sure she would be the same fighter.
"The thing is someone who uses steroids and those kinds of things, they need that to think that they mentally have an advantage that they didn't earn. It's a crutch for her," Rousey said. "She needs to feel that she somehow has an advantage from the outside. Because she doesn't think she's good enough with just what she has. That's why you dope in the first place because you feel like the best you have isn't good enough."
"She feels like if we fight fair, the best she has isn't going to be good enough. That's why she wants it somehow to be stacked in her favor."
Rousey has stated several times in the past that she still believes "Cyborg" is using illegal drugs, although she stopped short of saying it again after the Brazilian fighter recently threatened legal action for defamation of character following the UFC champion's strong statements after her last fight in Brazil.
Regardless of legalities, Rousey says it really comes down to the eye test and that's something "Cyborg" just isn't passing with her.
"You see what happens to people when they stop using steroids. You see what they look like. It's very easy for them to drop down. They immediately shrink up. It changes everything. It's all an insecurity thing, that's all it is," Rousey said. "That's the thing, when you look at these people from before when they're using and after when they're not, they look completely different. Cyborg looks and weighs exactly the same. If she gets off, it will be very easy for her to make weight. From what we've seen from every other person that's got off it.
"I can't say with proof, but if you look the exact same as you did when using, what changed?"
Any potential fight with "Cyborg" will have to wait until 2016 with Rousey already wrapped up for her next title defense against Holm in November. On Feb. 1, Rousey will turn 29 and the clock is ticking on how much time is left until she's had enough of fighting and moves on to pursue other interests.
"I'm not going to be doing this in my 30s. I don't want to be fighting in my 30s," Rousey said. "By 30s, I mean like 31, 32. If you're actually 30 years old, that's 30, not 30s. Once you add the one, that's 30s, plural.
"I'm 28. I don't know. I look at it exactly like how we were talking about fighting, that's how I do everything else. I don't look at these separate disjointed things. I'm not going to go in there and try this thing and try this thing and try that thing and hope something works out."