Roger Federer blasted Rafa Nadal at Indian Wells. Is he changing their one-sided rivalry?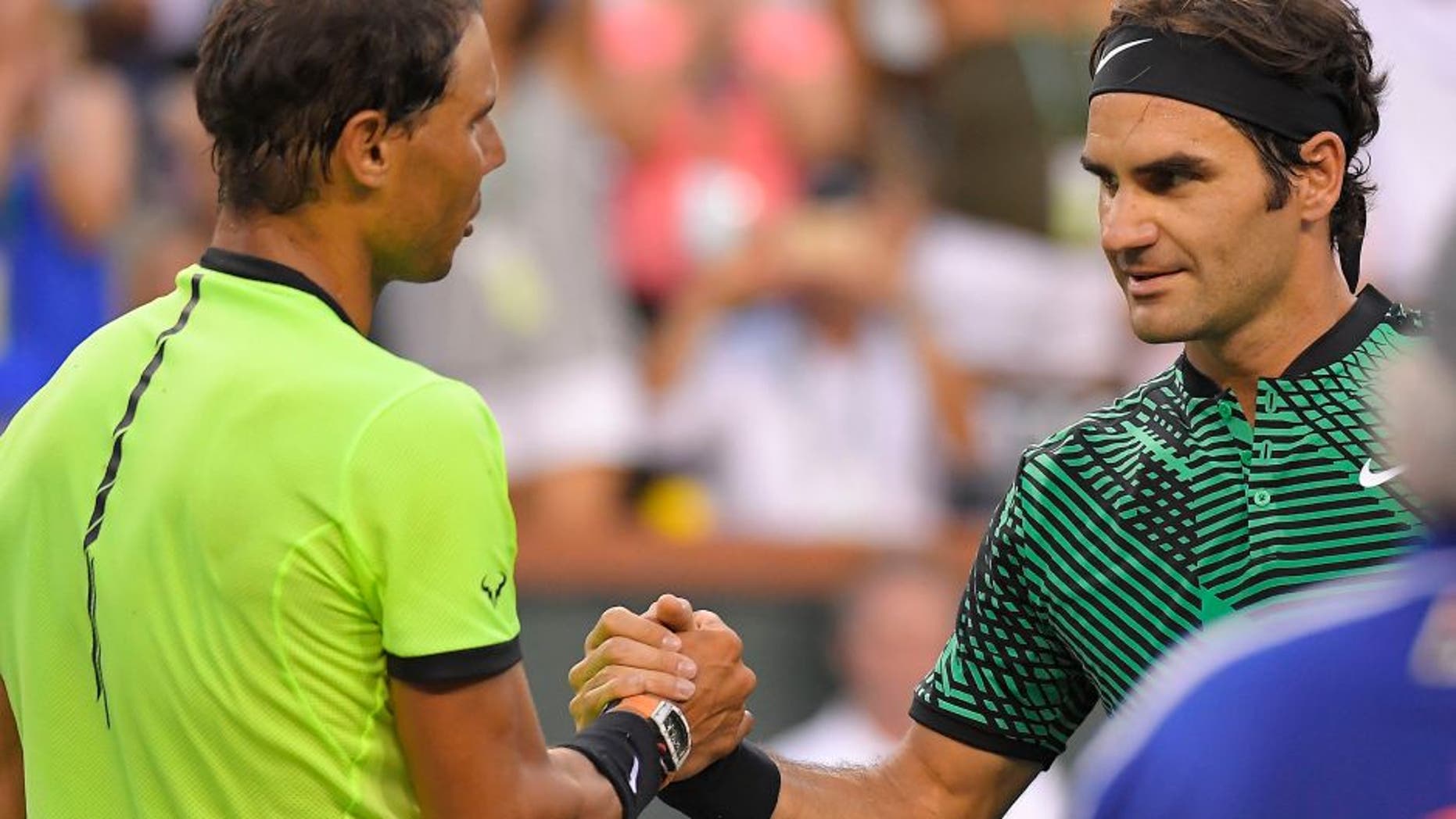 In conversations about Roger Federer's place in tennis history there's always been a "yeah, but." That caveat was Rafael Nadal.
While Federer's Grand Slam titles, five-year stretch of complete dominance and historic late-career play have made many consider him the greatest ever, there was one giant elephant from Majorca in the room. Entering the 2015 season, Nadal was 23-10 in head-to-head matches against Federer. He owned him. Quite simply, if Federer wasn't better than his arch-rival, then how could he be the best ever?
The question has always been complicated, treated as a black and white issue when it's anything but. On Wednesday night, however, Federer made a major statement in the never-ending debate, rolling over Nadal 6-2, 6-3 in a masterful tennis clinic in a fourth-round match at Indian Wells. Federer, 35, was as crisp as he's been in years, toying with Nadal in setting up shots and then placing his winners with surgical precision. He attacked and kept points short, two things made easier with a laser-guided backhand that brought to mind mid-2000s matches at Wimbledon. Somehow, Federer made his five-set win over Nadal in January's insta-classic Australian Open final seem like a pedestrian effort.
It was Federer's third-straight win over Nadal, which only turns the series into a still-dominant 23-13 lead for Nadal. But with this mini-run, which followed five-straight Nadal wins in 2013 and early 2014, the pro-Federer talking points suddenly have actual juice, and not some misguided support by FedFans wearing blinders.
"It's just on clay," those fans would say of the Rafa advantage, as if a court-type that's used for nearly a quarter of the season and is the premiere surface in much of Europe, was some sort of cheap gimmick. Nadal is the greatest clay-court player ever, full stop. That dominance looms greatly over Federer, who's 2-13 against Nadal on the surface. That record has defined their rivalry.
For years it looked like The Fed's chance at a career Slam would be denied simply by Nadal's existence. When he finally took home a title at Roland Garros in 2009 the win was noticeable for what it didn't include: A victory over Nadal. (He'd lost in the fourth round to Robin Soderling, his only defeat in his first 71 matches at the event.) Was it a cheap victory, diminished by Nadal's absence in the final? No. You have to win seven. It doesn't matter which seven.
But beyond the silly argument that the clay is some sort of secondary surface, the non-clay argument was a specious defense! Yes, Rafa owned Roger own the red, but the script was flipped when the matches left Rafa's preferred courts. At the start of 2015, Nadal led Federer 9-6 in hard-court matches, a surface on which Federer has a 10-3 edge in Grand Slam titles. This wasn't an asterisk. It was a full-blown record-book rewrite.
Slowly, that's shifting. As Federer has found his tennis elixir and Nadal has battled the injuries that always seemed inevitable given his hard-charging play, the balance has tilted ever-so-slightly. With these three-straight wins (dating back to Basel in 2015), the Fedal series is now tied 9-9 on hard courts. Add in Federer's 2-1 advantage on grass and he's above water against Rafa for the first time in four years. That it's all coming when Federer is 35 years old is a mini-miracle. Who'd have thought that Roger would be tightening the greatest series in tennis when he was closer to 40 than 30? It's a remarkable late-career comeback.
Don't break out the crown though. The score is still 23-13. But being down 10 rather than 13 produces, for the moment at least, some pro-Federer counterarguments - the real kind, not the "clay doesn't matter" kind. Maybe the fact that Federer didn't get as many cracks at Nadal away from the clay was to his detriment. Federer has played 1,020 matches on non-clay surfaces against 289 on the red brick. That's a 3.5-to-1 ratio. Fedal have played 21 matches off clay and 15 on it, a ratio of 1.4-to-1. The conditions have certainly favored Nadal. The one-sidedness of the rivalry is also helped by the age of the two combatants. Federer has five years on Nadal, meaning Nadal wracked up many of the wins when he was in his prime and Federer was in the wilderness of old age (which, in tennis, is anything over 29). There are dozens of counterarguments too. Federer didn't have to face anyone close to Nadal in his prime, etc. All the permutations are what makes it so fun.
This is still Rafa's rivalry. It always will be. Yet the steady chipping away of an insurmountable lead makes Nadal's dominance look a little less imposing. These past six weeks will help alter the story of Roger Federer and Rafael Nadal, no matter which side you're on.