Robinson Canó Fitting In Well As Newest Star In Seattle Clubhouse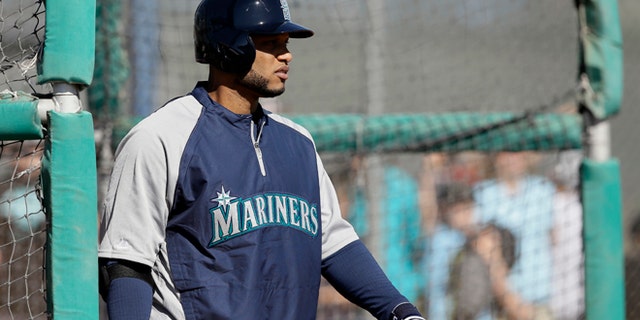 PEORIA, Ariz. (AP) – Standing in the middle of the clubhouse holding court with fellow Latino players, Felix Hernández could not allow himself to walk away from this conversation without a resolution.
He was not going to let Robinson Canó get in the last word. Especially when the two Seattle Mariners stars were bantering at a volume loud enough for everyone in the complex to hear.
The debate: Who is tougher to face? Is it Canó the hitter? Or is it Hernández the pitcher?
There was no final answer. Just a lot of laughter — the kind the Mariners hope comes with victories during the regular season.
"It's good man. It's going to help a lot," Hernández said. "You see how we're talking ... It's good for the kids. It's good for everybody here making everyone loose."
For a rare time in their history, the Mariners can lay claim to having one of the most dominant starting pitchers in baseball and one of the top offensive talents in the game on the same roster at the same time. Canó's signing in the offseason was a stunning coup by Seattle. They threw $240 million over 10 years at the five-time All-Star and in turn, Canó accepted the responsibility of giving up the New York limelight for the anonymity that playing in Seattle can sometimes bring.
With that come expectations:
— Be a clubhouse leader and take the lessons learned from the likes of Jorge Posada, Derek Jeter and Mariano Rivera in his time with New York and bring them to a roster of young players yet to match their expectations.
— Be the first great left-handed power hitter the Mariners have employed since Ken Griffey Jr. was in his prime.
— And bring buzz back to a franchise that's seen its fan base and public interest nose dive over the last dozen seasons.
"I'm not going to lie, it feels a little different because everywhere you look around you see different faces," Canó said. "I'm here now. I have it in my mind that I'm with the Mariners and I can't wait for the season to start."
So far, Canó is embracing his role. His locker, tucked in a corner of the Mariners' remodeled spring training facility, is a hub of activity. Some days, Canó chats with younger players. Other times, his corner is engulfed by music blasting from the two speakers next to his chair.
Everyone understands they are in the presence of a star. But Canó doesn't carry himself like one. He's approachable and affable. One day after workouts, Canó set up the "net drill" that helped him become a better hitter with the Yankees and worked extensively with inconsistent first baseman Justin Smoak.
He doesn't have to be the loudest voice in the clubhouse. Hernández, the established star in Seattle, takes care of that with ease.
"I think he's had a really nice influence on those around him. That's what we were hoping for. We were hoping for his talent to play but when you bring in someone of his stature, how does that affect everyone else around him? And I think it's been good for the other guys," Seattle general manager Jack Zduriencik said. "And a great guy. Just real genuine, smart, articulate in terms of the game, he has a great feel for the game. We've had several discussions about different things and he's got a good grasp on the game itself."
The Mariners seems to understand the star they have acquired, the guy represented by Roc Nation Sports, the guy with Jay-Z on speed dial. Canó is marketable on a national scale, the first time Seattle has employed a player with such reach since Ichiro Suzuki was in his first few seasons after arriving from Japan.
But Seattle's front office is not pushing Canó, at least for now. They understand this first year is about getting Canó comfortable with being somewhere other than New York and letting his play on the field speak for itself. There are nine more years to the contract for Seattle to capitalize on Canó's marketing potential.
"He's arguably the best player in the game and to have him here and on the field as a presence, yeah, he's a superstar but what he's going to do for our team in terms of leadership and showing some of our young guys, it's going to be invaluable," Seattle vice president of marketing Kevin Martinez said. "He'll be front and center in some of our efforts, as he should be, but it's what he brings on the field where the organization is really going to benefit."
Canó will be part of Seattle's always popular television commercials. And the club asked Canó to be a speaker at the opening for its new academy in the Dominican Republic. It was something Canó was more than willing to do, being just a few miles from his home. It gave the Mariners front office a sense of just how revered Canó is in the Dominican.
"I know he's really taking this serious. He has a genuine interest in making us, in any way he can, get better," Zduriencik said. "With all the young players down in the Dominican Republic he wants to be right in the midst of it all and he wants them to relate to the Mariners and him."
Follow us on twitter.com/foxnewslatino
Like us at facebook.com/foxnewslatino