Reports: Braves re-sign veteran catcher A.J. Pierzynski to one-year deal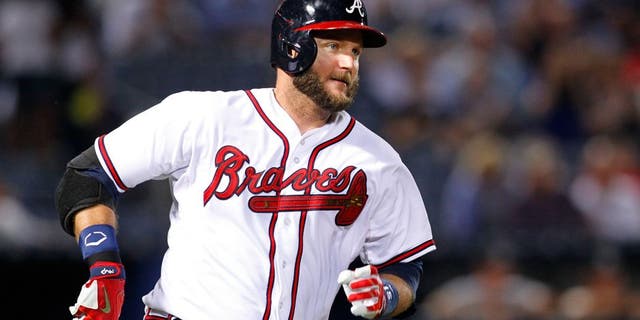 The Atlanta Braves did not wait to address their question marks behind the plate. Veteran free-agent catcher A.J. Pierzynski is returning to the team on a one-year contract, according to multiple reports.
The deal, which was first reported by FOX Sports' Ken Rosenthal, is pending a physical and reportedly worth $3 million with another $1 million possible in incentives.
Pierzynski, who turns 39 next month, emerged as one of the few bright spots for Atlanta last season, replacing top catching prospect Christian Bethancourt as the franchise's regular catcher.
The 18-year veteran started 104 games, hit .300/.339/.430 with nine home runs in 436 plate appearances -- good enough for an above-average 112 weighted runs created plus and 2.1 wins above replacement. For the lowest-scoring lineup in baseball, Pierzynski was one of six regular Braves position players to hit above league average. (Two of those players, Kelly Johnson and Juan Uribe, were traded at the July deadline.)
The two-time All-Star was one of 11 catchers to post a 2.0 WAR or better last season.
It was originally thought that Pierzynski's excellent 2015 season would increase his free-agent value in a shallow catcher class, so his early return at essentially the same price as the organization signed less-than-productive infielder Alberto Callaspo last offseason was a surprise on Wednesday night.
Where Pierzynski's return leaves Bethancourt in the organization's future plans remains unclear. On one hand, the organization has expressed confidence in Bethancourt's tools long-term, but in two prolonged major-league opportunities the bat has not produced and his defensive ability, still considered his best attribute, has not translated. At the very least, re-signing Pierzynski -- even at a bargain-basement price -- points to the franchise's waning confidence in Bethancourt's ability to take over the full-time job.