Report: Raiders rejected latest Oakland stadium plan in April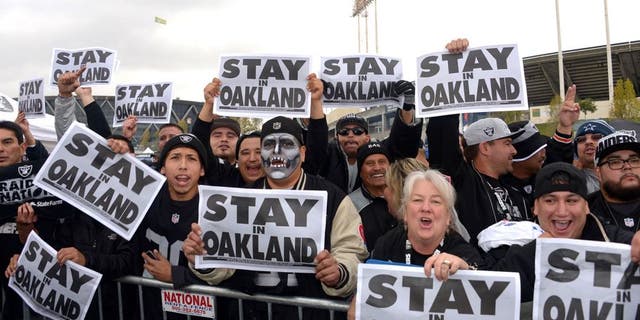 NEWYou can now listen to Fox News articles!
Floyd Kephart knew the Raiders were likely to turn his new stadium proposal down.
The billionaire developer pitched it anyway -- and received the expected answer long before the owner's meeting in early August.
According to the Contra Costa Times, Raiders President Marc Badain rejected Kephart's proposal in a letter on April 28. Meanwhile, Oakland-area fans waited patiently on a decision that was already made.
"Simply put the 'terms required for the Raiders to commit to remaining in Oakland' are a plan that fills that funding gap without stripping revenues from the stadium and preserves the current level of surface parking," Badain wrote, per the Times.
Fans and local government officials are understandably furious now. The time between the letter's arrival and its announcement could've been time spent rallying support for another plan.
Now, the city will either need to scramble to piece together a different option or let the team leave altogether.
This (stadium plan) has been a waste of time," sports consultant Andy Dolich said. "There are plenty of people that can develop that land in and around the Coliseum. Why have the city and county spent so much time, effort and money pursuing something that was dead in April?"
That's the billion-dollar question haunting Oakland supporters. It's clear the Raiders don't trust Kephart's vision, but it could be too late to for a fresh, more team-friendly proposal.