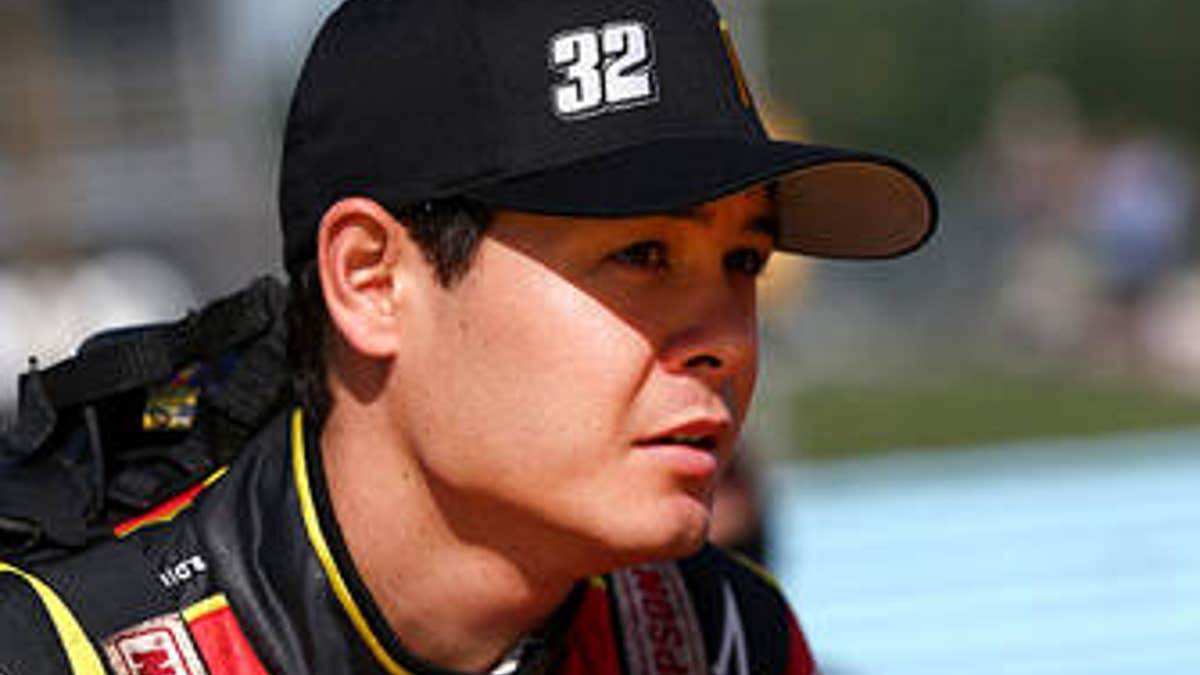 Kyle Larson will drive the No. 42 Chevrolet in the Sprint Cup Series for Earnhardt Ganassi Racing in 2014, the Charlotte Observer reported Tuesday.
Earnhardt Ganassi Racing has a press conference scheduled for Friday at Atlanta Motor Speedway.
Larson, 21, currently is competing for Turner Scott Motorsports in the NASCAR Nationwide Series. The rookie racer is eighth in the NNS point standings with six top-fives and 13 top-10 finishes in 23 starts.
Larson, a graduate of NASCAR's Drive for Diversity program, has been heralded as the most complete driver to enter the stock-car ranks since Jeff Gordon in 1990.
"I'm impressed with Kyle Larson for a lot of reasons and a lot of different series," Gordon said at Richmond. "I raced sprint cars. I raced midgets and of course the last 20-plus years been racing in NASCAR. To me, non-winged sprint car on dirt is probably one of the hardest race cars there is to drive.
"He makes it look pretty easy. He can jump back and forth and be competitive in just about everything that he gets into. I think he has impressed a lot of people."
In 2012, Larson earned 30 wins while competing in 123 races in 12 different racing series including the K&N Pro Series, where he won two races plus the series title as a rookie. It wasn't Larson's only NASCAR debut.
In his first four starts in the truck series, Larson finished 10th, sixth, second and 27th, respectively. Larson's breakthrough truck win came at Rockingham in April -- one of the most difficult tracks on the circuit. He posted another second-place finish at the inaugural truck race at Eldora last month after leading 51 of 153 laps.
Larson's proficiency on the "Big E" is not surprising. In 2011, Larson swept the Midget, Sprint and Silver Crown races in the same night during the 4-Crown Nationals, becoming just the second racer to pull off the feat.
"Let me tell you what, that kid is unreal," Gordon added. "I wish we had five or six more of him."
Given Larson's desire to compete in anything with wheels on dirt or asphalt, it's not surprising that more recent comparisons have been made to Tony Stewart.
"He just has a ton of car control," Stewart said last month. "I see things in him that you see from sprint car drivers. I get to see him drive three of four different types of cars now. I see a lot of things that I like to see."
Certainly, there are those who question whether Larson is ready to make the jump from Nationwide to Sprint Cup next year. Although pundits point to the struggles that Joey Logano endured after debuting at 18, when questioning whether Larson's prepared to graduate to NASCAR's top tour, just consider the maturity of the fields that the Elk Grove, California native has competed against since he was 15. We're not talking about fields full of teenagers driving Legend cars. Larson ran against men looking to put dinner on the table.
Some of NASCAR's elite drivers have made Cup debuts around the same age or even younger than Larson is now. Kyle Busch was 19 when moved into Cup. Ten seasons later, he's posted 27 wins. Gordon was 20 when he entered Cup. He now has 87 victories and four Cup titles. Kurt Busch had not completed his first year in the truck series when Roush Racing thrust the then-22-year-old into Cup. Since then, however, he's won 24 races and the 2004 title.
No, Larson hasn't won in the Nationwide Series -- yet. But champions Jimmie Johnson and Tony Stewart both had limited success in the feeder tour before they were given Cup rides. Johnson has just one career NNS win, and Stewart's first victory in that series didn't occur until 2005.
Although Kasey Kahne won one NNS race before he moved to Cup at 24, two years later he won six races. Kahne, who came through the racing ranks in open wheel cars as well, believes Larson "has been pretty impressive since he started."
"Always has since he's been on four wheels," Kahne added. "I think he is going to stay that way. He is talented. He enjoys racing. That is all he wants to do. He has a lot of drive and passion for it, so I think he'll be a guy that is going to win NASCAR races for sure."