Report: Atlanta Falcons' Jon Asamoah knows potential demotion looming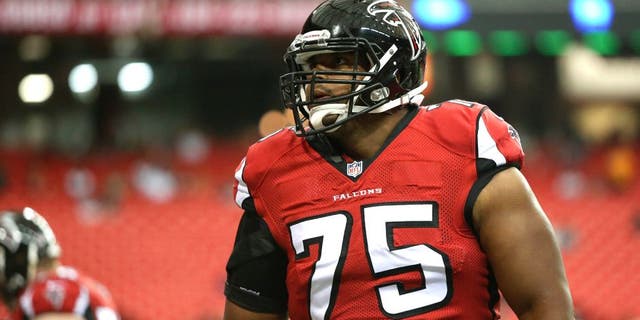 For Jon Asamoah, it's been a pretty rough past few days, according to Vaughn McClure of ESPN. As McClure explains, Asamoah has spent his fair share of time watching both Chris Chester and James Stone work at both guard positions.
The worst part? All this is happening with Asamoah simply watching it unfold.
With Kyle Shanahan coming to the Atlanta Falcons and bringing in his outside zone blocking scheme, McClure believes that Chester and Stone are just better fits. The question is, how has Asamoah handled the news?
Apparently, the six-year veteran is handling things like a true pro's pro.
"I'm just ready for anything," Asamoah told ESPN after Monday's practice. "You never know what's going to happen. You never know how things are going to go. I just know in this league that things are one way one day and then change fast."
For those who are wondering though, Asamoah is still going to be battling and working to make sure he earns a job on that starting offensive line.
"It's just competing," Asamoah said of the line situation. "It's tough on the inside (of the line). There are a lot of guys playing really, really well. So, it's just competing."
It's an interesting situation watching the offensive line battle unfold in Atlanta. While Asamoah is only 27 and has plenty of potential, Chester is currently 32. This obviously is purely a choice that will come down to who the best fit on the line is, something that Asamoah seems to fully understand.
(h/t ESPN)
Photo Credit: Jason Getz-USA TODAY Sports