Report: A's fired first base coach Waller in effort to go 'cutting edge'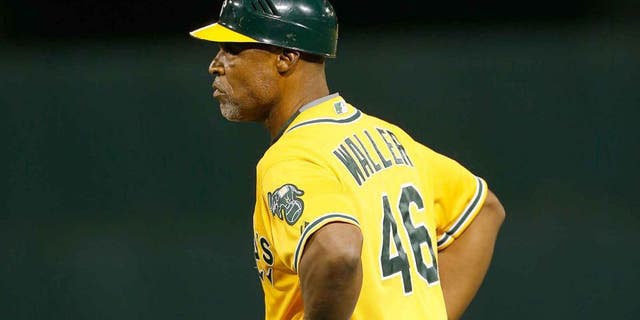 After a dismal 2015 that saw them flounder in last place in the AL West, the Oakland Athletics began their offseason by giving Billy Beane and David Forst promotions. It was the first move of an expected many that will reshape the club for the 2016 season, something that's become a nearly annual ritual in Oakland.
Earlier this week, first base coach Tye Waller was told by Bob Melvin that he wouldn't be coming back to coach on the 2016 staff - making him the first casualty of the offseason. The decision comes after the A's fired third base coach Mike Gallego in August, replacing him with Ron Washington.
As Joe Stiglich of CSN Bay Area noted, however, the A's reasoning behind letting Waller go - at least at this juncture - is a bit vague. Waller joined Oakland in 2006, moved over to bench coaching duties in 2008 and resumed his first base role in 2010. "He said they're going 'cutting edge,' but I don't know what that means," said Waller to Stiglich regarding Melvin's tip-off that he wouldn't be returning next season.
What does 'cutting edge' mean? That's the question at the moment. Whatever the case may be, Waller is ready to move on to a new opportunity. As quoted by John Hickey of Inside the A's, Waller knows he'll survive this setback. "When you work in this game long enough, you'll be let go a time or two. You don't go out kicking and screaming. I'll move on. I know I'll be all right. Sometimes you just have to move on.''
Waller repeated the 'cutting edge' prhase in his comments to Hickey: "I was told the team was going cutting edge when I asked why I was being let go. I know they are making changes, but other than this, I don't know what else they want to do."
The A's appear to be moving on in a new direction for next season and beyond, which should make for yet another eventful offseason by the Bay.