Referee punishes Chapecoense crash victim's brother after heartfelt tribute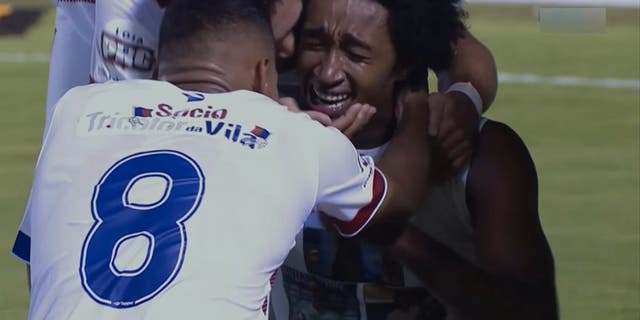 NEWYou can now listen to Fox News articles!
The rules in soccer are pretty clear-cut: When a player removes his shirt during a goal celebration, it is an automatic yellow card. The rationale is that doing so is considered "unsporting behavior.
But what about when a player removes his shirt to reveal a touching tribute for a lost loved one?
Guilherme Biteco, an attacking midfielder for Parana, lost his brother Matheus in the Chapecoense plane crash last year. So when he scored this weekend, he wanted to pay tribute to his brother.
In a touching moment, a crying Biteco removed his shirt to reveal a message honoring Matheus:
Its an incredibly emotional moment as Biteco sobs and displays pictures of his slain brother but the referee followed the letter of the law and booked the player for the display.
Its not exactly a banner moment for the world of soccer refereeing, but its something that comes up time and time again. Who can forget Edinson Cavani being yellow-carded for a tribute for Chapecoense only days after the crash?
Referees should learn or be allowed to acknowledge the difference between the spirit of the law and the letter of the law. But until that happens, we'll see more harsh yellow cards like this one.
MORE FROM FOX SOCCER