Redskins await word on Meriweather, Doughty, could be without starting safeties vs Broncos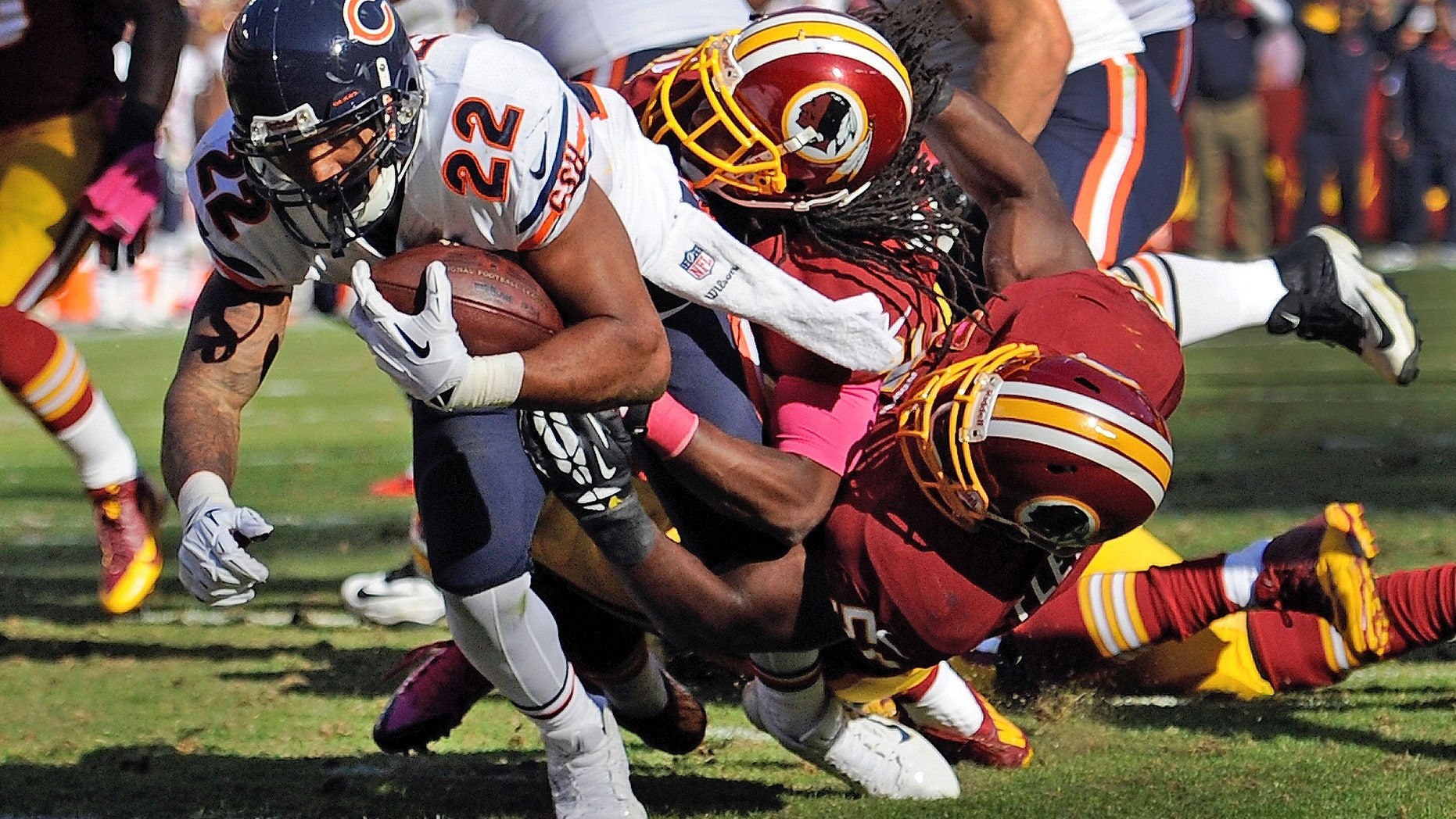 ASHBURN, Va. – The Washington Redskins could be without both of their starting safeties when they play Peyton Manning and the Denver Broncos.
Free safety Brandon Meriweather faces a fine and possible suspension after being flagged twice for helmet-to-helmet hits in the Redskins' 45-41 win over the Chicago Bears on Sunday.
The NFL said Monday that Meriweather's fouls are being reviewed for potential discipline. Coach Mike Shanahan said he doesn't think there will be a suspension, but Meriweather's history of helmet-first hits makes it more likely that the league will go beyond the usual fine.
Meriweather was fined $42,000 in Week 2 for a helmet-first hit that left Green Bay Packers running back Eddie Lacy with a concussion. Later in that same game, another helmet-first hit left Meriweather with a concussion, forcing him out of the game.
Meriweather said after Sunday's game that he thought both hits against the Bears — on Alshon Jeffery in the third quarter and Brandon Marshall in the fourth quarter — were legal. He said he's tried to change his game to suit the NFL's tackling rules.
"I think he knows exactly what he has to do," Shanahan said. "And sometimes the intent — there's no intent there — sometimes you hit a guy a little bit higher than anticipated. Even the last one, he came to the sideline and says, 'Hey, one guy told me it was a good hit and the other official told me he saw it differently.' So there's a lot of different interpretations of it, and at the end of the day we'll find out."
Meanwhile, strong safety Reed Doughty suffered a concussion Sunday when the Bears attempted an onside kick in the fourth quarter. He will have to pass the league's required tests before he can be cleared to play next week at Denver.
The Redskins are already thin at safety. Rookie Phillip Thomas was lost for the season with an injury during training camp, and rookie Bacarri Rambo lost his starting job after struggling in the first two games.
Washington is ranked 24th in the NFL against the pass and gave up 24 second-half points Sunday against a backup quarterback.
Shanahan was asked how he would manage if he doesn't have Meriweather and Doughty.
"Not a whole lot you can do about it," Shanahan said, "except prepare the best way you can."
___
AP NFL website: www.pro32.ap.org
___
Follow Joseph White on Twitter: http://twitter.com/JGWhiteAP