Rams QB Hill sidelined with thigh injury, Davis starts second half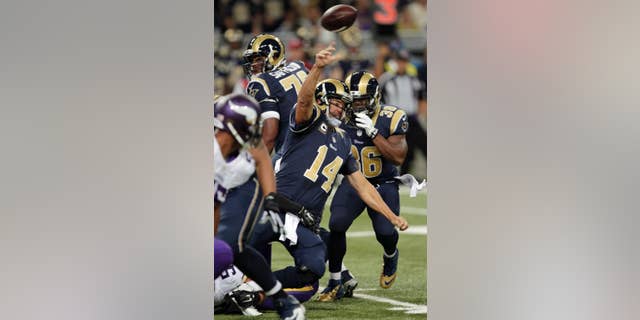 ST. LOUIS – St. Louis Rams quarterback Shaun Hill has left the game against the Vikings with a thigh injury. Austin Davis replaced him to start the second half, making his NFL debut.
It was unclear how Hill was hurt.
The 34-year-old Hill made his first start since 2010 in place of Sam Bradford, lost for the season with a left knee injury in the third preseason game.
Hill was 8 for 13 for 81 yards and an interception by Josh Robinson that set up the Vikings' lone touchdown for a 13-0 lead in the final minute of the half.
Davis was with the Rams last year, backing up Kellen Clemens for the last nine games.
___
AP NFL website: www.pro32.ap.org and www.twitter.com/AP_NFL