Rams and Titans both win with blockbuster draft trade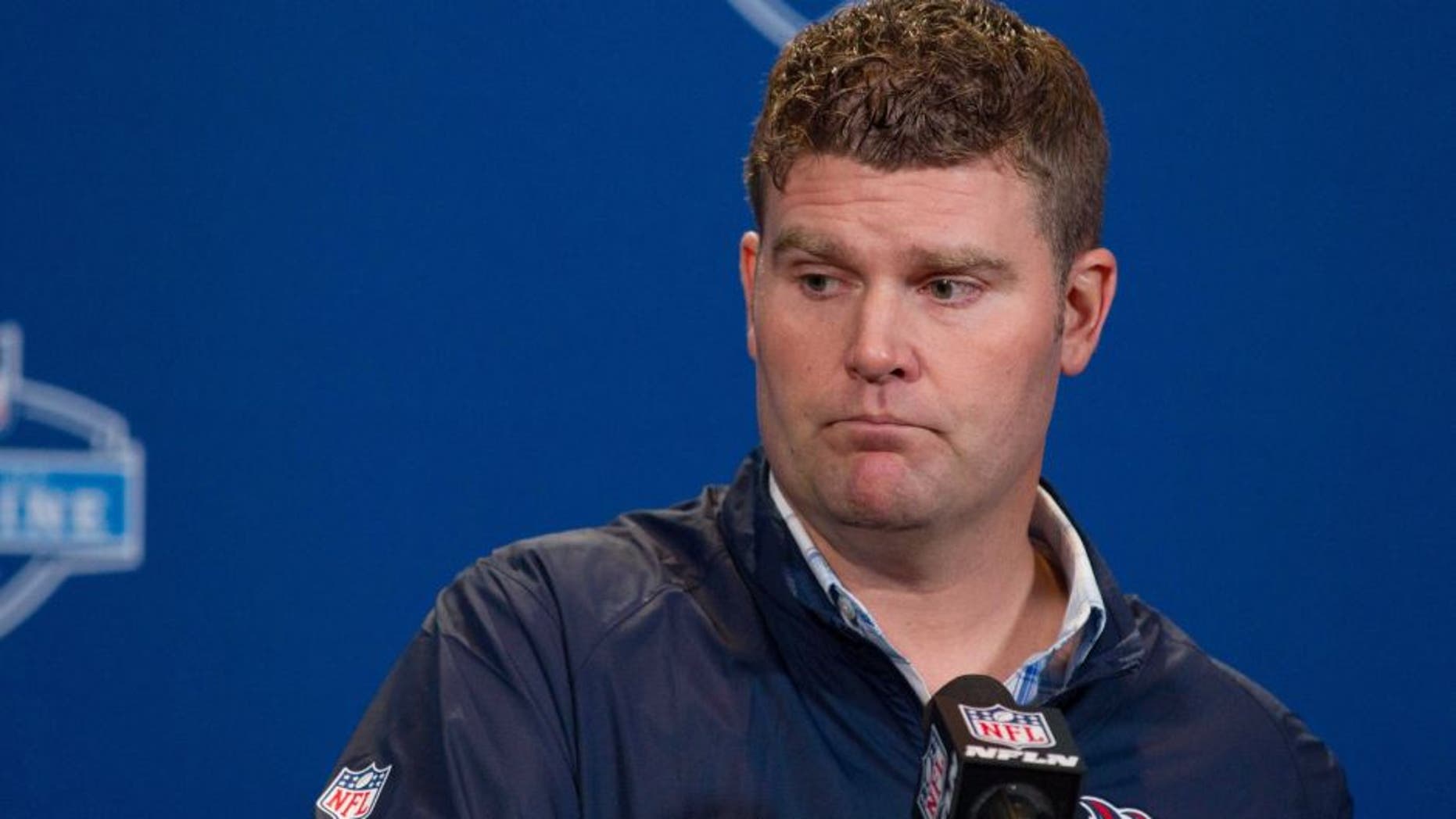 Four years ago, the St. Louis Rams traded the second overall pick of the 2012 NFL Draft in exchange for a haul of selections that eventually led to eight players, including current franchise cornerstones Greg Robinson, Michael Brockers, and Alec Ogeltree. Now, in their first year in Los Angeles, with a gaping hole at quarterback, it's the Rams playing the role of the aggressor, sending a haul of draft picks, including this year's first and two second-round selections, in addition to next year's first-round pick, to Tennessee in exchange for the first overall pick in the 2016 NFL Draft.
The NFL Network reported on Wednesday that the Philadelphia Eagles were engaging in "exploratory talks" for the first pick. Turns out, the Rams were having concurring ones all along. The biggest predraft trade since the one in 2012 was actually nearly finalized on Wednesday afternoon, but sources tell FOX Sports that both sides agreed to wait until Thursday morning, out of respect for Kobe Bryant playing in his final NBA game.
The Los Angeles Rams pushed their chips -- both in football terms and in the crowded Los Angeles sports marketplace -- to the middle of the table.
Looking at it from my vantage point, I love this trade.
For both teams.
With Los Angeles' 2016 15th overall and two second-round selections, the Titans now own six of the first 76 selections in the 2016 draft. If picks are currency, the Titans -- who already have their franchise quarterback in 2015 second overall pick Marcus Mariota -- are rich.
Tennessee, which has been been more or less irrelevant the past few years in the below-average AFC South, can build a team around Mariota. First-year general manager Jon Robinson, a longtime pupil of Bill Belichick's up in New England, made his mentor proud. Tennessee, which had the luxury of not needing a quarterback, is now the biggest power player in the 2016 NFL Draft.
If Tennessee did, indeed, want Laremy Tunsil, the talented left tackle out of Ole Miss, with the first pick of this year's draft, it can still likely get at least one of the other top offensive tackles in this year's crop at 15. If Notre Dame's Ronnie Stanley and Tunsil are off the board, there's a good chance the two next-tier tackles, Michigan State's Jack Conklin and Ohio State's Taylor Decker, will be on it. And if Tennessee really wants Stanley (assuming Tunsil is gone in the top five), the Titans now have the luxury of picks to wheel and deal a bit and move up to get him.
As for the Rams, the pick will be a quarterback, make no mistake about that. Whether it's Jared Goff or Carson Wentz is not clear at the moment. Both players are viewed as top prospects and offer different skill sets to Los Angeles.
Goff, a San Francisco native, is perhaps more experienced and better suited for the Hollywood billboards and bright, flashing lights. But Wentz is bigger, faster, and has two FCS championships under his belt. Wentz would be the first FCS or Division 1-AA quarterback selected first overall in the modern era, yes, but Jeff Fisher had a lot of success with another Division 1-AA quarterback he once drafted in Steve McNair. Both are viewed as immediate upgrades over the current stable of quarterbacks the Rams employ.
So, what about all that Case Keenum talk this offseason?
Over the last three months, Rams general manager Les Snead has doubled down and tripled down on saying that Keenum was the team's starting quarterback. He said it at the Combine, said it at the owners' meetings in Florida and then reiterated it on FOX Sports 1's "The Herd with Colin Cowherd." But Snead was playing poker this month, not blackjack. And the Rams are trying to playing chess, not checkers. Case Keenum is a fine quarterback. He's not opening up the Los Angeles Coliseum.
Whereas other teams might have hesitated on this deal, Los Angeles' roster is built in such a way where it can make a trade of this nature. The Rams are the youngest team in the league, had an extra second-round pick from the Nick Foles-Sam Bradford trade they made a year ago and needed a quarterback. As an NFL source put it to me Thursday, "Everyone cites that Redskins trade and what the Redskins gave up for Griffin. If Griffin worked out, you'd never hear a peep about it. Nobody ever mentions the haul the Giants gave up for Eli Manning."
The Rams watched from the sideline as Kirk Cousins was given a $20 million deal and Brock Osweiler raked in $72 million down in Houston. They'll pay their franchise quarterback roughly $22 million over 4 years. Not a bad deal, if you look at it that way.
In short, the Rams need to nail the pick. Goff or Wentz. Wentz or Goff. They've got two weeks to discuss, debate and figure it out. If their quarterback is any good (and I believe both will succeed at the next level), the Rams will have no regrets.
This is the rare trade where I love it for both sides.
The Rams are officially on the clock.