Qualls staying upbeat despite being left off Astros' ALDS roster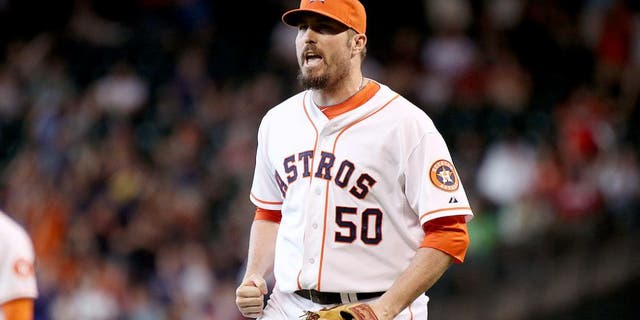 Chad Qualls is the 'elder statesman' of the Houston Astros, to so speak, given that he was on the team the last time they appeared in the postseason. Qualls pitched in the 2005 World Series for Houston, which is exemplary of how long he's managed to stay in the big leagues.
His veteran nature, then, came into play when he wasn't included on the club's 25-man roster for the ALDS. Manager A.J. Hinch and his coaching staff went with other options from the right side, including Pat Neshek, Will Harris and Luke Gregerson as well as lefties Tony Sipp and Oliver Perez in lieu of Qualls.
However, the 37-year-old had a very team-friendly reaction to the news. Rather than become an issue by complaining about the decision or visibly expressing frustration, Qualls took it all in stride.
Hinch took Qualls aside on Thursday morning before the roster was officially announced to give him the news. "He said it was a tough decision for them to make," Qualls told Jose de Jesus Ortiz of the Houston Chronicle. "It's all right. I'm not going to dwell on it and let it get me down. I'm just going to do what I need to do to help the team and obviously just root them on."
At this point in his career, Qualls knows how a disrupted clubhouse can lead to problems, which is why he told Ortiz that, "It's something they had to do for this series. If we advance on for that Toronto or Texas series hopefully I'll be on that roster there. I got to live with it. I can't mope around or be a bad influence in the clubhouse. I'm going to what I do best and be positive."
From the team's perspective, Qualls' reaction to the bad news is definitely a good thing for team morale.