Qualifying results for AAA Texas 500 Chase race at TMS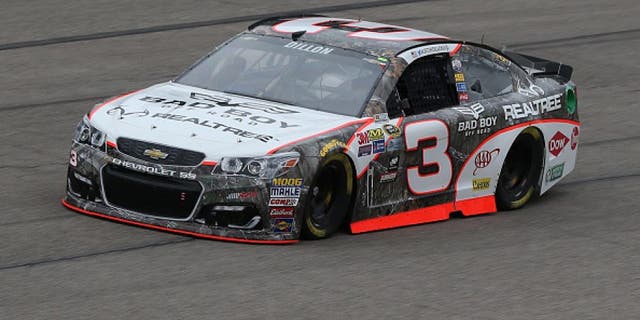 Austin Dillon may be out of the Chase for the Sprint Cup playoffs, but he'll start from the pole in Sunday's AAA Texas 500 at Texas Motor Speedway.
Dillon won the pole, his second of the season and the third of his career in his 119th start, by edging out Joey Logano in the final round of knockout qualifying on Friday at TMS.
"Man, this is huge," Dillon said after climbing from his No. 3 Richard Childress Racing Chevrolet.
Dillon turned his top lap in the final round of qualifying in 192.301 miles per hour, knocking Logano from the pole. Logano, whose top lap in the final round was 192.260 mph, will start second.
"It's really, really, really frustrating. ... Second stings the most," Logano said.
Kevin Harvick was third-fastest, with Brad Keselowski and Kyle Larson rounding out the top five. Harvick blamed himself for costing his team the pole and joked over his team's radio that "I feel like I'm getting older every lap."
Dillon qualified for his first Chase and advanced from Round 1 to the Round of 12, but was narrowly eliminated when the playoff field was trimmed from 12 drivers to eight following the elimination race at Talladega two weeks ago.
"I can't be happier for RCR and everybody back at the shop," Dillon said. "A lot of hard work and effort goes on. We missed (moving on in) the Chase by just two feet. We want to prove that we can win a race by the end of this year, so this is big for us.
"I thought I messed up the lap truthfully. I got a lot of good speed off of (Turn) 2, but Turn 3 I turned in and missed my corner. But it worked out."
Logano and Harvick are still alive in the Chase and will start with an advantage over the likes of Matt Kenseth (seventh), Carl Edwards (ninth), Kurt Busch (10th), Denny Hamlin (17th), Jimmie Johnson (19th) and Kyle Busch (24th).
Busch attempted to qualify in a backup car after wrecking his primary No. 18 Joe Gibbs Racing Toyota before he completed a single complete lap in Friday's lone practice. But after making it through the first round with the second-fastest time behind only Logano, a radiator hose became disconnected on pit road and forced him to take the car behind the pit wall to the garage for repairs, meaning his qualifying efforts for the day were done.
It was the second major setback of the day for the defending Sprint Cup champion and should not have happened, crew chief Adam Stevens admitted.
"I think it is a byproduct of pounding the fence before we even completed a lap in practice," Stevens said. "In our hurry to change the motor and all the drivetrain afterward, apparently we didn't get the lower radiator hose completely clamped on the water neck out of the block and proceeded to dump all the water out of it on pit road after our first run. We're going to start 24th and get after them from there."
Check out Sunday's row-by-row starting lineup set by Friday's qualifying results below.