Puck possession, consistency among factors driving Predators' success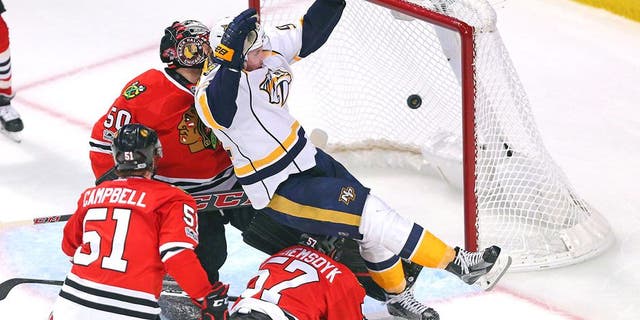 The secret is out on the Nashville Predators. They're not going to let anyone walk over them this postseason.
After a 1-0 victory in Game 1 against the Blackhawks, where Nashville squeaked out a victory and prompted Chicagohead coach Joel Quenneville to remark how easy of a shutout it was for Pekka Rinne, it wouldn't have been a surprise to see an even series after Game 2 heading back to Nashville.
What the Predators achieved in their 5-0 romp of Chicago on Saturday night was nothing short of criminal. They re-entered one of the most hostile buildings in the NHL, executed an improved gameplan fromGame 1and systematically overwhelmed one of the Stanley Cup favorites to steal another win.
But did they truly steal the win? How did a Nashville team that couldn't decide what it wanted to be, even as the regular season was coming to a close, cruise into the United Center and head back to the Music City with a chance to go up 3-0 on Monday night?
By beating the Blackhawks at their own game and playing the same way itsplayed against Chicago all season.
Since Peter Laviolette replaced Barry Trotz behind the bench, the Predators have preached offensive pressure from every skater on the ice along with defensive responsibility. It's a lot to ask for, but when the system works and the puck bounces the right way it's a glorious thing to watch unfold.
Game 1 had its moments in the first period, but game two was an absolute clinic.
After weathering an early storm for Chicago, it took only 3:44 to get on the board and Nashville controlled much of the game from that point on. What gets interesting, though, is how and where the Predators are targeting their shot selection.
During the regular season, eight of Nashville's 13 goals against the Blackhawks came from what's typically known as the slot -- the area of the ice in between the faceoff circles. Six came from the low slot -- closest to the goaltender -- and two from the high-slot, one from P.K. Subban and the other from Roman Josi.
Now, check out the shooting heatmap from last night's Game 2:
Four of the Predators five goals against Corey Crawford all came from slot, with Kevin Fiala's powerplay marker late in regulation coming to Crawford's high blocker side -- normally one of his strongest areas.
Let's break these four goals down even further.
Ryan Ellis? He sent a rocket from the high slot past a screened Crawford -- which was a beautiful move by Viktor Arvidsson -- to his high-glove side.
Harry Zolnierczyk? He gets behind the defense after taking a 90-foot pass from Mattias Ekholm and roofs one, again, past Crawford's high-glove side.
Colton Sissons? Seeing Craig Smith dipsy-doodle his way into the offensive zone, Sissons forced his way past Blackhawks forward Dennis Rasmussen, parked in front of Crawford and buried a rebound off a Pontus Aberg shot.
Ryan Johansen? Capitalizing on a Chicago line change, Filip Forsberg found Johansen breaking into the zone and simply lobbed the puck towards him from behind the net. All Johansen had to do was chip it past Crawford and in, all while trying to avoid a diving Trevor van Riemsdyk.
Three of these stemmed from traffic directly in front of Crawford. Two of these targeted his high-glove side. In fact, if you look at the shot charts from many of Nashville's contests against the Blackhawks this season, you'll see a definitive trend of trying to beat Crawford from his glove side -- the only exception being a 5-3 loss on October 15th in Scott Darling's only appearance against the Preds.
More importantly, though, Nashville's ability to control puck possession against Chicago is finally paying off.
Even with only one win in five attempts during the regular season, the Predators controlled the majority of possession in every game. The only one this season, regular or playoffs, that Nashville didn't have a handle of the puck was the playoff opener on Thursday night -- and itstill won.
Corsi-wise, only five forwards ended up with a CorsiFor percentage under 50 on Saturday night: Austin Watson, James Neal, Mike Fisher, Harry Zolnierczyk and Kevin Fiala -- the latter two scoring goals. Viktor Arvidsson ended at a staggering 70.37 percent last night, with 19 shots attempted on Crawford while he was on the ice opposed to eight making their way towards Rinne.
Most of Fisher and Watson's play at even-strength, over 60 percent for both, started in the defensive zone, which explains their lower Corsi numbers.
What none of this shows, though, is the unheralded work of the Predators in the checking and faceoff departments. Fisher won 10 of 16 faceoffs, where only six of his faceoff draws came outside of the defensive zone. Johansen won 12 of 22, Jarnkrok nine of 16 and Sissons four of nine.
But when the Predators didn't have the puck, they just forced it back onto their sticks -- out-hitting Chicago 48 to 31.
James Neal had a whopping seven of those while Austin Watson, who has had one heck of a season for Nashville, lead all forwards with eight hits.
Nashville imposed itswill Saturday night against the Blackhawks. It was a 60-minute effort where everything clicked and all the bounces wentitsway. Not a single bounce has gone in Chicago's favor so far this series, but the odds of Rinne earning four straight shutouts to and close out the Hawks is highly astronomical.
It's not much to ask for a repeat performance from the Preds, though. Outside the fluke of Game 1, everything they've done this season against Chicago points to another game of puck dominance and one where they focus on forcing shots through the slot. To think it wouldn't would buck the trend of what we've seen so far.
The biggest question is whether luck will continue to remain on Nashville's side. If it swings the opposite direction, the Predators could possibly find themselves in a familiar situation they saw exactly 12 months ago.
(Stats and imagery courtesy of naturalstattrick.com and corisca.hockey)