Preview: Bucks at Raptors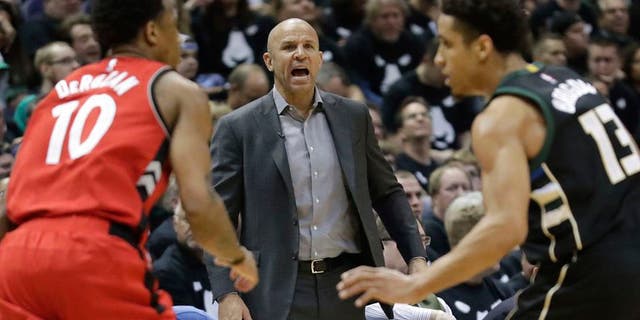 The Toronto Raptors regained their energy to bounce back in Game 4. Now it is up to the Milwaukee Bucks to do the same Monday night in Game 5 of the best-of-seven Eastern Conference first-round playoff series.
After being humiliated in Game 3, the Raptors made some adjustments both in strategy and attitude Saturday to even the series 2-2 with an 87-76 victory at the BMO Harris Bradley Center.
"I've always said we play better with our backs against the wall," Raptors coach Dwane Casey said. "It's a tough way to live, but I love our team's resilient personality.
"I wish we wouldn't have a stinker before we play that way, but if we can consistently get everybody at their potential level, I think we'll be in good shape."
The Bucks committed 21 turnovers Saturday. Seven of those were by Giannis Antetokounmpo, who was held to 14 points on 6-of-19 shooting from the field.
"We need to do a better job moving the ball, find the open guy," Antetokounmpo said. "The Raptors are collapsing in the paint and we need to do a better job of finding the open man and take care of the ball. If we do that, we're going to be in a great position."
It will be up to the Bucks to show their resilience in Game 5 at the Air Canada Centre if they want to regain the advantage they had after winning 97-83 in Game 1 at Toronto and 104-77 in Game 3 at Milwaukee.
"Our tempo was extremely slow," Bucks coach Jason Kidd said Saturday. "Give them credit; they slowed us down. It wasn't a high-scoring game. No one could make a shot.
"But our tempo in that second half came to a halt. Our energy level was low, for whatever reason. We've got to fix that going into Game 5."
Among the adjustments made by the Raptors on Saturday was to use center Jonas Valanciunas off the bench and start guard Norman Powell at small forward.
Powell provided a spark at both ends of the court just as he did in last year's playoff series against the Indiana Pacers.
He scored 12 points -- including five straight to give Toronto a 10-point lead in the fourth quarter -- and also helped provide strong defense against Bucks guard Khris Middleton.
Powell's role was to go to the hoop to help open things up for Kyle Lowry, who had 18 points, and DeMar DeRozan, who had 33 points after scoring only eight with no field goals in Game 3.
"Just to have a presence there, to put the defense in rotation," Powell said. "We needed more drives, more kick-outs to have their defense scrambling because they're so long.
"Their length is really disruptive, they're blitzing Kyle and DeMar in pick-and-rolls so you need someone to attack, loosen up the defense and re-attack on the kick-outs or hit the shooters for open shots."
Valanciunas, who has started 357 games and come off the bench six times in his career, came into the game when Bucks center Greg Monroe entered.
Valanciunas scored 12 points and Monroe had 14.
"I thought (Valanciunas) handled it really well," Casey said. "It's tough for a guy that's started every game that he's been physically ready for and able to play.
"And to understand this is the playoffs, it wasn't anything he did wrong but just the matchup that he had with Monroe. I thought he came in and did an excellent job. He had the proper attitude, proper disposition and he was a pro."
Said Monroe said: "We just couldn't really score, honestly. They only had 87 points. It was just a sloppy game for us. We definitely got off to a slow start; we didn't come out energetic. We have to come out ready. It's the playoffs. From the tip to the last horn, you've got to play at a high level."
DeRozan was feeling a sigh of relief after picking up his play.
"I was just going quick, being aggressive, not waiting on the doubles," DeRozan said. "It was getting to my sweet spot and making a quick move, a quick play.
"We played two Game 7s last year; we played six games in the conference finals with the champs (the Cleveland Cavaliers). You go back to every moment you were in and understand what needs to be done, if you're coming off a bad game."