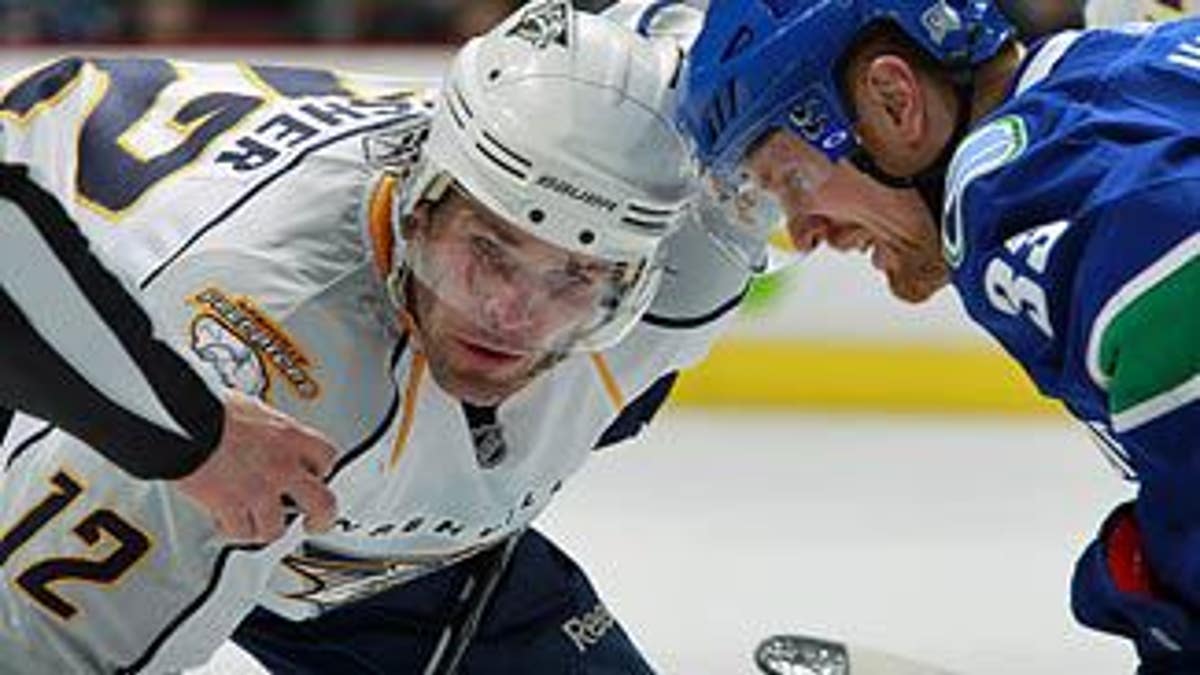 VANCOUVER, B.C. – The Nashville Predators know they'll need a better start in Game 2 of their Western Conference Semifinal series Saturday night if they hope to get a better result.
The Canucks never let the Predators get anything established, and only the goaltending of Pekka Rinne kept Nashville close.
"We came out flat," defenseman Cody Franson said of the 1-0 loss to Vancouver in Game 1. "To be honest with you we don't know what the reasoning was, but everybody in here is accountable, we know that, we take pride in that and we're going to come out with a good effort."
Nashville's defensemen are also expecting to deal with more traffic in front of Rinne, who stopped 29 of the 30 shots he faced in the opener.
"I'm sure they're going to try and get in front of Peks and make it so they can't see as many pucks, but we're used to teams doing that," Franson said. "Obviously that's the game plan for a lot of teams that play against us with him in net – that's nothing we haven't seen."
Having been in Vancouver for four days now, Rinne's glove hand has garnered nearly as much attention as Alexandre Burrows' Game 7 overtime winner against Chicago in the opening round. Rinne was especially stellar in the opening 40 minutes on Thursday night, turning aside 25 of the 26 shots he faced, many with a flash of his glove.
"It's just the way I play," said Rinne, trying to down play the significance of his glove side. "I just try to prevent rebounds and stuff like that. To me that's just a normal thing, the way I play, I try to catch pucks and contain my rebounds, but me it's natural."
The Predators held an optional morning skate at Rogers Arena on Saturday, and coach Barry Trotz hinted his lineup could look different in Game 2.
"I've contemplated some changes," he said. "I'll probably have a couple extra guys in warm-up. The way I look at it, if I try to pick one or two guys and try to punish them I don't have any players left."
Forwards Colin Wilson, who is yet to play in these playoffs, and J.P. Dumont will take the pre-game skate and Trotz says he'll make a final decision afterward.
Vancouver is expecting a pushback from Nashville after dominating the opening 40 minutes of Game 1.
"After you lose the first game you definitely want to steal one in the other team's building – that's the plan for any team," said Chris Higgins, the lone scorer in Game 1. "I think they're going to skate pretty hard, probably play a little more physical, probably get more shots on net so we got to be ready for those things."
As for changes, the Canucks have one goal in mind for Game 2 – make life difficult for Rinne.
"I think we need to get to Rinne more, we got to get some traffic in front of him, we got to get second and third opportunities," said center Ryan Kesler, who is still looking for his first goal of the playoffs. "Other than that I thought our game plan was pretty well executed."
Defenseman Sami Salo skated by himself prior to teammates this morning. Coach Alain Vigneault maintains the oft-injured Fin is still "day-to-day" but will make the trip to Nashville for Games 3 and 4 on Tuesday and Thursday.
No lineup changes are expected for the Canucks, Roberto Luongo, who made 20 saves for the shutout on Thursday, will be in goal.