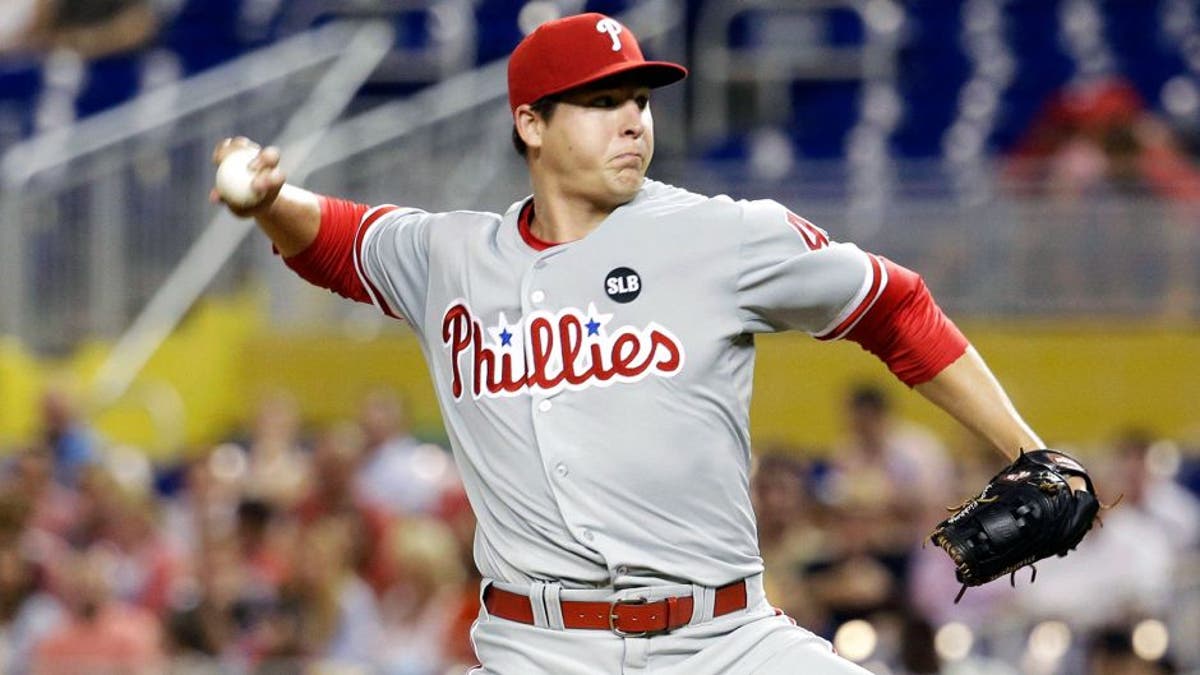 MIAMI -- Jerad Eickhoff didn't look like a pitcher who was making his major league debut and he didn't look like someone who had not had a hit since high school.
Eickhoff pitched six scoreless innings and drove in two runs in his major league debut to help the Philadelphia Phillies to a 7-1 win over the Miami Marlins on Friday night.
''It's surreal,'' Eickhoff said. ''You grow up dreaming about this and words can't describe. There's so many people that help you get here and it's just a testament of what they do and a lot of it is on them and the guys in this locker room playing defense like they did. It's just unbelievable.''
Eickhoff (1-0) is a 25-year-old right-hander who was one of six players acquired from Texas in the Cole Hamels trade on July 31. Eickhoff had about 20 friends and family members in attendance to see him scatter five hits and walk one while striking out five. He threw 52 of his 75 pitches for strikes.
''So far it's a real good trade. He came as advertised,'' Phillies manager Pete Mackanin said. ''He told us and we were told that he likes to pound the strike zone with all of his pitches and he showed that he's able to do that. I liked his curveball. I really liked his slider, he used it well. He threw strikes. He got his first major league hit and RBIs. We're real pleased with what we saw.''
Philadelphia broke a scoreless tie in the fourth inning scoring four runs on four hits off of Kendry Flores (1-2), who was making his first career start. Herrera's single and Freddy Galvis' sacrifice fly put the Phillies on top 2-0 before Eickhoff's two-run single.
''I hadn't had a competitive at-bat in about six or seven years,'' Eickhoff said. ''I guess I closed my eyes and made contact.''
Ryan Howard had three doubles and drove in two runs for the Phillies. It was the first time since June 8, 2008 at Atlanta that Howard had three doubles in a game.
''I kidded him about the doubles, he doesn't hit home runs anymore,'' Mackanin said. ''I said, `You're just a doubles guy?' But he had a nice night. A couple of RBIs and swung the bat well.''
Flores, who had six relief appearances to his credit, was solid in the first three innings allowing just one baserunner before unraveling in the fourth.
''He was up all night, a lot of fly ball outs,'' Marlins manager Dan Jennings said. ''Eventually, they found holes. He just couldn't get the ball down to the bottom of the strike zone. Elevated the ball, not typical of what we've seen.''
Flores allowed five runs and seven hits in five innings.
''They were aggressive with the pitches in the zone but didn't chase the bad pitches,'' Flores said. ''Apparently they studied me well.''
Miami's Derek Dietrich homered and Dee Gordon had two hits to extend his multi-hit streak to six games. Adeiny Hechavarria had his 13-game hitting streak snapped going 0-for-3.
Marlins' left-fielders Cole Gillespie, who left the game in the sixth with a left wrist contusion, and Dietrich combined for three errors.
The Marlins were unable to cut into a 4-0 deficit when Marcell Ozuna doubled off the left-field wall in the fourth sending Justin Bour home, but Bour was thrown out at the plate on a throw from cut-off man Galvis and the tag was secured by catcher Cameron Rupp.
''That could have turned the whole momentum of the game around,'' Mackanin said. ''Just a great play to jump up and catch that ball and put a tag on Bour.''
Howard had RBI doubles in the fifth and ninth and Galvis scored in the sixth on Dietrich's fielding error.
Dietrich's home run in the seventh put the Marlins on the scoreboard.
TRAINER'S ROOM
Marlins: OF Cole Gillespie (left wrist contusion) left the game in the sixth inning after a diving attempt and is considered day-to-day. ''Hopefully it's mild and he'll be ready to go,'' Jennings said. ''But it affected him trying to swing the bat.'' ... RHP Carter Capps (elbow) is scheduled to throw another bullpen session on Sunday and could return from the disabled list next week against Pittsburgh. ... RHP Jarred Cosart (ear) is slated to have a rehab start with the GCL Marlins on Saturday.
UP NEXT
Phillies: RHP Aaron Harang (5-14, 4.79 ERA) will take the mound on Saturday against the Marlins, a team that he has struggled against in his career posting a 5-7 record and a 6.22 ERA in 19 starts. Harang has allowed 18 runs over 15 innings in his past three starts overall.
Marlins: LHP Justin Nicolino (2-1, 4.24) will be making his fifth start of his career. He allowed two runs over 6 2/3 innings in a win at Milwaukee on Aug. 17 in his previous outing.