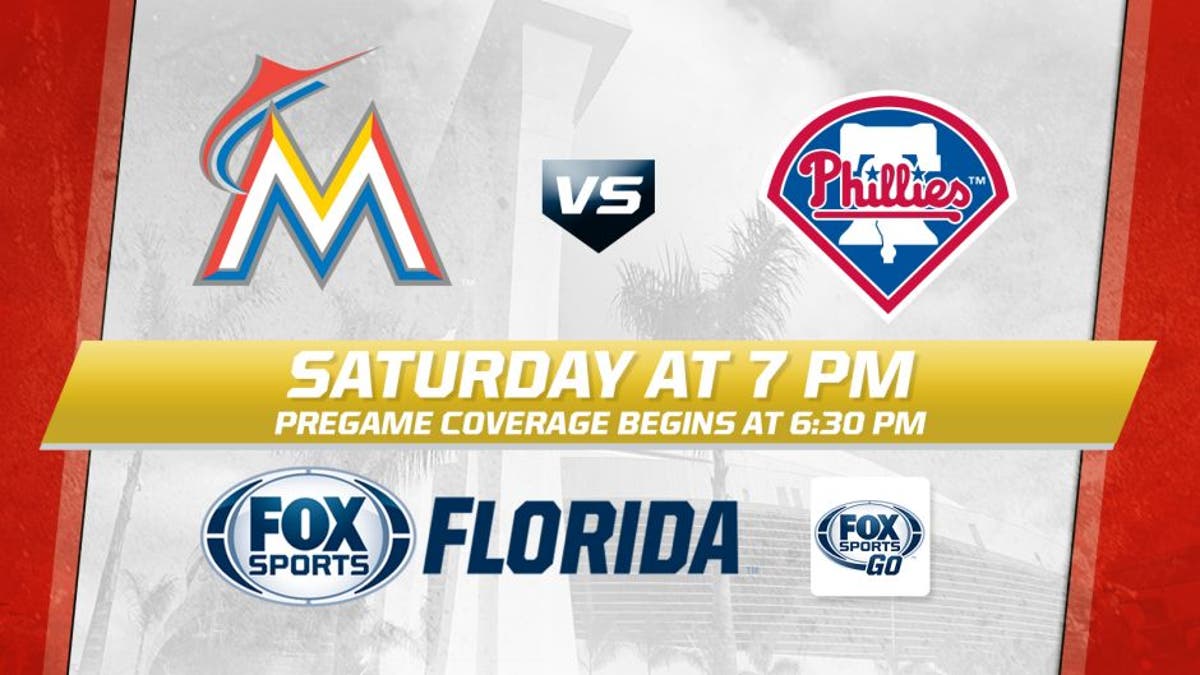 TV: FOX Sports Florida
Time: Pregame coverage begins at 6:30 p.m.
Jeremy Hellickson has been roughed up by the long ball. Tom Koehler hasn't lasted long enough in most of his starts to give hitters enough chances to hit them.
The right-handers square off Saturday night in Miami as the Marlins attempt to take the first two of a three-game series against the Philadelphia Phillies.
The Marlins (16-12) opened the series with Friday's 6-4 win, which has them in position to go five games over .500 for the first time since being 20-15 in 2014. They've won 11 of 12 while averaging 5 runs and batting .298.
Giancarlo Stanton homered for the second time in three games and is 5 for 9 in that span, Martin Prado is batting .429 in his last 11, and Christian Yelich has three homers and seven RBIs in the last four.
"You've got to find a way to keep going," manager Don Mattingly said. "Nobody's going to feel sorry for you. It's just been nice that the guys keep playing. You have to find a way to get a win every day. And they expect to get a win every day."
Philadelphia (16-14) has lost three straight and four of five since consecutive three-game sweeps of Washington and Cleveland. The formula has been simple in that 11-game span: If the Phillies give up four runs or more, they lose. If they don't, they win, so Hellickson (2-2, 4.88 ERA) might not give them much hope.
He's posted a 6.04 ERA and allowed seven home runs in 25 1/3 innings over his last five starts.
Possibly the worst one he's had with his new team came in Monday's 10-3 loss in St. Louis, with Hellickson surrendering six runs and seven hits - three homers - with four walks in 5 1/3 innings.
"Just couldn't find the zone," Hellickson told MLB's official website. "I didn't throw too many first-pitch strikes and I couldn't get myself back into counts with off-speed. Just a lot of balls up. A lot of balls early in the count."
Hellickson is 0-1 with a 3.97 ERA in four starts against the Marlins and has given up a home run in each of the last three. Stanton has a homer in four at-bats in the matchup, but no Marlins player is batting over. 286 against him.
Hellickson has also walked seven batters in 12 1/3 innings over his last two starts, but his 2.87 walks per nine innings are nothing compared to Koehler.
Koehler (2-3, 7.25) has a 5.24 rate, which has made it difficult to pitch into the sixth inning. He's only done it once and that was in his first start. He has a 9.00 ERA in his last four outings and was at his worst in Sunday's 14-5 loss in Milwaukee.
Koehler gave up eight runs, eight hits – two homers – and two walks in 2 1/3 innings for the shortest start of his career. He's averaging under five innings per start, and this is coming from the Marlins innings leader over the past three seasons.
"It was one of those games that just didn't seem like we were getting any outs," Mattingly said. "Tom is one of those guys who usually hangs in there and keeps pitching and battling, and today, it was just one of those days we weren't able to get any outs right there. Just didn't get us very far."
Koehler is 2-3 with a 4.53 ERA in nine starts and two relief appearances against the Phillies, and much of the bad came last season with him going 0-2 with a 5.14 ERA in four starts.