Pellegrini hails City star Aguero as world's third best player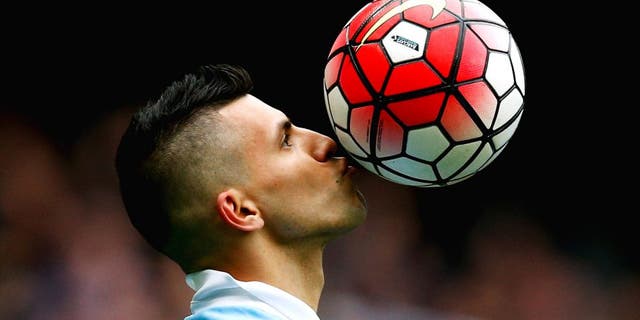 NEWYou can now listen to Fox News articles!
Manuel Pellegrini has reiterated his belief that Sergio Aguero is the world's best player behind Cristiano Ronaldo and Lionel Messi.
But the Manchester City boss accepts his star striker may need to win the Champions League for that view to become widespread.
Aguero provided another demonstration of his formidable talents with five goals in a sensational 20-minute spell in Saturday's 6-1 demolition of Newcastle.
It was a stunning return to form after a mixed start to the season in which the Argentinian had struck just once from open play and been hampered by a knee injury.
Asked how the 27-year-old compared to the world's best, Pellegrini said: "After what we have seen here, of course Kun is at that level. I have already said that after Ronaldo and Messi he is the best player in the world. He always makes important things (contributions) in competitions.
"But the important thing is, not only for Kun, but as a team we must continue to improve, to win the Premier League again and to win the Champions League, because Messi and Ronaldo are always involved in that competition and that is very important for a player.
"I think that this team is in that way (headed) and I'm very happy for us that in Kun we have a very important player."
Since being signed from Atletico Madrid for £38million in 2011, Aguero has finished as City's outright top scorer in three out of four seasons. In the other year he shared the accolade with Carlos Tevez. His overall City tally now stands at 115 goals.
Many of those goals have come in bursts, with the Argentina forward often suffering lean spells on return from injury.
He suffered a setback last month after being hurt in a tackle from Crystal Palace's Scott Dann but Pellegrini had no doubt the goals would soon return.
He said: "Of course, I am always talking to all the players, especially when they are not in their best moments.
"But the most encouraging thing for Kun is the way we play. We always play attractive, offensive football. We always put technical players in our starting XI to try to create the space (for him)."